(source)

Adolf Bastian

(26 Jun 1826 - 2 Feb 1905)




Adolf Bastian
26 June 1826 - 2 Feb 1905
Bastian traveled extensively, visiting places as different as Irkútsk, Russia and Siam.
Irkútsk, in eastern Siberia, is called "The Gates of the East" because it links Russia with many Asian countries.
As far as is known, he was the first German scientist to visit Siam, where he made studies in 1862.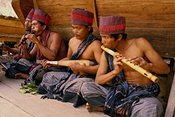 Indonesian musicians.
After visiting Indonesia he popularized that name, which had been invented by an Englishman to mean "Indian islands."
After becoming an M.D. (1850), Adolf Bastian was a world traveler as a ship's surgeon (1851-59), before turning to a new career in which he became a major ethnologist of the nineteenth century.
He published a book in 1868 detailing his theory concerning the many and strong analogies which exist between even far-flung cultures in all sorts of conceptions and institutions, manners and customs. His hypothesis was that human nature is everywhere the same, and that the several peoples have given birth wholly independently of one another to the same conceptions and customs. His thought followed from the analogy that as dogs bark everywhere alike, the cuckoo utters everywhere the same note, and in the same way man everywhere forms the same ideas and performs the same actions.
"What we see in history is not a transformation, a passing of one race into another, but entirely new and perfect creations, which the ever-youthful productivity of nature sends forth from the invisible realm of Hades."
From

Das Besdändige in den Menschenrassen und die Spielweite ihrer Veränderlichkeit

(1868).

Philosopher/historian Johann Gottfried Herder (1744-1803) perceived a dialectical relationship between tradition and progress, and thought of historical events as "outward forms" sustained by an "inner force." This appeared again in the later German Volksgeist theory popularized by the anthropologist Theodor Waitz (1813-1866). Bastian's thought is largely based on these notions first espoused by Herder.
Bastian distinguished Elementargedanken and Volkergedanken.
He recognized in the myths and ceremonial customs of mankind a significant number of essential themes and motifs that were apparently universal. He termed these Elementargedanken, meaning "elementary ideas" or "prevailing themes" that with few exceptions have been found in all cultures and religions of the world. The presumption is that these images are universal, transcultural, and transhistorical. Bastian said "mankind has a store of these thoughts inborn in every individual and those elementary thoughts appear in different varieties in India, in Babylonia, and even, for instance, in South Sea stories."
The Volkergedanken, meaning "ethnic ideas" or "folk ideas" would correspond to the stereotypical identities of a culture - the changes that become unique to a specific culture. Ethnic means any social group bound by race, customs, language or values, a word derived from the Greek, "ethnos" (nation or people). The folk ideas include fables, legends, myths, proverbs, sayings, tales, and the like.
Consider the craft of rug weaving as an example. The art flourished in the 15th Century in Persia and Turkey, followed by India early in the 16th Century and China in the 17th Century. Thus weaving was common to all humanity, but the end product of each ethnic group was quite different.
His theory met with much favor for a long time.
---
In 1869, he established the Berlin Anthropological Society. Thus Bastian enabled the sharing of information on the scientific activities of such important members such as Rudolf Virchow, Adolf Bastian and Alexander Brown.
In 1873, he founded the Museum für Völkerkunde (Berlin Ethnological Museum). It opened, housed in its own building, in 1886. As its first director, Bastian considerably extended the museum's collection, especially with acquisitions from the German colonies. The museum continues to have a historical-culture focus, and it exhibits the artifacts of preindustrial societies, primarily from non-European areas.
Bastian was aware that cultures, when no longer isolated, were endangered. He expressed a desperation over 100 years ago (1881) that the cultural memory of the ethnic traditions of humanity was on fire, burning like the Maya codices that Diego de Landa had put on the pyre.
"Eine brennendste Zeitfrage allerdings! Es brennt in allen Ecken und Enden der ethnologischen Welt, brennt hell, lichterloh, in vollster Brunst, es brennt ringsum, Gross Feuer! und Niemand regt eine Hand."
[Approximate translation: "A most burning question of time, though. It burns in every nook and cranny of the ethnological world, burning, bright, brightly, in the fullest blaze, and it burns all around, huge fire! and no one lifts a hand."]
From

Das Besẗandige in den Menschenrassen und die Spielweite ihrer Veränderlichkeit

(1868), 180, footnote.
In 1886, Adolf Bastian was honored for his extraordinary accomplishments when elected as a Fellow of the American Philosophical Society.
He died in 1905, during a scientific journey to Trinidad, that he undertook despite being in his 80th year of age.