(source)

Nikola Tesla

(10 Jul 1856 - 7 Jan 1943)




Science Quotes by Nikola Tesla
(37 quotes)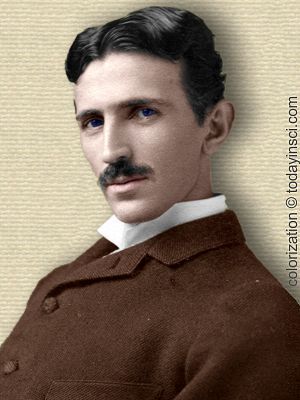 ~~[Dubious]~~ If you want to find the secrets of the universe, think in terms of energy, frequency and vibration.

— Nikola Tesla

~~[Unverified]~~ I don't care that they stole my idea. I care that they don't have any of their own.

— Nikola Tesla

A single ray of light from a distant star falling upon the eye of a tyrant in bygone times, may have altered the course of his life, may have changed the destiny of nations, may have transformed the surface of the globe, so intricate, so inconceivably complex are the processes of nature.

— Nikola Tesla

An inducement must be offered to those who are engaged in the industrial exploitation of natural sources of power, as waterfalls, by guaranteeing greater returns on the capital invested than they can secure by local development of the property.

— Nikola Tesla

But among all these many departments of research, these many branches of industry, new and old, which are being rapidly expanded, there is one dominating all others in importance—one which is of the greatest significance for the comfort and welfare, not to say for the existence, of mankind, and that is the electrical transmission of power.

— Nikola Tesla

But we shall not satisfy ourselves simply with improving steam and explosive engines or inventing new batteries; we have something much better to work for, a greater task to fulfill. We have to evolve means for obtaining energy from stores which are forever inexhaustible, to perfect methods which do not imply consumption and waste of any material whatever.

— Nikola Tesla

Edison was by far the most successful and, probably, the last exponent of the purely empirical method of investigation. Everything he achieved was the result of persistent trials and experiments often performed at random but always attesting extraordinary vigor and resource. Starting from a few known elements, he would make their combinations and permutations, tabulate them and run through the whole list, completing test after test with incredible rapidity until he obtained a clue. His mind was dominated by one idea, to leave no stone unturned, to exhaust every possibility.

— Nikola Tesla

Ere long intelligence—transmitted without wires—will throb through the earth like a pulse through a living organism. The wonder is that, with the present state of knowledge and the experiences gained, no attempt is being made to disturb the electrostatic or magnetic condition of the earth, and transmit, if nothing else, intelligence.

— Nikola Tesla

His [Thomas Edison] method was inefficient in the extreme, for an immense ground had to be covered to get anything at all unless blind chance intervened and, at first, I was almost a sorry witness of his doings, knowing that just a little theory and calculation would have saved him 90 per cent of the labor. But he had a veritable contempt for book learning and mathematical knowledge, trusting himself entirely to his inventor's instinct and practical American sense. In view of this, the truly prodigious amount of his actual accomplishments is little short of a miracle.

— Nikola Tesla

I am credited with being one of the hardest workers and perhaps I am, if thought is the equivalent of labour, for I have devoted to it almost all of my waking hours. But if work is interpreted to be a definite performance in a specified time according to a rigid rule, then I may be the worst of idlers. Every effort under compulsion demands a sacrifice of life-energy. I never paid such a price. On the contrary, I have thrived on my thoughts.

— Nikola Tesla

I came from Paris in the Spring of 1884, and was brought in intimate contact with him [Thomas Edison]. We experimented day and night, holidays not excepted. His existence was made up of alternate periods of work and sleep in the laboratory. He had no hobby, cared for no sport or amusement of any kind and lived in utter disregard of the most elementary rules of hygiene. There can be no doubt that, if he had not married later a woman of exceptional intelligence, who made it the one object of her life to preserve him, he would have died many years ago from consequences of sheer neglect. So great and uncontrollable was his passion for work.

— Nikola Tesla

I do not think there is any thrill that can go through the human heart like that felt by the inventor as he sees some creation of the brain unfolding to success... Such emotions make a man forget food, sleep, friends, love, everything.

— Nikola Tesla

I have satisfied myself that the [cosmic] rays are not generated by the formation of new matter in space, a process which would be like water running up a hill. Nor do they come to any appreciable amount from the stars. According to my investigations the sun emits a radiation of such penetrative power that it is virtually impossible to absorb it in lead or other substances. ... This ray, which I call the primary solar ray, gives rise to a secondary radiation by impact against the cosmic dust scattered through space. It is the secondary radiation which now is commonly called the cosmic ray, and comes, of course, equally from all directions in space. [The article continues: The phenomena of radioactivity are not the result of forces within the radioactive substances but are caused by this ray emitted by the sun. If radium could be screened effectively against this ray it would cease to be radioactive, he said.]

— Nikola Tesla

If he [Thomas Edison] had a needle to find in a haystack, he would not stop to reason where it was most likely to be, but would proceed at once with the feverish diligence of a bee, to examine straw after straw until he found the object of his search. … [J]ust a little theory and calculation would have saved him ninety percent of his labor.

— Nikola Tesla

In a crystal we have the clear evidence of the existence of a formative life-principle, and though we cannot understand the life of a crystal, it is none the less a living being.

— Nikola Tesla

In no way can we get such an overwhelming idea of the grandeur of Nature than when we consider, that in accordance with the law of the conservation of energy, throughout the Infinite, the forces are in a perfect balance, and hence the energy of a single thought may determine the motion of a universe.

— Nikola Tesla

Let the future tell the truth and evaluate each one according to his work and accomplishments. The present is theirs, the future, for which I really worked, is mine.

— Nikola Tesla

Nature may reach the same result in many ways. Like a wave in the physical world, in the infinite ocean of the medium which pervades all, so in the world of organisms, in life, an impulse started proceeds onward, at times, may be, with the speed of light, at times, again, so slowly that for ages and ages it seems to stay, passing through processes of a complexity inconceivable to men, but in all its forms, in all its stages, its energy ever and ever integrally present.

— Nikola Tesla

Now, I must tell you of a strange experience which bore fruit in my later life. … We had a cold [snap] drier that ever observed before. People walking in the snow left a luminous trail behind them and a snowball thrown against an obstacle gave a flare of light like a loaf of sugar hit with a knife. [As I stroked] Mačak's back, [it became] a sheet of light and my hand produced a shower of sparks. … My father … remarked, this is nothing but electricity, the same thing you see on the trees in a storm. My mother seemed alarmed. Stop playing with the cat, she said, he might start a fire. I was thinking abstractly. Is nature a cat? If so, who strokes its back? It can only be God, I concluded. …
I cannot exaggerate the effect of this marvelous sight on my childish imagination. Day after day I asked myself what is electricity and found no answer. Eighty years have gone by since and I still ask the same question, unable to answer it.

— Nikola Tesla

Of all the frictional resistances, the one that most retards human movement is ignorance, what Buddha called 'the greatest evil in the world.' The friction which results from ignorance ... can be reduced only by the spread of knowledge and the unification of the heterogeneous elements of humanity. No effort could be better spent.

— Nikola Tesla

Our first endeavors are purely instinctive prompting of an imagination vivid and undisciplined. As we grow older reason asserts itself and we become more and more systematic and designing. But those early impulses, though not immediately productive, are of the greatest moment and may shape our very destinies. Indeed, I feel now that had I understood and cultivated instead of suppressing them, I would have added substantial value to my bequest to the world. But not until I had attained manhood did I realize that I was an inventor.

— Nikola Tesla

Perhaps it is better in this present world of ours that a revolutionary idea or invention instead of being helped and patted be hampered and ill-treated in its adolescence—by want of means, by selfish interest, pedantry, stupidity and ignorance; that it be attacked and stifled; that it pass through bitter trials and tribulations, through the heartless strife of commercial existence. ... So all that was great in the past was ridiculed, condemned, combatted, suppressed—only to emerge all the more powerfully, all the more triumphantly from the struggle.

— Nikola Tesla

Reproduction anywhere in the world of photographic pictures and all kinds of drawings or records.

— Nikola Tesla

The idea of atomic energy is illusionary but it has taken so powerful a hold on the minds, that although I have preached against it for twenty-five years, there are still some who believe it to be realizable.

— Nikola Tesla

The inventor who is often misunderstood and unrewarded … finds ample compensation in the pleasing exercises of his powers and in the knowledge of being one of that exceptionally privileged class without whom the race would have long ago perished in the bitter struggle against pitiless elements. Speaking for myself, I have already had more than my full measure of this exquisite enjoyment, so much that for many years my life was little short of continuous rapture.

— Nikola Tesla

The last twenty-nine days of the month are the toughest!

— Nikola Tesla

The progressive development of man is vitally dependent on invention. It is the most important product of his creative brain. Its ultimate purpose is the complete mastery of mind over the material world, the harnessing of the forces of nature to human needs. This is the difficult task of the inventor.

— Nikola Tesla

The recurrence of a phenomenon like Edison is not very likely. The profound change of conditions and the ever increasing necessity of theoretical training would seem to make it impossible. He will occupy a unique and exalted position in the history of his native land, which might well be proud of his great genius and undying achievements in the interest of humanity.

— Nikola Tesla

The scientific man does not aim at an immediate result. He does not expect that his advanced ideas will be readily taken up. His work is like that of the planter—for the future. His duty is to lay the foundation for those who are to come, and point the way.

— Nikola Tesla

The scientists of today think deeply instead of clearly. One must be sane to think clearly, but one can think deeply and be quite insane.

— Nikola Tesla

There is an influence which is getting strong and stronger day by day, which shows itself more and more in all departments of human activity, and influence most fruitful and beneficial—the influence of the artist. It was a happy day for the mass of humanity when the artist felt the desire of becoming a physician, an electrician, an engineer or mechanician or—whatnot—a mathematician or a financier; for it was he who wrought all these wonders and grandeur we are witnessing. It was he who abolished that small, pedantic, narrow-grooved school teaching which made of an aspiring student a galley-slave, and he who allowed freedom in the choice of subject of study according to one's pleasure and inclination, and so facilitated development.

— Nikola Tesla

There is no subject more captivating, more worthy of study, than nature. To understand this great mechanism, to discover the forces which are active, and the laws which govern them, is the highest aim of the intellect of man.

— Nikola Tesla

Today's scientists have substituted mathematics for experiments, and they wander off through equation after equation, and eventually build a structure which has no relation to reality.

— Nikola Tesla

We may produce at will, from a sending station. an electrical effect in any particular region of the globe; we may determine the relative position or course of a moving object, such as a vessel at sea, the distance traversed by the same, or its speed.

— Nikola Tesla

When the great truth accidentally revealed and experimentally confirmed is fully recognized, that this planet, with all its appalling immensity, is to electric currents virtually no more than a small metal ball and that by this fact many possibilities, each baffling imagination and of incalculable consequence, are rendered absolutely sure of accomplishment; when the first plant is inaugurated and it is shown that a telegraphic message, almost as secret and non-interferable as a thought, can be transmitted to any terrestrial distance, the sound of the human voice, with all its intonations and inflections, faithfully and instantly reproduced at any other point of the globe, the energy of a waterfall made available for supplying light, heat or motive power, anywhere—on sea, or land, or high in the air—humanity will be like an ant heap stirred up with a stick: See the excitement coming!

— Nikola Tesla

When wireless is perfectly applied the whole earth will be converted into a huge brain, which in fact it is, all things being particles of a real and rhythmic whole. We shall be able to communicate with one another instantly, irrespective of distance. Not only this, but through television and telephony we shall see and hear one another as perfectly as though we were face to face, despite intervening distances of thousands of miles; and the instruments through which we shall be able to do this will be amazingly simple compared with our present telephone. A man will be able to carry one in his vest pocket.

— Nikola Tesla

With these developments we have every reason to anticipate that in a time not very distant most telegraphic messages across the oceans will be transmitted without cables. For short distances we need a "wireless" telephone, which requires no expert operators.

— Nikola Tesla

---
Quotes by others about Nikola Tesla (2)
The world, I think, will wait a long time for Nikola Tesla's equal in achievement and imagination.

As an eminent pioneer in the realm of high frequency currents … I congratulate you [Nikola Tesla] on the great successes of your life's work.

See also: