Prodigious Quotes (8 quotes)
His [Thomas Edison] method was inefficient in the extreme, for an immense ground had to be covered to get anything at all unless blind chance intervened and, at first, I was almost a sorry witness of his doings, knowing that just a little theory and calculation would have saved him 90 per cent of the labor. But he had a veritable contempt for book learning and mathematical knowledge, trusting himself entirely to his inventor's instinct and practical American sense. In view of this, the truly prodigious amount of his actual accomplishments is little short of a miracle.

I remember my first look at the great treatise of Maxwell's when I was a young man… I saw that it was great, greater and greatest, with prodigious possibilities in its power… I was determined to master the book and set to work. I was very ignorant. I had no knowledge of mathematical analysis (having learned only school algebra and trigonometry which I had largely forgotten) and thus my work was laid out for me. It took me several years before I could understand as much as I possibly could. Then I set Maxwell aside and followed my own course. And I progressed much more quickly… It will be understood that I preach the gospel according to my interpretation of Maxwell.

In view of all the nests brimming over with eager mouths, it is a good thing that deciduous woodlands provide an incredible wealth of food for the birds that live there. There are … arthropods, snails and … the prodigious menu of nuts, seeds and juicy berries.

It is because simplicity and vastness are both beautiful that we seek by preference simple facts and vast facts; that we take delight, now in following the giant courses of the stars, now in scrutinizing the microscope that prodigious smallness which is also a vastness, and now in seeking in geological ages the traces of a past that attracts us because of its remoteness.

Let us ... consider the ovum [egg] as a physical system. Its potentialities are prodigious and one's first impulse is to expect that such vast potentialities would find expression in complexity of structure. But what do we find? The substance is clouded with particles, but these can be centrifuged away leaving it optically structureless but still capable of development.... On the surface of the egg there is a fine membrane, below it fluid of high viscosity, next fluid of relatively low viscosity, and within this the nucleus, which in the resting stage is simply a bag of fluid enclosed in a delicate membrane.... The egg's simplicity is not that of a machine or a crystal, but that of a nebula. Gathered into it are units relatively simple but capable by their combinations of forming a vast number of dynamical systems...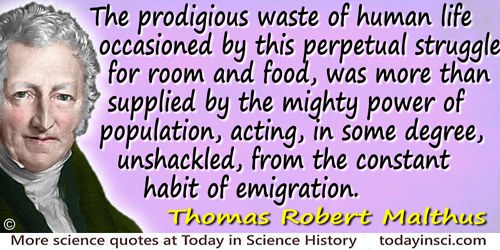 The prodigious waste of human life occasioned by this perpetual struggle for room and food, was more than supplied by the mighty power of population, acting, in some degree, unshackled, from the constant habit of emigration.

The totality of life, known as the biosphere to scientists and creation to theologians, is a membrane of organisms wrapped around Earth so thin it cannot be seen edgewise from a space shuttle, yet so internally complex that most species composing it remain undiscovered. The membrane is seamless. From Everest's peak to the floor of the Mariana Trench, creatures of one kind or another inhabit virtually every square inch of the planetary surface.

…indeed what reason may not go to Schoole to the wisdome of Bees, Aunts, and Spiders? what wise hand teacheth them to doe what reason cannot teach us? Ruder heads stand amazed at those prodigious pieces of nature, Whales, Elephants, Dromidaries and Camels; these I confesse, are the Colossus and Majestick pieces of her hand; but in these narrow Engines there is more curious Mathematicks, and the civilitie of these little Citizens more neatly sets forth the wisedome of their Maker.