(source)

Jean-Baptiste Lamarck

(1 Aug 1744 - 18 Dec 1829)




Science Quotes by Jean-Baptiste Lamarck
(20 quotes)
>> Click for Jean-Baptiste Lamarck Quotes on | Environment | Evolution | Nature |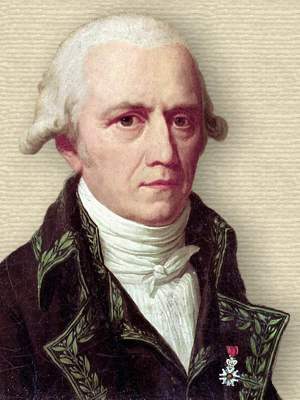 Jean-Baptiste de Monet Chevalier de Lamarck (c.1802)
(source)
A sound Physics of the Earth should include all the primary considerations of the earth's atmosphere, of the characteristics and continual changes of the earth's external crust, and finally of the origin and development of living organisms. These considerations naturally divide the physics of the earth into three essential parts, the first being a theory of the atmosphere, or Meteorology, the second, a theory of the earth's external crust, or Hydrogeology, and the third, a theory of living organisms, or Biology.

— Jean-Baptiste Lamarck

After having produced aquatic animals of all ranks and having caused extensive variations in them by the different environments provided by the waters, nature led them little by little to the habit of living in the air, first by the water's edge and afterwards on all the dry parts of the globe. These animals have in course of time been profoundly altered by such novel conditions; which so greatly influenced their habits and organs that the regular gradation which they should have exhibited in complexity of organisation is often scarcely recognisable.

— Jean-Baptiste Lamarck

All known living bodies are sharply divided into two special kingdoms, based upon the essential differences which distinguish animals from plants, and in spite of what has been said, I am convinced that these two kingdoms do not really merge into one another at any point.

— Jean-Baptiste Lamarck

First Law
In every animal which has not passed the limit of its development, a more frequent and continuous use of any organ gradually strengthens, develops and enlarges that organ, and gives it a power proportional to the length of time it has been so used; while the permanent disuse of any organ imperceptibly weakens and deteriorates it, and progressively diminishes its functional capacity, until it finally disappears.

— Jean-Baptiste Lamarck

However, if we consider that all the characteristics which have been cited are only differences in degree of structure, may we not suppose that this special condition of organization of man has been gradually acquired at the close of a long period of time, with the aid of circumstances which have proved favorable? What a subject for reflection for those who have the courage to enter into it!

— Jean-Baptiste Lamarck

If some race of quadrumanous animals, especially one of the most perfect of them, were to lose, by force of circumstances or some other cause, the habit of climbing trees and grasping the branches with its feet in the same way as with its hands, in order to hold on to them; and if the individuals of this race were forced for a series of generations to use their feet only for walking, and to give up using their hands like feet; there is no doubt, according to the observations detailed in the preceding chapter, that these quadrumanous animals would at length be transformed into bimanous, and that the thumbs on their feet would cease to be separated from the other digits, when they only used their feet for walking.

— Jean-Baptiste Lamarck

It is interesting to observe the result of habit in the peculiar shape and size of the giraffe (Camelo-pardalis): this animal, the largest of the mammals, is known to live in the interior of Africa in places where the soil is nearly always arid and barren, so that it is obliged to browse on the leaves on the trees and to make constant efforts to reach them. From this habit long maintained in all its race, it has resulted that the animal's fore-legs have become longer than its hind legs, and that its neck is lengthened to such a degree that the giraffe, without standing up on its hind legs, attains a height of six metres (nearly 20 feet).

— Jean-Baptiste Lamarck

It is not always the magnitude of the differences observed between species that must determine specific distinctions, but the constant preservation of those differences in reproduction.

— Jean-Baptiste Lamarck

It is not enough to discover and prove a useful truth previously unknown, but that it is necessary also to be able to propagate it and get it recognized.

— Jean-Baptiste Lamarck

It is not the organs—that is, the character and form of the animal's bodily parts—that have given rise to its habits and particular structures. It is the habits and manner of life and the conditions in which its ancestors lived that have in the course of time fashioned its bodily form, its organs and qualities.

— Jean-Baptiste Lamarck

It would be an easy task to show that the characteristics in the organization of man, on account of which the human species and races are grouped as a distinct family, are all results of former changes of occupation, and of acquired habits, which have come to be distinctive of individuals of his kind. When, compelled by circumstances, the most highly developed apes accustomed themselves to walking erect, they gained the ascendant over the other animals. The absolute advantage they enjoyed, and the new requirements imposed on them, made them change their mode of life, which resulted in the gradual modification of their organization, and in their acquiring many new qualities, and among them the wonderful power of speech.

— Jean-Baptiste Lamarck

Life, in a body whose order and state of affairs can make it manifest, is assuredly, as I have said, a real power that gives rise to numerous phenomena. This power has, however, neither goal nor intention. It can do only what it does; it is only a set of acting causes, not a particular being. I was the first to establish this truth at a time when life was still thought to be a principle, an archeia, a being of some sort.

— Jean-Baptiste Lamarck

Now this circumscribed power, which we have scarcely examined, scarcely studied, this power to whose actions we nearly always attribute an intention and a goal, this power, finally, that always does necessarily the same things in the same circumstances and nevertheless does so many and such admirable ones, is what we call 'nature' .

— Jean-Baptiste Lamarck

On our planet, all objects are subject to continual and inevitable changes which arise from the essential order of things. These changes take place at a variable rate according to the nature, condition, or situation of the objects involved, but are nevertheless accomplished within a certain period of time. Time is insignificant and never a difficulty for Nature. It is always at her disposal and represents an unlimited power with which she accomplishes her greatest and smallest tasks.

— Jean-Baptiste Lamarck

One must believe that every living thing whatsoever must change insensibly in its organization and in its form... One must therefore never expect to find among living species all those which are found in the fossil state, and yet one may not assume that any species has really been lost or rendered extinct.

— Jean-Baptiste Lamarck

Second Law
All the acquisitions or losses wrought by nature on individuals, through the influence of the environment in which their race has long been placed, and hence through the influence of the predominant use or permanent disuse of any organ; all these are preserved by reproduction to the new individuals which arise, provided that the acquired modifications are common to both sexes, or at least to the individuals which produce the young.

— Jean-Baptiste Lamarck

The bird which is drawn to the water by its need of finding there the prey on which it lives, separates the digits of its feet in trying to strike the water and move about on the surface. The skin which unites these digits at their base acquires the habit of being stretched by these continually repeated separations of the digits; thus in course of time there are formed large webs which unite the digits of ducks, geese, etc., as we actually find them. In the same way efforts to swim, that is to push against the water so as to move about in it, have stretched the membranes between the digits of frogs, sea-tortoises, the otter, beaver, etc.
On the other hand, a bird which is accustomed to perch on trees and which springs from individuals all of whom had acquired this habit, necessarily has longer digits on its feet and differently shaped from those of the aquatic animals that I have just named. Its claws in time become lengthened, sharpened and curved into hooks, to clasp the branches on which the animal so often rests.
We find in the same way that the bird of the water-side which does not like swimming and yet is in need of going to the water's edge to secure its prey, is continually liable to sink into the mud. Now this bird tries to act in such a way that its body should not be immersed in the liquid, and hence makes its best efforts to stretch and lengthen its legs. The long-established habit acquired by this bird and all its race of continually stretching and lengthening its legs, results in the individuals of this race becoming raised as though on stilts, and gradually obtaining long, bare legs, denuded of feathers up to the thighs and often higher still.

— Jean-Baptiste Lamarck

The great age of the earth will appear greater to man when he understands the origin of living organisms and the reasons for the gradual development and improvement of their organization. This antiquity will appear even greater when he realizes the length of time and the particular conditions which were necessary to bring all the living species into existence. This is particularly true since man is the latest result and present climax of this development, the ultimate limit of which, if it is ever reached, cannot be known.

— Jean-Baptiste Lamarck

The plan followed by nature in producing animals clearly comprises a predominant prime cause. This endows animal life with the power to make organization gradually more complex, and to bring increasing complexity and perfection not only to the total organization but also to each individual apparatus when it comes to be established by animal life. This progressive complication of organisms was in effect accomplished by the said principal cause in all existing animals. Occasionally a foreign, accidental, and therefore variable cause has interfered with the execution of the plan, without, however, destroying it. This has created gaps in the series, in the form either of terminal branches that depart from the series in several points and alter its simplicity, or of anomalies observable in specific apparatuses of various organisms.

— Jean-Baptiste Lamarck

What nature does in the course of long periods we do every day when we suddenly change the environment in which some species of living plant is situated.

— Jean-Baptiste Lamarck

---
Quotes by others about Jean-Baptiste Lamarck (4)
At last gleams of light have come, and I am almost convinced (quite contrary to opinion I started with) that species are not (it is like confessing a murder) immutable. Heaven forfend me from Lamarck nonsense of a "tendency to progression", "adaptations from the slow willing of animals", &c! But the conclusions I am led to are not widely different from his; though the means of change are wholly so. I think I have found out (here's presumption!) the simple way by which species become exquisitely adapted to various ends.

The Javanese Anthropopithecus, which in its skull is more human than any other known anthropoid ape, already had an upright, erect posture, which has always been considered to be the exclusive privilege of humans. Thus this ancient

I conceive that Lamarck was the first to bring it forward systematically & to 'go the whole orang' ... Yet evolutionists 'cannot be pooh-poohed & ought not to be so.'

While natural selection drives Darwinian evolution, the growth of human culture is largely Lamarckian: new generations of humans inherit the acquired discoveries of generations past, enabling cosmic insight to grow slowly, but without limit.

See also:
1 Aug - short biography, births, deaths and events on date of Lamarck's birth.
Lamarck's Open Mind: The Lectures, by Jean-Baptiste Lamarck. - book suggestion.