(source)

Abraham Lincoln

(12 Feb 1809 - 15 Apr 1865)



Science Quotes by Abraham Lincoln
(5 quotes)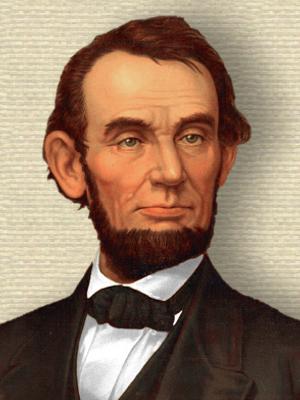 Abraham Lincoln
Chromolithograph by Strobridge & Co. (1877)
(source)
All creation is a mine, and every man a miner.
The whole earth, and all within it, upon it, and round about it, including himself … are the infinitely various "leads" from which, man, from the first, was to dig out his destiny.

— Abraham Lincoln

In the world's history certain inventions and discoveries occurred of peculiar value, on account of their great efficiency in facilitating all other inventions and discoveris. Of these were the art of writing and of printing, the discovery of America, and the introduction of patent laws. The date of the first … is unknown; but it certainly was as much as fifteen hundred years before the Christian era; the second—printing—came in 1436, or nearly three thousand years after the first. The others followed more rapidly—the discovery of America in 1492, and the first patent laws in 1624.

— Abraham Lincoln

Man is not the only animal who labors; but he is the only one who improves his workmanship.

— Abraham Lincoln

Next came the patent laws. These began in England in 1624, and in this country with the adoption of our Constitution. Before then any man [might] instantly use what another man had invented, so that the inventor had no special advantage from his own invention. The patent system changed this, secured to the inventor for a limited time exclusive use of his inventions, and thereby added the fuel of interest to the fire of genius in the discovery and production of new and useful things.

— Abraham Lincoln

Of all the forces of nature, I should think the wind contains the largest amount of motive power—that is, power to move things. Take any given space of the earth's surface— for instance, Illinois; and all the power exerted by all the men, and beasts, and running-water, and steam, over and upon it, shall not equal the one hundredth part of what is exerted by the blowing of the wind over and upon the same space. And yet it has not, so far in the world's history, become proportionably valuable as a motive power. It is applied extensively, and advantageously, to sail-vessels in navigation. Add to this a few windmills, and pumps, and you have about all. … As yet, the wind is an untamed, and unharnessed force; and quite possibly one of the greatest discoveries hereafter to be made, will be the taming, and harnessing of it.

— Abraham Lincoln

---
Quotes by others about Abraham Lincoln (1)
Darwin was as much of an emancipator as was Lincoln.