(source)

Frederick Douglass

(1818 - 20 Feb 1895)



Science Quotes by Frederick Douglass
(13 quotes)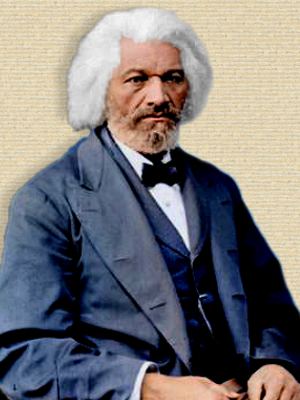 (c. 1877)
Credit palette.fm for colorization assistance
(source)
"Does one error disappear only to make room for another?" … [L]et us look at the science of astronomy. How grand and magnificent have been the discoveries in that field of knowledge. What victories over error have been achieved by the telescope. That instrument did … bring down and dispel vast clouds of error, both in respect of the sky and of our planet. It must be confessed, too, that it took something from the importance of our planet. The idea that all the hosts of heaven are mere appendages to this earth is no longer entertained by average men, and … [almost no men] now stand by the old theory for which the church proposed to murder Galileo. Men are compelled to admit that the Genesis by Moses is less trustworthy as to the time of creating the heavens and the earth than are the rocks and the stars.

— Frederick Douglass

Art, science, discovery and invention, startle and bewilder us at every turn, by their rapid, vast and wonderful achievements. These forces have made men lords where they were vassals, masters where they were slaves, and kings where they were subjects. They have abolished the limitations of time and space and have brought the ends of the earth together.

— Frederick Douglass

Franklin brought down the lightning, Morse made it a bearer of dispatches, and in answer to the increasing human demands of progressive human nature, Daguerre has taught the god of day to deck the world with pictures far beyond the art of ancient masters.

— Frederick Douglass

Hugh Miller, whose lamented death mantled the mountains and valleys of his native land with a broad shadow of sorrow, scarcely yet lifted, was a grand example of the success of persistent devotion, under great difficulties, to work and to the acquisition of knowledge. In a country justly distinguished for its schools and colleges, he, like Robert Burns, Scotia's matchless son of song, was the true child of science, as Burns was of song. He was his own college. The earth was his school and the rocks were his school master. Outside of all the learned institutions of his country, and while employed with his chisel and hammer, as a stone mason, this man literally killed two birds with one stone; for he earned his daily bread and at the same time made himself an eminent geologist, and gave to the world books which are found in all public libraries and which are full of inspiration to the truth seeker.

— Frederick Douglass

I do not know that I am an evolutionist, but to this extent I am one. I certainly have more patience with those who trace mankind upward from a low condition, even from the lower animals, than with those that start him at a high point of perfection and conduct him to a level with the brutes. I have no sympathy with a theory that starts man in heaven and stops him in hell. … mankind as a whole must ever move onward, and increase in the perfection of character and in the grandeur of achievement.

— Frederick Douglass

It is somewhat remarkable, that, at a time when knowledge is so generally diffused, when the geography of the world is so well understood—when time and space, in the intercourse of nations, are almost annihilated—when oceans have become bridges—the earth a magnificent hall—the hollow sky a dome—under which a common humanity can meet in friendly conclave—when nationalities are being swallowed up and the ends of the earth brought together—I say it is remarkable—nay, it is strange that there should arise a phalanx of learned men—speaking in the name of science—to forbid the magnificent reunion of mankind in one brotherhood. A mortifying proof is here given, that the moral growth of a nation, or an age, does not always keep pace with the increase of knowledge, and suggests the necessity of means to increase human love with human learning.

— Frederick Douglass

It is the province of prejudice to blind; and scientific writers, not less than others, write to please, as well as to instruct, and even unconsciously to themselves, (sometimes), sacrifice what is true to what is popular.

— Frederick Douglass

Mr. Auld … forbade Mrs. Auld to instruct me further, telling her … "A [slave] should know nothing but to obey his master… If you teach that [slave] (speaking of myself) how to read, there would be no keeping him. It would forever unfit him to be a slave."

— Frederick Douglass

One cause of the error may be for want of a proper knowledge of the remote past. Here, as elsewhere, 'tis distance lends enchantment to the view. We fail to make due allowance for the refractive nature of the medium through which we are compelled to view the past. We naturally magnify the greatness of that which is remote. By this the imagination is addressed rather than the understanding. The dim and shadowing figures of the past are clothed in glorious light, and pigmies appear as giants.

— Frederick Douglass

Science tells us what storms are in the sky and when and where they will descend upon our continent, and nobody now thinks of praying for rain or fair weather.

— Frederick Douglass

The highest services to man and the richest rewards to the worker at not conditioned entirely upon physical power. … The order of progress, is, first, barbarism; afterward, civilization. Barbarism represents physical force. Civilization represents spiritual power. … [T]he waves of science and civilization rolling out over the Western prairies, soon leave him no room for his barbarous accomplishment.

— Frederick Douglass

To deny education to any people is one of the greatest crimes against human nature. It is to deny them the means of freedom and the rightful pursuit of happiness, and to defeat the very end of their being.

— Frederick Douglass

Vaccination was discovered, and, like all new discoveries, had at the first to maintain a vigorous battle for existence. It was condemned by the church as a cunning device of the devil to defeat the judgments of God. Nevertheless, it has triumphed, and is now adopted by the best instructed of all nations.

— Frederick Douglass

---
Quotes by others about Frederick Douglass (1)
Perseverance is my motto. It laid the Atlantic cable; it gave us the telegraph, telephone, and wireless. It gave to the world an Abraham Lincoln, and to a race freedom. It gave to the negro Booker T. Washington and Tuskegee Institute. It made Frederick Douglass the great orator that he was, and it gave to the race Paul Laurence Dunbar, and to poetry a new song.