Negro Quotes (7 quotes)
I am not merely satisfied in making money for myself, for I am endeavoring to provide employment for hundreds of women of my race. ... I want to say to every Negro woman present, don't sit down and wait for the opportunities to come. Get up and make them!

Segregationalists will even argue that God was the first segregationalist. "Red birds and blue birds don't fly together", they contend. … They turn to some pseudo-scientific writing and argue that the Negro's brain is smaller than the white man's brain. They do not know, or they refuse to know that the idea of an inferior or superior race has been refuted by the best evidence of the science of anthropology. Great anthropologists, like Ruth Benedict, Margaret Mead, and Melville J. Herskovits, agree that, although there may be inferior and superior individuals within all races, there is no superior or inferior race. And segregationalists refuse to acknowledge that there are four types of blood, and these four types are found within every racial group.

Slavery in America was perpetuated not merely by human badness but also by human blindness. … Men convinced themselves that a system that was so economically profitable must be morally justifiable. … Science was commandeered to prove the biological inferiority of the Negro. Even philosophical logic was manipulated [exemplified by] an Aristotlian syllogism:
All men are made in the image of God;
God, as everyone knows, is not a Negro;
Therefore, the Negro is not a man.

The attitude of the intellectual community toward America is shaped not by the creative few but by the many who for one reason or another cannot transmute their dissatisfaction into a creative impulse, and cannot acquire a sense of uniqueness and of growth by developing and expressing their capacities and talents. There is nothing in contemporary America that can cure or alleviate their chronic frustration. They want power, lordship, and opportunities for imposing action. Even if we should banish poverty from the land, lift up the Negro to true equality, withdraw from Vietnam, and give half of the national income as foreign aid, they will still see America as an air-conditioned nightmare unfit for them to live in.

Thus died Negro Tom [Thomas Fuller], this untaught arithmetician, this untutored scholar. Had his opportunities of improvement been equal to those of thousands of his fellow-men, neither the Royal Society of London, the Academy of Science at Paris, nor even a Newton himself need have been ashamed to acknowledge him a brother in science.
[Thomas Fuller (1710-1790), although enslaved from Africa at age 14, was an arithmetical prodigy. He was known as the Virginia Calculator because of his exceptional ability with arithmetic calculations. His intellectual accomplishments were related by Dr. Benjamin Rush in a letter read to the Pennsylvania Society for the Abolition of Slavery.]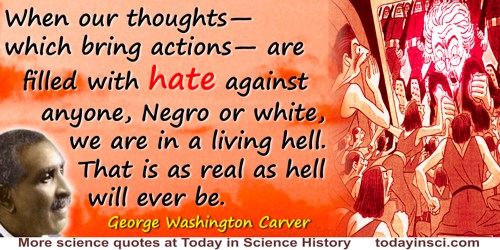 When our thoughts—which bring actions—are filled with hate against anyone, Negro or white, we are in a living hell. That is as real as hell will ever be.
While hate for our fellow man puts us in a living hell, holding good thoughts for them brings us an opposite state of living, one of happiness, success, peace. We are then in heaven.

Why do they [Americans] quarrel, why do they hate Negroes, Indians, even Germans, why do they not have science and poetry commensurate with themselves, why are there so many frauds and so much nonsense? I cannot soon give a solution to these questions ... It was clear that in the United States there was a development not of the best, but of the middle and worst sides of European civilization; the notorious general voting, the tendency to politics... all the same as in Europe. A new dawn is not to be seen on this side of the ocean.