(source)

Erwin Schrödinger

(12 Aug 1887 - 4 Jan 1961)




Science Quotes by Erwin Schrödinger
(24 quotes)
>> Click for Erwin Schrödinger Quotes on | Atom | Life | World |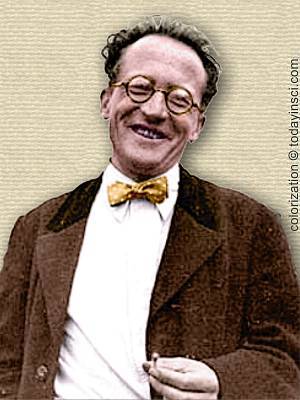 Bohr's standpoint, that a space-time description is impossible, I reject a limine. Physics does not consist only of atomic research, science does not consist only of physics, and life does not consist only of science. The aim of atomic research is to fit our empirical knowledge concerning it into our other thinking. All of this other thinking, so far as it concerns the outer world, is active in space and time. If it cannot be fitted into space and time, then it fails in its whole aim and one does not know what purpose it really serves.

— Erwin Schrödinger

Chromosomes … [contain] some kind of code-script the entire pattern of the individual's future development and of its functioning in the mature state. Every complete set of chromosomes contains the full code.

— Erwin Schrödinger

Every complete set of chromosomes contains the full code; so there are, as a rule, two copies of the latter in the fertilized egg cell, which forms the earliest stage of the future individual. In calling the structure of the chromosome fibres a code-script we mean that the all-penetrating mind, once conceived by Laplace, to which every causal connection lay immediately open, could tell from their structure whether the egg would develop, under suitable conditions, into a black cock or into a speckled hen, into a fly or a maize plant, a rhododendron, a beetle, a mouse or a woman. To which we may add, that the appearances of the egg cells are very often remarkably similar; and even when they are not, as in the case of the comparatively gigantic eggs of birds and reptiles, the difference is not so much in the relevant structures as in the nutritive material which in these cases is added for obvious reasons.
But the term code-script is, of course, too narrow. The chromosome structures are at the same time instrumental in bringing about the development they foreshadow. They are law-code and executive power?or, to use another simile, they are architect's plan and builder's craft-in one.

— Erwin Schrödinger

For thousands of years men have striven and suffered and begotten and woman have brought forth in pain. A hundred years ago, perhaps, another man sat on this spot; like you he gazed with awe and yearning in his heart at the dying light on the glaciers. Like you he was begotten of man and born of woman. He felt pain and brief joy as you do. Was he someone else? Was it not you yourself? What is this Self of yours? What was the necessary condition for making the thing conceived this time into you, just you and not someone else?

— Erwin Schrödinger

From all we have learnt about the structure of living matter, we must be prepared to find it working in a manner that cannot be reduced to the ordinary laws of physics. And that not on the ground that there is any "new force" or what not, directing the behavior of the single atoms within a living organism, but because the construction is different from anything we have yet tested in the physical laboratory.

— Erwin Schrödinger

How would we express in terms of the statistical theory the marvellous faculty of a living organism, by which it delays the decay into thermodynamical equilibrium (death)? … It feeds upon negative entropy … Thus the device by which an organism maintains itself stationary at a fairly high level of orderliness (= fairly low level of entropy) really consists in continually sucking orderliness from its environment.

— Erwin Schrödinger

I belong to those theoreticians who know by direct observation what it means to make a measurement. Methinks it were better if there were more of them.

— Erwin Schrödinger

I don't like it, and I'm sorry I ever had anything to do with it. [About the probability interpretation of quantum mechanics.]

— Erwin Schrödinger

If all this damned quantum jumping were really here to stay, I should be sorry, I should be sorry I ever got involved with quantum theory.

— Erwin Schrödinger

If we were bees, ants, or Lacedaemonian warriors, to whom personal fear does not exist and cowardice is the most shameful thing in the world, warring would go on forever. But luckily we are only men—and cowards.

— Erwin Schrödinger

If you cannot—in the long run—tell everyone what you have been doing, your doing has been worthless.

— Erwin Schrödinger

In this communication I wish first to show in the simplest case of the hydrogen atom (nonrelativistic and undistorted) that the usual rates for quantization can be replaced by another requirement, in which mention of "whole numbers" no longer occurs. Instead the integers occur in the same natural way as the integers specifying the number of nodes in a vibrating string. The new conception can be generalized, and I believe it touches the deepest meaning of the quantum rules.

— Erwin Schrödinger

Matter and energy seem granular in structure, and so does "life", but not so mind.

— Erwin Schrödinger

Nature has no reverence towards life. Nature treats life as though it were the most valueless thing in the world. … Nature does not act by purposes.

— Erwin Schrödinger

Science is a game—but a game with reality, a game with sharpened knives … If a man cuts a picture carefully into 1000 pieces, you solve the puzzle when you reassemble the pieces into a picture; in the success or failure, both your intelligences compete. In the presentation of a scientific problem, the other player is the good Lord. He has not only set the problem but also has devised the rules of the game—but they are not completely known, half of them are left for you to discover or to deduce. The experiment is the tempered blade which you wield with success against the spirits of darkness—or which defeats you shamefully. The uncertainty is how many of the rules God himself has permanently ordained, and how many apparently are caused by your own mental inertia, while the solution generally becomes possible only through freedom from its limitations.

— Erwin Schrödinger

The great revelation of the quantum theory was that features of discreteness were discovered in the Book of Nature, in a context in which anything other than continuity seemed to be absurd according to the views held until then.

— Erwin Schrödinger

The material world has only been constructed at the price of taking the self, that is, mind, out of it, removing it; mind is not part of it.

— Erwin Schrödinger

The scientist only imposes two things, namely truth and sincerity, imposes them upon himself and upon other scientists.

— Erwin Schrödinger

The sensation of colour cannot be accounted for by the physicist's objective picture of light-waves.

— Erwin Schrödinger

The world is a construct of our sensations, perceptions, memories. It is convenient to regard it as existing objectively on its own. But it certainly does not become manifest by its mere existence.

— Erwin Schrödinger

The world is given to me only once, not one existing and one perceived. Subject and object are only one. The barrier between them cannot be said to have broken down as a result of recent experience in the physical sciences, for this barrier does not exist.

— Erwin Schrödinger

Why are atoms so small? ... Many examples have been devised to bring this fact home to an audience, none of them more impressive than the one used by Lord Kelvin: Suppose that you could mark the molecules in a glass of water, then pour the contents of the glass into the ocean and stir the latter thoroughly so as to distribute the marked molecules uniformly throughout the seven seas; if you then took a glass of water anywhere out of the ocean, you would find in it about a hundred of your marked molecules.

— Erwin Schrödinger

[A]s you know, scientific education is fabulously neglected … This is an evil that is inherited, passed on from generation to generation. The majority of educated persons are not interested in science, and are not aware that scientific knowledge forms part of the idealistic background of human life. Many believe—in their complete ignorance of what science really is—that it has mainly the ancillary task of inventing new machinery, or helping to invent it, for improving our conditions of life. They are prepared to leave this task to the specialists, as they leave the repairing of their pipes to the plumber. If persons with this outlook decide upon the curriculum of our children, the result is necessarily such as I have just described it.

— Erwin Schrödinger

[Plato] was the first to envisage the idea of timeless existence and to emphasize it—against reason—as a reality, more [real] than our actual experience…

— Erwin Schrödinger

---
Quotes by others about Erwin Schrödinger (6)
The electron, as it leaves the atom, crystallises out of Schrödinger's mist like a genie emerging from his bottle.

Schrodinger's wave-mechanics is not a physical theory but a dodge—and a very good dodge too.

But, contrary to the lady's prejudices about the engineering profession, the fact is that quite some time ago the tables were turned between theory and applications in the physical sciences. Since World War II the discoveries that have changed the world are not made so much in lofty halls of theoretical physics as in the less-noticed labs of engineering and experimental physics. The roles of pure and applied science have been reversed; they are no longer what they were in the golden age of physics, in the age of Einstein, Schrödinger, Fermi and Dirac.

In 1944 Erwin Schroedinger, stimulated intellectually by Max Delbruck, published a little book called What is life? It was an inspiration to the first of the molecular biologists, and has been, along with Delbruck himself, credited for directing the research during the next decade that solved the mystery of how 'like begat like.' Max was awarded this Prize in 1969, and rejoicing in it, he also lamented that the work for which he was honored before all the peoples of the world was not something which he felt he could share with more than a handful. Samuel Beckett's contributions to literature, being honored at the same time, seemed to Max somehow universally accessible to anyone. But not his. In his lecture here Max imagined his imprisonment in an ivory tower of science.

When [Erwin Schrödinger] went to the Solvay conferences in Brussels, he would walk from the station to the hotel where the delegates stayed, carrying all his luggage in a rucksack and looking so like a tramp that it needed a great deal of argument at the reception desk before he could claim a room.

His [Erwin Schrödinger's] private life seemed strange to bourgeois people like ourselves. But all this does not matter. He was a most lovable person, independent, amusing, temperamental, kind and generous, and he had a most perfect and efficient brain.

See also:
12 Aug - short biography, births, deaths and events on date of Schrödinger's birth.
Schrödinger: Life and Thought, by Walter J. Moore. - book suggestion.