(source)

Adolf Hitler

(20 Apr 1889 - 30 Apr 1945)



Science Quotes by Adolf Hitler
(10 quotes)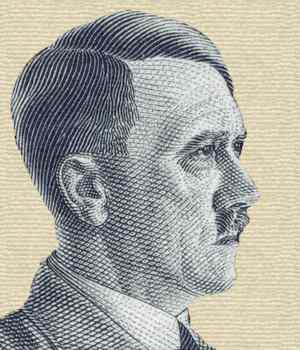 Adolf Hitler. Detail from 80 pfennig German stamp issued 1 Aug 1941.
(source)
Die ganze Natur ist ein gewaltiges Ringen zwischen Kraft und Schwache, ein ewiger Sieg des Starken über den Schwachen.
The whole of Nature is a mighty struggle between strength and weakness, an eternal victory of the strong over the weak.

— Adolf Hitler

All the human culture, all the results of art, science and technology that we see before us today, are almost exclusively the creative product of the Aryan. This very fact admits of the not unfounded inference that he alone was the founder of all higher humanity, therefore representing the prototype of all that we understand by the word 'man.' He is the Prometheus of mankind from whose shining brow the divine spark of genius has sprung at all times, forever kindling anew that fire of knowledge which illuminated the night of silent mysteries and thus caused man to climb the path to mastery over the other beings of the earth ... It was he who laid the foundations and erected the walls of every great structure in human culture.

— Adolf Hitler

Blood mixture and the result drop in the racial level is the sole cause of the dying out of old cultures; for men do not perish as a result of lost wars, but by the loss of that force of resistance which is continued only in pure blood. All who are not of good race in this world are chaff.

— Adolf Hitler

If, in the course of a thousand or two thousand years, science arrives at the necessity of renewing its points of view, that will not mean that science is a liar. Science cannot lie, for it's always striving, according to the momentary state of knowledge, to deduce what is true. When it makes a mistake, it does so in good faith. It's Christianity that's the liar. It's in perpetual conflict with itself.

— Adolf Hitler

Nature knows no political boundaries. She puts living creatures on this globe and watches the free play of forces. She then confers the master's right on her favourite child, the strongest in courage and industry ... The stronger must dominate and not blend with the weaker, thus sacrificing his own greatness. Only the born weakling can view this as cruel.

— Adolf Hitler

Our national policies will not be revoked or modified, even for scientists. If the dismissal of Jewish scientists means the annihilation of contemporary German science, then we shall do without science for a few years.
Reply to Max Planck (President of the Kaiser Wilhelm Society for the Advancement of Science) when he tried to petition the Fuhrer to stop the dismissal of scientists on political grounds.

— Adolf Hitler

The dogma of Christianity gets worn away before the advances of science. Religion will have to make more and more concessions. Gradually the myths crumble.

— Adolf Hitler

The spark of a genius exists in the brain of the truly creative man from the hour of his birth. True genius is always inborn and never cultivated, let alone learned.

— Adolf Hitler

Then we'll work a hundred years without physics and chemistry.
[Response shouted back to Carl Bosch (then still head of IG Farben), who had tried to advise him that if Jewish scientists were forced to leave the country both physics and chemistry would be set back 100 years.]

— Adolf Hitler

When understanding of the universe has become widespread, when the majority of men know that the stars are not sources of light but worlds, perhaps inhabited worlds like ours, then the Christian doctrine will be convicted of absurdity.

— Adolf Hitler

---
Quotes by others about Adolf Hitler (9)
Hitler destroyed the German university with design; we destroyed ours without.

...while science gives us implements to use, science alone does not determine for what ends they will be employed. Radio is an amazing invention. Yet now that it is here, one suspects that Hitler never could have consolidated his totalitarian control over Germany without its use. One never can tell what hands will reach out to lay hold on scientific gifts, or to what employment they will be put. Ever the old barbarian emerges, destructively using the new civilization.

I hate science. It denies a man's responsibility for his own deeds, abolishes the brotherhood that springs from God's fatherhood. It is a hectoring, dictating expertise, which makes the least lovable of the Church Fathers seem liberal by contrast. It is far easier for a Hitler or a Stalin to find a mock-scientific excuse for persecution than it was for Dominic to find a mock-Christian one.

It is disconcerting that present-day young who did not know Stalin and Hitler are displaying the old naïveté. After all that has happened they still do not know that you cannot build utopia without terror, and that before long terror is all that's left.

A world that did not lift a finger when Hitler was wiping out six million Jewish men, women, and children is now saying that the Jewish state of Israel will not survive if it does not come to terms with the Arabs. My feeling is that no one in this universe has the right and the competence to tell Israel what it has to do in order to survive. On the contrary, it is Israel that can tell us what to do. It can tell us that we shall not survive if we do not cultivate and celebrate courage, if we coddle traitors and deserters, bargain with terrorists, court enemies, and scorn friends.

The monstrous evils of the twentieth century have shown us that the greediest money grubbers are gentle doves compared with money-hating wolves like Lenin, Stalin, and Hitler, who in less than three decades killed or maimed nearly a hundred million men, women, and children and brought untold suffering to a large portion of mankind.

The nineteenth century planted the words which the twentieth ripened into the atrocities of Stalin and Hitler. There is hardly an atrocity committed in the twentieth century that was not foreshadowed or even advocated by some noble man of words in the nineteenth.

The world needs heroes and it's better they be harmless men like me than villains like Hitler.

Hitler is living—or shall I say sitting?—on the empty stomach of Germany. As soon as economic conditions improve, Hitler will sink into oblivion. He dramatizes impossible extremes in an amateurish manner.