Oblivion Quotes (8 quotes)
Bacteria represent the world's greatest success story. They are today and have always been the modal organisms on earth; they cannot be nuked to oblivion and will outlive us all. This time is their time, not the 'age of mammals' as our textbooks chauvinistically proclaim. But their price for such success is permanent relegation to a microworld, and they cannot know the joy and pain of consciousness. We live in a universe of trade-offs; complexity and persistence do not work well as partners.

Building goes on briskly at the therapeutic Tower of Babel; what one recommends another condemns; what one gives in large doses another scarce dares to prescribe in small doses; and what one vaunts as a novelty another thinks not worth rescuing from merited oblivion. All is confusion, contradiction, inconceivable chaos. Every country, every place, almost every doctor, have their own pet remedies, without which they imagine their patients can not be cured; and all this changes every year, aye every mouth.

I hope you enjoy the absence of pupils … the total oblivion of them for definite intervals is a necessary condition for doing them justice at the proper time.

No place affords a more striking conviction of the vanity of human hopes than a publick library; for who can see the wall crouded on every side by mighty volumes, the works of laborious meditation, and accurate inquiry, now scarcely known but by the catalogue, and preserved only to encrease the pomp of learning, without considering how many hours have been wasted in vain endeavours, how often imagination has anticipated the praises of futurity, how many statues have risen to the eye of vanity, how many ideal converts have elevated zeal, how often wit has exulted in the eternal infamy of his antagonists, and dogmatism has delighted in the gradual advances of his authority, the immutability of his decrees, and the perpetuity of his power.
Non unquam dedit
Documenta fors majora, quam fragili loco
Starent superbi.
Seneca, Troades, II, 4-6
Insulting chance ne'er call'd with louder voice,
On swelling mortals to be proud no more.
Of the innumerable authors whose performances are thus treasured up in magnificent obscurity, most are forgotten, because they never deserved to be remembered, and owed the honours which they have once obtained, not to judgment or to genius, to labour or to art, but to the prejudice of faction, the stratagem of intrigue, or the servility of adulation.
Nothing is more common than to find men whose works are now totally neglected, mentioned with praises by their contemporaries, as the oracles of their age, and the legislators of science. Curiosity is naturally excited, their volumes after long enquiry are found, but seldom reward the labour of the search. Every period of time has produced these bubbles of artificial fame, which are kept up a while by the breath of fashion and then break at once and are annihilated. The learned often bewail the loss of ancient writers whose characters have survived their works; but perhaps if we could now retrieve them we should find them only the Granvilles, Montagus, Stepneys, and Sheffields of their time, and wonder by what infatuation or caprice they could be raised to notice.
It cannot, however, be denied, that many have sunk into oblivion, whom it were unjust to number with this despicable class. Various kinds of literary fame seem destined to various measures of duration. Some spread into exuberance with a very speedy growth, but soon wither and decay; some rise more slowly, but last long. Parnassus has its flowers of transient fragrance as well as its oaks of towering height, and its laurels of eternal verdure.

Precise facts alone are worthy of science. They cast premature theories into oblivion.

The stream of thought flows on but most of its segments fall into the bottomless abyss of oblivion. Of some, no memory survives the instant of their passage. Of others, it is confined to a few moments, hours or days. Others, again, leave vestiges which are indestructible, and by means of which they may be recalled as long as life endures.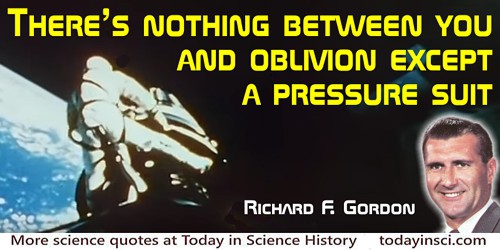 There's nothing between you and oblivion except a pressure suit, and you just can't afford to get out there and get in a big rush and tangle yourself up where nobody can help you. … The biggest thing I've learned from the people that have gone in the past, you simply have to take your time, and you can't exhaust yourself.

This therefore is Mathematics:
She reminds you of the invisible forms of the soul;
She gives life to her own discoveries;
She awakens the mind and purifies the intellect;
She brings light to our intrinsic ideas;
She abolishes oblivion and ignorance which are ours by birth...