Rush Quotes (12 quotes)
Bernard: Oh, you're going to zap me with penicillin and pesticides. Spare me that and I'll spare you the bomb and aerosols. But don't confuse progress with perfectibility. A great poet is always timely. A great philosopher is an urgent need. There's no rush for Isaac Newton. We were quite happy with Aristotle's cosmos. Personally, I preferred it. Fifty-five crystal spheres geared to God's crankshaft is my idea of a satisfying universe. I can't think of anything more trivial than the speed of light. Quarks, quasars—big bangs, black holes—who [cares]? How did you people con us out of all that status? All that money? And why are you so pleased with yourselves?
Chloe: Are you against penicillin, Bernard?
Bernard: Don't feed the animals.

Education, like everything else, goes in fads, and has the normal human tendency to put up with something bad for just so long, and then rush to the other extreme.

I had at one time a very bad fever of which I almost died. In my fever I had a long consistent delirium. I dreamt that I was in Hell, and that Hell is a place full of all those happenings that are improbable but not impossible. The effects of this are curious. Some of the damned, when they first arrive below, imagine that they will beguile the tedium of eternity by games of cards. But they find this impossible, because, whenever a pack is shuffled, it comes out in perfect order, beginning with the Ace of Spades and ending with the King of Hearts. There is a special department of Hell for students of probability. In this department there are many typewriters and many monkeys. Every time that a monkey walks on a typewriter, it types by chance one of Shakespeare's sonnets. There is another place of torment for physicists. In this there are kettles and fires, but when the kettles are put on the fires, the water in them freezes. There are also stuffy rooms. But experience has taught the physicists never to open a window because, when they do, all the air rushes out and leaves the room a vacuum.

I have long recognized the theory and aesthetic of such comprehensive display: show everything and incite wonder by sheer variety. But I had never realized how power fully the decor of a cabinet museum can promote this goal until I saw the Dublin [Natural History Museum] fixtures redone right ... The exuberance is all of one piece–organic and architectural. I write this essay to offer my warmest congratulations to the Dublin Museum for choosing preservation–a decision not only scientifically right, but also ethically sound and decidedly courageous. The avant-garde is not an exclusive locus of courage; a principled stand within a reconstituted rear unit may call down just as much ridicule and demand equal fortitude. Crowds do not always rush off in admirable or defendable directions.

If you have to prove a theorem, do not rush. First of all, understand fully what the theorem says, try to see clearly what it means. Then check the theorem; it could be false. Examine the consequences, verify as many particular instances as are needed to convince yourself of the truth. When you have satisfied yourself that the theorem is true, you can start proving it.

Last night I invented a new pleasure, and as I was giving it the first trial an angel and a devil came rushing toward my house. They met at my door and fought with each other over my newly created pleasure; the one crying, "It is a sin!" - the other, "It is a virtue!"

Science and technology revolutionize our lives, but memory, tradition and myth frame our response. Expelled from individual consciousness by the rush of change, history finds its revenge by stamping the collective unconsciousness with habits, values, expectations, dreams. The dialectic between past and future will continue to form our lives.

The fool rushed to certain conclusions.
The middling man approached them warily, and with circumspection.
And the wise man, perceiving them from afar, decided to go round another way.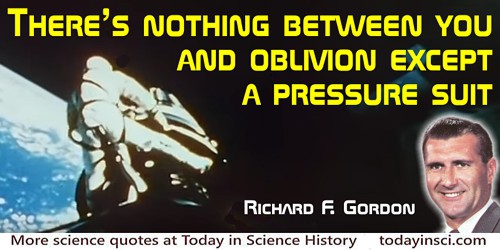 There's nothing between you and oblivion except a pressure suit, and you just can't afford to get out there and get in a big rush and tangle yourself up where nobody can help you. … The biggest thing I've learned from the people that have gone in the past, you simply have to take your time, and you can't exhaust yourself.

We have sought for firm ground and found none. The deeper we penetrate, the more restless becomes the universe; all is rushing about and vibrating in a wild dance.

We need not join the mad rush to purchase an earthly fallout shelter. God is our eternal fallout shelter.

[William Gull] endeavoured, above all things, to study the natural history of disease, uncomplicated by the action of unnecessary drugs, and he resented all useless interference with the course of nature. He would say of meddlesome poly-pharmacy—"Fools rush in, where angels fear to tread."