(source)

Sir David Brewster

(11 Dec 1781 - 10 Feb 1868)




Science Quotes by Sir David Brewster
(12 quotes)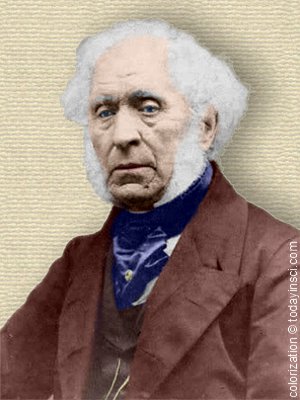 A mere inference or theory must give way to a truth revealed; but a scientific truth must be maintained, however contradictory it may appear to the most cherished doctrines of religion.

— Sir David Brewster

And why does England thus persecute the votaries of her science? Why does she depress them to the level of her hewers of wood and her drawers of water? Is it because science flatters no courtier, mingles in no political strife? … Can we behold unmoved the science of England, the vital principle of her arts, struggling for existence, the meek and unarmed victim of political strife?

— Sir David Brewster

Euler could repeat the Aeneid from the beginning to the end, and he could even tell the first and last lines in every page of the edition which he used. In one of his works there is a learned memoir on a question in mechanics, of which, as he himself informs us, a verse of Aeneid gave him the first idea. ["The anchor drops, the rushing keel is staid."]

— Sir David Brewster

If the God of revelation is most appropriately worshipped in the temple of religion, the God of nature may be equally honored in the temple of science. Even from its lofty minarets the philosopher may summon the faithful to prayer, and the priest and sage exchange altars without the compromise of faith or knowledge.

— Sir David Brewster

Prophetic of infidel times, and indicating the unsoundness of our general education, "The Vestiges of the Natural History of Creation," has started into public favour with a fair chance of poisoning the fountains of science, and sapping the foundations of religion.

— Sir David Brewster

Science ever has been, and ever must be the safeguard of religion.

— Sir David Brewster

The name of Sir Isaac Newton has by general consent been placed at the head of those great men who have been the ornaments of their species. … The philosopher [Laplace], indeed, to whom posterity will probably assign a place next to Newton, has characterized the Principia as pre-eminent above all the productions of human intellect.

— Sir David Brewster

There are many points in the history of an invention which the inventor himself is apt to overlook as trifling, but in which posterity never fail to take a deep interest. The progress of the human mind is never traced with such a lively interest as through the steps by which it perfects a great invention; and there is certainly no invention respecting which this minute information will be more eagerly sought after, than in the case of the steam-engine.

— Sir David Brewster

There is no profession so incompatible with original enquiry as is a Scotch Professorship, where one's income depends on the numbers of pupils. Is there one Professor in Edinburgh pursuing science with zeal? Are they not all occupied as showmen whose principal object is to attract pupils and make money?

— Sir David Brewster

Thus identified with astronomy, in proclaiming truths supposed to be hostile to Scripture, Geology has been denounced as the enemy of religion. The twin sisters of terrestrial and celestial physics have thus been joint-heirs of intolerance and persecution—unresisting victims in the crusade which ignorance and fanaticism are ever waging against science. When great truths are driven to make an appeal to reason, knowledge becomes criminal, and philosophers martyrs. Truth, however, like all moral powers, can neither be checked nor extinguished. When compressed, it but reacts the more. It crushes where it cannot expand—it burns where it is not allowed to shine. Human when originally divulged, it becomes divine when finally established. At first, the breath of a rage—at last it is the edict of a god. Endowed with such vital energy, astronomical truth has cut its way through the thick darkness of superstitious times, and, cheered by its conquests, Geology will find the same open path when it has triumphed over the less formidable obstacles of a civilized age.

— Sir David Brewster

Truths physical have an origin as divine as truths religious.

— Sir David Brewster

Two of his [Euler's] pupils having computed to the 17th term, a complicated converging series, their results differed one unit in the fiftieth cipher; and an appeal being made to Euler, he went over the calculation in his mind, and his decision was found correct.

— Sir David Brewster

See also:
11 Dec - short biography, births, deaths and events on date of Brewster's birth.
David Brewster - context of quote "Truths physical have an origin as divine as truths religious." - Medium image (500 x 350 px)
David Brewster - context of quote "Truths physical have an origin as divine as truths religious." - Large image (800 x 600 px)