(source)

Isaac Asimov

(2 Jan 1920 - 6 Apr 1992)




(1) A robot may not injure a human being, or, through inaction, allow a human being to come to harm.
(2) A robot must obey the orders given it by human beings except where such orders would conflict with the first law.
(3) A robot must protect its own existence as long as such protection does not conflict with the First or Second Law.

— Isaac Asimov

Clarke's First Law - Corollary: When, however, the lay public rallies round an idea that is denounced by distinguished but elderly scientists and supports that idea with great fervor and emotion—the distinguished but elderly scientists are then, after all, probably right.

— Isaac Asimov

A fire eater must eat fire even if he has to kindle it himself.

— Isaac Asimov

A hypothesis may be simply defined as a guess. A scientific hypothesis is an intelligent guess.

— Isaac Asimov

A neat and orderly laboratory is unlikely. It is, after all, so much a place of false starts and multiple attempts.

— Isaac Asimov

A number of years ago, when I was a freshly-appointed instructor, I met, for the first time, a certain eminent historian of science. At the time I could only regard him with tolerant condescension.
I was sorry of the man who, it seemed to me, was forced to hover about the edges of science. He was compelled to shiver endlessly in the outskirts, getting only feeble warmth from the distant sun of science- in-progress; while I, just beginning my research, was bathed in the heady liquid heat up at the very center of the glow.
In a lifetime of being wrong at many a point, I was never more wrong. It was I, not he, who was wandering in the periphery. It was he, not I, who lived in the blaze.
I had fallen victim to the fallacy of the "growing edge;" the belief that only the very frontier of scientific advance counted; that everything that had been left behind by that advance was faded and dead.
But is that true? Because a tree in spring buds and comes greenly into leaf, are those leaves therefore the tree? If the newborn twigs and their leaves were all that existed, they would form a vague halo of green suspended in mid-air, but surely that is not the tree. The leaves, by themselves, are no more than trivial fluttering decoration. It is the trunk and limbs that give the tree its grandeur and the leaves themselves their meaning.
There is not a discovery in science, however revolutionary, however sparkling with insight, that does not arise out of what went before. "If I have seen further than other men," said Isaac Newton, "it is because I have stood on the shoulders of giants."

— Isaac Asimov

A scientist is as weak and human as any man, but the pursuit of science may ennoble him even against his will.

— Isaac Asimov

A subtle thought that is in error may yet give rise to fruitful inquiry that can establish truths of great value.

— Isaac Asimov

All in all, the total amount of power conceivably available from the uranium and thorium supplies of the earth is about twenty times that available from the coal and oil we have left.

— Isaac Asimov

Almost in the beginning was curiosity.

— Isaac Asimov

Although the time of death is approaching me, I am not afraid of dying and going to Hell or (what would be considerably worse) going to the popularized version of Heaven. I expect death to be nothingness and, for removing me from all possible fears of death, I am thankful to atheism.

— Isaac Asimov

An atom-blaster is a good weapon, but it can point both ways.

— Isaac Asimov

An underwater-listening device, the "hydrophone," has, in recent years, shown that sea creatures click, grunt, snap, moan, and, in general, make the ocean depths as maddeningly noisy as ever the land is.

— Isaac Asimov

And above all things, never think that you're not good enough yourself. A man should never think that. My belief is that in life people will take you at your own reckoning.

— Isaac Asimov

Any increase in knowledge anywhere helps pave the way for an increase in knowledge everywhere.

— Isaac Asimov

Anyone who writes about science must know about science, which cuts down competition considerably.

— Isaac Asimov

As new areas of the world came into view through exploration, the number of identified species of animals and plants grew astronomically. By 1800 it had reached 70,000. Today more than 1.25 million different species, two-thirds animal and one-third plant, are known, and no biologist supposes that the count is complete.

— Isaac Asimov

Birds sing sweetly; but someone awakened by them at 5 A.M. of a summer morning might dispute the adverb.

— Isaac Asimov

But of all environments, that produced by man's complex technology is perhaps the most unstable and rickety. In its present form, our society is not two centuries old, and a few nuclear bombs will do it in.
To be sure, evolution works over long periods of time and two centuries is far from sufficient to breed Homo technikos… .
The destruction of our technological society in a fit of nuclear peevishness would become disastrous even if there were many millions of immediate survivors.
The environment toward which they were fitted would be gone, and Darwin's demon would wipe them out remorselessly and without a backward glance.

— Isaac Asimov

Circumstantial evidence can be overwhelming. We have never seen an atom, but we nevertheless know that it must exist.

— Isaac Asimov

Computers are better than we are at arithmetic, not because computers are so good at it, but because we are so bad at it.

— Isaac Asimov

Computers are better than we are at arithmetic, not because computers are so good at it, but because we are so bad at it.

— Isaac Asimov

Considering the difficulties represented by the lack of water, by extremes of temperature, by the full force of gravity unmitigated by the buoyancy of water, it must be understood that the spread to land of life forms that evolved to meet the conditions of the ocean represented the greatest single victory won by life over the inanimate environment.

— Isaac Asimov

During the century after Newton, it was still possible for a man of unusual attainments to master all fields of scientific knowledge. But by 1800, this had become entirely impracticable.

— Isaac Asimov

Early in my school career, I turned out to be an incorrigible disciplinary problem. I could understand what the teacher was saying as fast as she could say it, I found time hanging heavy, so I would occasionally talk to my neighbor. That was my great crime, I talked in school.

— Isaac Asimov

Every hour a scientist spends trying to raise funds is an hour lost from important thought and research.

— Isaac Asimov

Everything about microscopic life is terribly upsetting. How can things so small be so important?

— Isaac Asimov

Experimentation is the least arrogant method of gaining knowledge. The experimenter humbly asks a question of nature.

— Isaac Asimov

Facts are a heap of bricks and timber. It is only a successful theory that can convert the heap into a stately mansion

— Isaac Asimov

For many centuries chemists labored to change lead into precious gold, and eventually found that precious uranium turned to lead without any human effort at all.

— Isaac Asimov

From my close observation of writers ... they fall in to two groups: 1) those who bleed copiously and visibly at any bad review, and 2) those who bleed copiously and secretly at any bad review.

— Isaac Asimov

Genetics seems to be everything to those who have convinced themselves they have arisen from worthy ancestors.

— Isaac Asimov

How bright and beautiful a comet is as it flies past our planet—provided it does fly past it.

— Isaac Asimov

How often people speak of art and science as though they were two entirely different things, with no interconnection. An artist is emotional, they think, and uses only his intuition; he sees all at once and has no need of reason. A scientist is cold, they think, and uses only his reason; he argues carefully step by step, and needs no imagination. That is all wrong. The true artist is quite rational as well as imaginative and knows what he is doing; if he does not, his art suffers. The true scientist is quite imaginative as well as rational, and sometimes leaps to solutions where reason can follow only slowly; if he does not, his science suffers.

— Isaac Asimov

Human beings can easily destroy every elephant on earth, but we are helpless against the mosquito.

— Isaac Asimov

Human societies are everywhere complex, for living at peace with ourselves requires a vast multiplicity of rules.

— Isaac Asimov

Humanity has the stars in its future, and that future is too important to be lost under the burden of juvenile folly and ignorant superstition.

— Isaac Asimov

Humanity is cutting down its forests, apparently oblivious to the fact that we may not be able to live without them.

— Isaac Asimov

I am an atheist, out and out. It took me a long time to say it. I've been an atheist for years and years, but somehow I felt it was intellectually unrespectable to say one was an atheist, because it assumed knowledge that one didn't have. Somehow, it was better to say one was a humanist or an agnostic. I finally decided that I'm a creature of emotion as well as of reason. Emotionally, I am an atheist. I don't have the evidence to prove that God doesn't exist, but I so strongly suspect he doesn't that I don't want to waste my time.

— Isaac Asimov

I am not a speed reader. I am a speed understander.

— Isaac Asimov

I believe in evidence. I believe in observation, measurement, and reasoning, confirmed by independent observers. I'll believe anything, no matter how wild and ridiculous, if there is evidence for it. The wilder and more ridiculous something is, however, the firmer and more solid the evidence will have to be.

— Isaac Asimov

I believe that only scientists can understand the universe. It is not so much that I have confidence in scientists being right, but that I have so much in nonscientists being wrong.

— Isaac Asimov

I could almost wish, at this point, that I were in the habit of expressing myself in theological terms, for if I were, I might be able to compress my entire thesis into a sentence. All knowledge of every variety (I might say) is in the mind of God—and the human intellect, even the best, in trying to pluck it forth can but "see through a glass, darkly."

— Isaac Asimov

I do not fear computers. I fear the lack of them.

— Isaac Asimov

I don't believe in an afterlife, so I don't have to spend my whole life fearing hell, or fearing heaven even more. For whatever the tortures of hell, I think the boredom of heaven would be even worse.

— Isaac Asimov

I prefer rationalism to atheism. The question of God and other objects-of-faith are outside reason and play no part in rationalism, thus you don't have to waste your time in either attacking or defending.

— Isaac Asimov

I write for the same reason I breathe—because if I didn't, I would die.

— Isaac Asimov

If entropy must constantly and continuously increase, then the universe is remorselessly running down, thus setting a limit (a long one, to be sure) on the existence of humanity. To some human beings, this ultimate end poses itself almost as a threat to their personal immortality, or as a denial of the omnipotence of God. There is, therefore, a strong emotional urge to deny that entropy must increase.

— Isaac Asimov

If ever an equation has come into its own it is Einstein's e = me2. Everyone can rattle it off now, from the highest to the lowest.

— Isaac Asimov

If Freud is not the Pasteur of mental illness, he is at least its Hippocrates.

— Isaac Asimov

If I am right, then (religious fundamentalists) will not go to Heaven, because there is no Heaven. If they are right, then they will not go to Heaven, because they are hypocrites.

— Isaac Asimov

If I were not an atheist, I would believe in a God who would choose to save people on the basis of the totality of their lives and not the pattern of their words. I think he would prefer an honest and righteous atheist to a TV preacher whose every word is

— Isaac Asimov

If my doctor told me I had only six minutes to live, I wouldn't brood. I'd type a little faster.

— Isaac Asimov

If the earth's population continues to double every 50 years (as it is now doing) then by 2550 A.D. it will have increased 3,000-fold. … by 2800 A.D., it would reach 630,000 billion! Our planet would have standing room only, for there would be only two-and-a-half square feet per person on the entire land surface, including Greenland and Antarctica. In fact, if the human species could be imagined as continuing to multiply further at the same rate, by 4200 A.D. the total mass of human tissue would be equal to the mass of the earth.

— Isaac Asimov

If there is a just God, how humanity would writhe in its attempt to justify its treatment of animals.

— Isaac Asimov

If we sink to the biochemical level, then the human being has lost a great many synthetic abilities possessed by other species and, in particular, by plants and microorganisms. Our loss of ability to manufacture a variety of vitamins makes us dependent on our diet and, therefore, on the greater synthetic versatility of other creatures. This is as much a "degenerative" change as the tapeworm's abandonment of a stomach it no longer needs, but since we are prejudiced in our own favor, we don't mention it.

— Isaac Asimov

If we were blind for one day each year, how we would enjoy the other three hundred and sixty-four.

— Isaac Asimov

Imagine the people who believe such things and who are not ashamed to ignore, totally, all the patient findings of thinking minds through all the centuries since the Bible was written. And it is these ignorant people, the most uneducated, the most unimaginative, the most unthinking among us, who would make themselves the guides and leaders of us all; who would force their feeble and childish beliefs on us; who would invade our schools and libraries and homes. I personally resent it bitterly.

— Isaac Asimov

In 1900 however, he [Planck] worked out the revolutionary quantum theory, a towering achievement which extended and improved the basic concepts of physics. It was so revolutionary, in fact, that almost no physicist, including Planck himself could bring himself to accept it. (Planck later said that the only way a revolutionary theory could be accepted was to wait until all the old scientists had died.)

— Isaac Asimov

In a sense, the galaxy hardest for us to see is our own. For one thing, we are imprisoned within it, while the others can be viewed as a whole from outside… . Furthermore, we are far out from the center, and to make matters worse, we lie in a spiral arm clogged with dust. In other words, we are on a low roof on the outskirts of the city on a foggy day.

— Isaac Asimov

In life, unlike chess, the game continues after checkmate.

— Isaac Asimov

Increasingly, our leaders must deal with dangers that threaten the entire world, where an understanding of those dangers and the possible solutions depends on a good grasp of science. The ozone layer, the greenhouse effect, acid rain, questions of diet and heredity. All require scientific literacy. Can Americans choose the proper leaders and support the proper programs if they themselves are scientifically illiterate? The whole premise of democracy is that it is safe to leave important questions to the court of public opinion—but is it safe to leave them to the court of public ignorance?

— Isaac Asimov

Individual science fiction stories may seem as trivial as ever to the blinder critics and philosophers of today–but the core of science fiction, its essence, the concept around which it revolves, has become crucial to our salvation if we are to be saved a

— Isaac Asimov

Inspect every piece of pseudoscience and you will find a security blanket, a thumb to suck, a skirt to hold. What does the scientist have to offer in exchange? Uncertainty! Insecurity!

— Isaac Asimov

Intelligence is a valuable thing, but it is not usually the key to survival. Sheer fecundity ... usually counts. The intelligent gorilla doesn't do as well as the less intelligent but more-fecund rat, which doesn't do as well as the still-less-intelligent but still-more-fecund cockroach, which doesn't do as well as the minimally-intelligent but maximally-fecund bacterium.

— Isaac Asimov

Intelligence is an extremely subtle concept. It's a kind of understanding that flourishes if it's combined with a good memory, but exists anyway even in the absence of good memory. It's the ability to draw consequences from causes, to make correct inferences, to foresee what might be the result, to work out logical problems, to be reasonable, rational, to have the ability to understand the solution from perhaps insufficient information. You know when a person is intelligent, but you can be easily fooled if you are not yourself intelligent.

— Isaac Asimov

It is a common rule in theoretical physics, one accepted by many physicists, that anything not forbidden by the basic laws of nature must take place.

— Isaac Asimov

It is a great deal easier to believe in the existence of parapsychological phenomena, if one is ignorant of, or indifferent to, the nature of scientific evidence.

— Isaac Asimov

It is a sign of our power, and our criminal folly, that we can pollute the vast ocean and are doing so.

— Isaac Asimov

It is change, continuing change, inevitable change, that is the dominant factor in society today. No sensible decision can be made any longer without taking into account not only the world as it is, but the world as it will be … This, in turn, means that our statesmen, our businessmen, our everyman must take on a science fictional way of thinking.

— Isaac Asimov

It is hard to describe the exact route to scientific achievement, but a good scientist doesn't get lost as he travels it.

— Isaac Asimov

It is not equal time the creationists want. ... Don't kid yourself. They want all the time there is.

— Isaac Asimov

It is only at the beginning of the age of the dinosaurs that the deep sea, hitherto bare of organisms, was finally invaded by life.

— Isaac Asimov

It is quite possible that mathematics was invented in the ancient Middle East to keep track of tax receipts and grain stores. How odd that out of this should come a subtle scientific language that can effectively describe and predict the most arcane aspects of the Universe.

— Isaac Asimov

It is strange, but rocks, properly chosen and polished, can be as beautiful as flowers, and much more durable.

— Isaac Asimov

It is tempting to wonder if our present universe, large as it is and complex though it seems, might not be merely the result of a very slight random increase in order over a very small portion of an unbelievably colossal universe which is virtually entirely in heat-death. Perhaps we are merely sliding down a gentle ripple that has been set up, accidently and very temporarily, in a quiet pond, and it is only the limitation of our own infinitesimal range of viewpoint in space and time that makes it seem to ourselves that we are hurtling down a cosmic waterfall of increasing entropy, a waterfall of colossal size and duration.

— Isaac Asimov

It is the easiest thing in the world to deny a fact. People do it all the time. Yet it remains a fact just the same.

— Isaac Asimov

It pays to be obvious, especially if you have a reputation for subtlety.

— Isaac Asimov

It seems to me that God is a convenient invention of the human mind.

— Isaac Asimov

It was not until 1901 that humanity knew that nuclear energy existed. It is understandable now—but useless—to wish that we still lived in the ignorance of 1900.

— Isaac Asimov

It's humbling to think that all animals, including human beings, are parasites of the plant world.

— Isaac Asimov

I'm gradually managing to cram my mind more and more full of things. I've got this beautiful mind and it's going to die, and it'll all be gone. And then I say, not in my case. Every idea I've ever had I've written down, and it's all there on paper. And I won't be gone; it'll be there.

— Isaac Asimov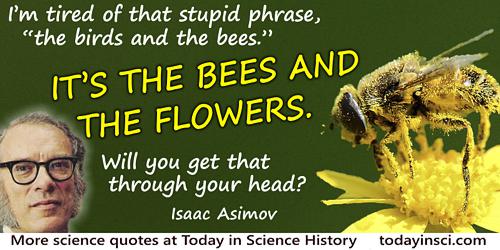 Macro photo of bee by Forest Wander (cc by-sa 2.0)
(source)
I'm tired of that stupid phrase, "the birds and the bees" which is supposed to represent "the facts of life" or the beginnings of the sex instruction of the young. … Well for heaven's sake, has anyone ever tried to explain sex by talking about the birds and the bees? What have the birds and the bees to do with it? IT'S THE BEES AND THE FLOWERS. Will you get that through your head? IT'S THE BEES AND THE FLOWERS. The bee travels to one flower and picks up pollen from the stamens. The pollen contains the male sex cells of the plant. The bee then travels to another flower (of the same species) and the pollen brushes off onto the pistil, which contains the female sex cells of the plant. … Now in the human being … we don't rely on bees to do it for us.

— Isaac Asimov

John Dalton's records, carefully preserved for a century, were destroyed during the World War II bombing of Manchester. It is not only the living who are killed in war.

— Isaac Asimov

Knowledge is indivisible. When people grow wise in one direction, they are sure to make it easier for themselves to grow wise in other directions as well. On the other hand, when they split up knowledge, concentrate on their own field, and scorn and ignore other fields, they grow less wise–even in their own field.

— Isaac Asimov

Life is a journey, but don't worry, you'll find a parking spot at the end.

— Isaac Asimov

Life is pleasant. Death is peaceful. It's the transition that's troublesome.

— Isaac Asimov

Life originated in the sea, and about eighty percent of it is still there.

— Isaac Asimov

Mammals in general seem to live, at best, as long as it takes their hearts to count a billion. To this general rule, man himself is the most astonishing exception.

— Isaac Asimov

Methane is released by bogs, and some 45 million tons of the same gas, it has been calculated, are added to the atmosphere each year by the venting of intestinal gases by cattle and other large animals.

— Isaac Asimov

Naturally, some intriguing thoughts arise from the discovery that the three chief particles making up matter—the proton, the neutron, and the electron—all have antiparticles. Were particles and antiparticles created in equal numbers at the beginning of the universe? If so, does the universe contain worlds, remote from ours, which are made up of antiparticles?

— Isaac Asimov

Never let your sense of morals prevent you from doing what is right.

— Isaac Asimov

No one has a sorrier lot than the weatherman. He is ignored when he is right, but execrated when he is wrong.

— Isaac Asimov

Now any dogma, based primarily on faith and emotionalism, is a dangerous weapon to use on others, since it is almost impossible to guarantee that the weapon will never be turned on the user.

— Isaac Asimov

Of all extinct life-forms, dinosaurs are the most popular. Why that should be is not clear.

— Isaac Asimov

Our sun, by the way … may become a white dwarf some day but apparently will never become a supernova.

— Isaac Asimov

Outside intelligences, exploring the solar system with true impartiality, would be quite likely to enter the sun in their records thus: Star X, spectral class G0, 4 planets plus debris.

— Isaac Asimov

Part of the inhumanity of the computer is that, once it is competently programmed and working smoothly, it is completely honest.

— Isaac Asimov

People are entirely too disbelieving of coincidence. They are far too ready to dismiss it and to build arcane structures of extremely rickety substance in order to avoid it. I, on the other hand, see coincidence everywhere as an inevitable consequence of the laws of probability, according to which having no unusual coincidence is far more unusual than any coincidence could possibly be.

— Isaac Asimov

Physics is the basic science. One can easily argue that all other sciences are specialized aspects of physics.

— Isaac Asimov

Pierre Curie, a brilliant scientist, happened to marry a still more brilliant one—Marie, the famous Madame Curie—and is the only great scientist in history who is consistently identified as the husband of someone else.

— Isaac Asimov

Properly read, the Bible is the most potent force for atheism ever conceived.

— Isaac Asimov

Psychology marks the triumph of human evolution. How many other species would need a science of the mind?

— Isaac Asimov

Radiation, unlike smoking, drinking, and overeating, gives no pleasure, so the possible victims object.

— Isaac Asimov

Religion cannot object to science on moral grounds. The history of religious intolerance forbids it.

— Isaac Asimov

Religion considers the Universe deterministic and science considers it probabilistic—an important distinction.

— Isaac Asimov

Science can amuse and fascinate us all, but it is engineering that changes the world.

— Isaac Asimov

Science can be introduced to children well or poorly. If poorly, children can be turned away from science; they can develop a lifelong antipathy; they will be in a far worse condition than if they had never been introduced to science at all.

— Isaac Asimov

Science doesn't purvey absolute truth. Science is a mechanism, a way of trying to improve your knowledge of nature. It's a system for testing your thoughts against the universe, and seeing whether they match.

— Isaac Asimov

Science fiction writers foresee the inevitable, and although problems and catastrophes may be inevitable, solutions are not.

— Isaac Asimov

Science in the service of humanity is technology, but lack of wisdom may make the service harmful.

— Isaac Asimov

Science is complex and chilling. The mathematical language of science is understood by very few. The vistas it presents are scary—an enormous universe ruled by chance and impersonal rules, empty and uncaring, ungraspable and vertiginous. How comfortable to turn instead to a small world, only a few thousand years old, and under God's personal; and immediate care; a world in which you are His peculiar concern.

— Isaac Asimov

Science is dangerous. There is no question but that poison gas, genetic engineering, and nuclear weapons and power stations are terrifying. It may be that civilization is falling apart and the world we know is coming to an end. In that case, why no turn to religion and look forward to the Day of Judgment, ... [being] lifted into eternal bliss ... [and] watching the scoffers and disbelievers writhe forever in torment.

— Isaac Asimov

Science is uncertain. Theories are subject to revision; observations are open to a variety of interpretations, and scientists quarrel amongst themselves. This is disillusioning for those untrained in the scientific method, who thus turn to the rigid certainty of the Bible instead. There is something comfortable about a view that allows for no deviation and that spares you the painful necessity of having to think.

— Isaac Asimov

Science must be taught well, if a student is to understand the coming decades he must live through.

— Isaac Asimov

Scientific apparatus offers a window to knowledge, but as they grow more elaborate, scientists spend ever more time washing the windows.

— Isaac Asimov

Self-education is, I firmly believe, the only kind of education there is.

— Isaac Asimov

Since the Universe is defined as including all that exists, it is useless to ask what lies beyond it.

— Isaac Asimov

Society is itself a kind of organism, an enormously powerful one, but unfortunately not a very wise one.

— Isaac Asimov

Some might accept evolution, if it allowed human beings to be created by God, but evolution won't work halfway.

— Isaac Asimov

Stars look serene, but they are incredibly violent furnaces that occasionally erupt in incredibly violent explosions.

— Isaac Asimov

Such is the respect for physicians that most people are astonished when one of them falls sick—and yet they do.

— Isaac Asimov

Suppose that we are wise enough to learn and know—and yet not wise enough to control our learning and knowledge, so that we use it to destroy ourselves? Even if that is so, knowledge remains better than ignorance. It is better to know—even if the knowledge endures only for the moment that comes before destruction—than to gain eternal life at the price of a dull and swinish lack of comprehension of a universe that swirls unseen before us in all its wonder. That was the choice of Achilles, and it is mine, too.

— Isaac Asimov

Suppose we take a quantity of heat and change it into work. In doing so, we haven't destroyed the heat, we have only transferred it to another place or perhaps changed it into another energy form.

— Isaac Asimov

Surely no child, and few adults, have ever watched a bird in flight without envy.

— Isaac Asimov

The card-player begins by arranging his hand for maximum sense. Scientists do the same with the facts they gather.

— Isaac Asimov

The dangers that face the world can, every one of them, be traced back to science. The salvations that may save the world will, every one of them, be traced back to science.

— Isaac Asimov

The difference between electricity and electronics is the difference between a toaster and a television set.

— Isaac Asimov

The Earth has no business possessing such a Moon. It is too huge—over a quarter Earth's diameter and about 1/81 of its mass. No other planet in the Solar System has even nearly so large a satellite.

— Isaac Asimov

The earth is a book in which we read not only its history, but the history of the living things it has borne.

— Isaac Asimov

The earth is the only home that any of us have—so far; anyway.

— Isaac Asimov

The earth, formed out of the same debris of which the sun was born, is extraordinarily rich in iron—iron which once may have existed at the center of a star that exploded many billions of years ago.

— Isaac Asimov

The fact that the general incidence of leukemia has doubled in the last two decades may be due, partly, to the increasing use of x-rays for numerous purposes. The incidence of leukemia in doctors, who are likely to be so exposed, is twice that of the general public. In radiologists … the incidence is ten times greater.

— Isaac Asimov

The facts, gentlemen, and nothing but the facts, for careful eyes are narrowly watching.

— Isaac Asimov

The fertilized ovum of a mouse and a whale look much alike, but differences quickly show up in the course of their development. If we could study their molecules with the naked eyes, we would see the differences from the start.

— Isaac Asimov

The fertilized ovum of a mouse and a whale look much alike, but differences quickly show up in the course of their development. If we could study their molecules with the naked eyes, we would see the differences from the start.

— Isaac Asimov

The force of gravity—though it is the first force with which we are acquainted, and though it is always with us, and though it is the one with a strength we most thoroughly appreciate—is by far the weakest known force in nature. It is first and rearmost.

— Isaac Asimov

The greatest inventors are unknown to us. Someone invented the wheel—but who?

— Isaac Asimov

The human mechanism is marvelous. But why not—it is the result of three-and-a-half billion years of tinkering.

— Isaac Asimov

The law of conservation of energy tells us we can't get something for nothing, but we refuse to believe it.

— Isaac Asimov

The living human being seems to consist of nothing more than matter and energy. Spirit is merely an assumption.

— Isaac Asimov

The mere existence of nuclear weapons by the thousands is an incontrovertible sign of human insanity.

— Isaac Asimov

The Moon and its phases gave man his first calendar. Trying to match that calendar with the seasons helped give him mathematics. The usefulness of the calendar helped give rise to the thought of beneficent gods. And with all that the Moon is beautiful, too.

— Isaac Asimov

The most exciting phrase to hear in science, the one that heralds new discoveries, is not 'Eureka!' (I found it!) but 'That's funny....'

— Isaac Asimov

The most hopelessly stupid man is he who is not aware that he is wise.

— Isaac Asimov

The nations may be divided in everything else, but they all share a single body of science.

— Isaac Asimov

The rainbow, "the bridge of the gods," proved to be the bridge to our understanding of light—much more important.

— Isaac Asimov

The rockets that have made spaceflight possible are an advance that, more than any other technological victory of the twentieth century, was grounded in science fiction… . One thing that no science fiction writer visualized, however, as far as I know, was that the landings on the Moon would be watched by people on Earth by way of television.

— Isaac Asimov

The saddest aspect of life right now is that science gathers knowledge faster than society gathers wisdom.

— Isaac Asimov

The significant chemicals of living tissue are rickety and unstable, which is exactly what is needed for life.

— Isaac Asimov

The Sun is all in all to us, the center from which all arises, but look wider, and it is only one of countless billions.

— Isaac Asimov

The true delight is in the finding out rather than in the knowing.

— Isaac Asimov

The wish to believe, even against evidence, fuels all the pseudosciences from astrology to creationism.

— Isaac Asimov

The work of Planck and Einstein proved that light behaved as particles in some ways and that the ether therefore was not needed for light to travel through a vacuum. When this was done, the ether was no longer useful and it was dropped with a glad cry. The ether has never been required since. It does not exist now; in fact, it never existed.

— Isaac Asimov

The worlds of our solar system are widely different, but all share a common gravitational tie to the sun.

— Isaac Asimov

The young specialist in English Lit, having quoted me, went on to lecture me severely on the fact that in every century people have thought they understood the Universe at last, and in every century they were proved to be wrong. It follows that the one thing we can say about our modern "knowledge" is that it is wrong.
The young man then quoted with approval what Socrates had said on learning that the Delphic oracle had proclaimed him the wisest man in Greece. "If I am the wisest man," said Socrates, "it is because I alone know that I know nothing." The implication was that I was very foolish because I was under the impression I knew a great deal.
Alas, none of this was new to me. (There is very little that is new to me; I wish my correspondents would realize this.) This particular theme was addressed to me a quarter of a century ago by John Campbell, who specialized in irritating me. He also told me that all theories are proven wrong in time.
My answer to him was, "John, when people thought the Earth was flat, they were wrong. When people thought the Earth was spherical, they were wrong. But if you think that thinking the Earth is spherical is just as wrong as thinking the Earth is flat, then your view is wronger than both of them put together."

— Isaac Asimov

There is a single light of science, and to brighten it anywhere is to brighten it everywhere.

— Isaac Asimov

There is an art to science, and science in art; the two are not enemies, but different aspects of the whole.

— Isaac Asimov

There is no belief, however foolish, that will not gather its faithful adherents who will defend it to the death.

— Isaac Asimov

There is no question but that man's heart outperforms all other hearts in existence. (The tortoise's heart may last longer but it lives nowhere near as intensely.) Why man should be so long-lived is not known, but man, being what he is, is far more interested in asking why he does not live still longer.

— Isaac Asimov

There is nothing frightening about an eternal dreamless sleep. Surely it is better than eternal torment in Hell and eternal boredom in Heaven.

— Isaac Asimov

There is something particularly human about using tools; the first and most important tool being language.

— Isaac Asimov

There is very little flexibility in the behavior of the Universe. What it does once, it does again.

— Isaac Asimov

There seems to be a feeling that anything that is natural must be good. Strychnine is natural.

— Isaac Asimov

There's something about a pious man such as he. He will cheerfully cut your throat if it suits him, but he will hesitate to endanger the welfare of your immaterial and problematical soul.

— Isaac Asimov

Thinking is the activity I love best, and writing to me is simply thinking through my fingers. I can write up to 18 hours a day. Typing 90 words a minute, I've done better than 50 pages a day. Nothing interferes with my concentration. You could put an orgy in my office and I wouldn't look up—well, maybe once.

— Isaac Asimov

Those who reject biological evolution do so, usually, not out of reason, but out of unjustified vanity.

— Isaac Asimov

Though science can cause problems, it is not by ignorance that we will solve them.

— Isaac Asimov

To insult someone we call him "bestial." For deliberate cruelty and malice, "human" might be the greater insult.

— Isaac Asimov

To introduce something altogether new would mean to begin all over, to become ignorant again, and to run the old, old risk of failing to learn.

— Isaac Asimov

To make still bigger telescopes will be useless, for the light absorption and temperature variations of the earth's atmosphere are what now limits the ability to see fine detail. If bigger telescopes are to be built, it will have to be for use in an airless observatory, perhaps an observatory on the moon.

— Isaac Asimov

To many of us, the first law of dietetics seems to be: if it tastes good, it's bad for you.

— Isaac Asimov

To surrender to ignorance and call it God has always been premature, and it remains premature today.

— Isaac Asimov

To test a perfect theory with imperfect instruments did not impress the Greek philosophers as a valid way to gain knowledge.

— Isaac Asimov

True literacy is becoming an arcane art and the nation [United States] is steadily dumbing down.

— Isaac Asimov

Unfortunately, in many cases, people who write science fiction violate the laws of nature, not because they want to make a point, but because they don't know what the laws of nature are.

— Isaac Asimov

Until I became a published writer, I remained completely ignorant of books on how to write and courses on the subject ... they would have spoiled my natural style; made me observe caution; would have hedged me with rules.

— Isaac Asimov

Violence is the last refuge of the incompetent.

— Isaac Asimov

Wait a thousand years and even the garbage left behind by a vanished civilization becomes precious to us.

— Isaac Asimov

We all know we fall. Newton's discovery was that the moon falls, too—and by the same rule that we do.

— Isaac Asimov

We then got to Westminster Abbey and, moving about unguided, we found the graves of Newton, Rutherford, Darwin, Faraday, and Maxwell in a cluster.

— Isaac Asimov

We've lost all geographical frontiers on Earth, but new and far larger ones exist at Earth's doorstep.

— Isaac Asimov

What can be more important than the science of life to any intelligent being who has the good fortune to be alive?

— Isaac Asimov

What makes it so hard to organize the environment sensibly is that everything we touch is hooked up to everything else.

— Isaac Asimov

Whatever else astronomy may or may not be who can doubt it to be the most beautiful of the sciences?

— Isaac Asimov

When I read about the way in which library funds are being cut and cut, I can only think that the door is closing and that American society has found one more way to destroy itself.

— Isaac Asimov

When the practice of farming spread over the earth, mankind experienced its first population explosion.

— Isaac Asimov

When you say, "The burned child dreads the fire, " you mean that he is already a master of induction.

— Isaac Asimov

Where any answer is possible, all answers are meaningless.

— Isaac Asimov

While knowledge can create problems, it is not through ignorance that we can solve them.

— Isaac Asimov

[Creationists] make it sound as though a 'theory' is something you dreamt up after being drunk all night.

— Isaac Asimov

[Learning is] the actual process of broadening yourself, of knowing there's a little extra facet of the universe you know about and can think about and can understand. It seems to me that when it's time to die, and that will come to all of us, there'll be a certain pleasure in thinking that you had utilized your life well, that you had learned as much as you could, gathered in as much as possible of the universe, and enjoyed it. I mean, there's only this universe and only this one lifetime to try to grasp it. And, while it is inconceivable that anyone can grasp more than a tiny portion of it, at least do that much. What a tragedy to just pass through and get nothing out of it.

— Isaac Asimov

"Any specialty, if important, is too important to be left to the specialists." After all, the specialist cannot function unless he concentrates more or less entirely on his specialty and, in doing so, he will ignore the vast universe lying outside and miss important elements that ought to help guide his judgment. He therefore needs the help of the nonspecialist, who, while relying on the specialist for key information, can yet supply the necessary judgment based on everything else… Science, therefore, has become too important to be left to the scientists.

— Isaac Asimov

---
Quotes by others about Isaac Asimov (1)
How quickly do we grow accustomed to wonders. I am reminded of the Isaac Asimov story "Nightfall," about the planet where the stars were visible only once in a thousand years. So awesome was the sight that it drove men mad. We who can see the stars every night glance up casually at the cosmos and then quickly down again, searching for a Dairy Queen.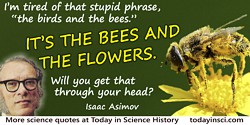 Macro photo of bee by Forest Wander (cc by-sa 2.0)
(source)