Quickly Quotes (9 quotes)
Ac astronomye is an hard thyng,
And yvel for to knowe;
Geometrie and geomesie,
So gynful of speche,
Who so thynketh werche with tho two
Thryveth ful late,
For sorcerie is the sovereyn book
That to tho sciences bilongeth.
Now, astronomy is a difficult discipline, and the devil to learn;
And geometry and geomancy have confusing terminology:
If you wish to work in these two, you will not succeed quickly.
For sorcery is the chief study that these sciences entail.

A quarter-horse jockey learns to think of a twenty-second race as if it were occurring across twenty minutes—in distinct parts, spaced in his consciousness. Each nuance of the ride comes to him as he builds his race. If you can do the opposite with deep time, living in it and thinking in it until the large numbers settle into place, you can sense how swiftly the initial earth packed itself together, how swiftly continents have assembled and come apart, how far and rapidly continents travel, how quickly mountains rise and how quickly they disintegrate and disappear.

An increase in knowledge acquired too quickly and with too little participation on one's own part is not very fruitful: erudition can produce foliage without bearing fruit.

I do not mind if you think slowly. But I do object when you publish more quickly than you think.

Meat reared on land matures relatively quickly, and it takes only a few pounds of plants to produce a pound of meat. Tuna take 10 to 14 years to mature, require thousands of pounds of food to develop, and we're hunting them to the point of extinction.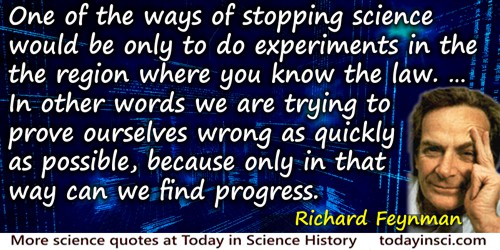 One of the ways of stopping science would be only to do experiments in the region where you know the law. … In other words we are trying to prove ourselves wrong as quickly as possible, because only in that way can we find progress.

She has the sort of body you go to see in marble. She has golden hair. Quickly, deftly, she reaches with both hands behind her back and unclasps her top. Setting it on her lap, she swivels ninety degrees to face the towboat square. Shoulders back, cheeks high, she holds her pose without retreat. In her ample presentation there is defiance of gravity. There is no angle of repose. She is a siren and these are her songs.

Wheeler's First Moral Principle: Never make a calculation until you know the answer. Make an estimate before every calculation, try a simple physical argument (symmetry! invariance! conservation!) before every derivation, guess the answer to every paradox and puzzle. Courage: No one else needs to know what the guess is. Therefore make it quickly, by instinct. A right guess reinforces this instinct. A wrong guess brings the refreshment of surprise. In either case life as a spacetime expert, however long, is more fun!

Women decide the larger questions of life correctly and quickly, not because they are lucky guessers, not because they practise a magic inherited from savagery, but simply and solely because they have sense. They see at a glance what most men could not see with searchlights and telescopes.