Quickly Quotes (5 quotes)
Ac astronomye is an hard thyng,
And yvel for to knowe;
Geometrie and geomesie,
So gynful of speche,
Who so thynketh werche with tho two
Thryveth ful late,
For sorcerie is the sovereyn book
That to tho sciences bilongeth.
Now, astronomy is a difficult discipline, and the devil to learn;
And geometry and geomancy have confusing terminology:
If you wish to work in these two, you will not succeed quickly.
For sorcery is the chief study that these sciences entail.

An increase in knowledge acquired too quickly and with too little participation on one's own part is not very fruitful: erudition can produce foliage without bearing fruit.

Meat reared on land matures relatively quickly, and it takes only a few pounds of plants to produce a pound of meat. Tuna take 10 to 14 years to mature, require thousands of pounds of food to develop, and we're hunting them to the point of extinction.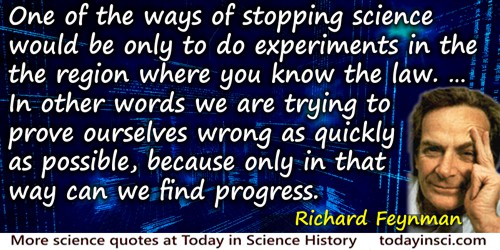 One of the ways of stopping science would be only to do experiments in the region where you know the law. … In other words we are trying to prove ourselves wrong as quickly as possible, because only in that way can we find progress.

Wheeler's First Moral Principle: Never make a calculation until you know the answer. Make an estimate before every calculation, try a simple physical argument (symmetry! invariance! conservation!) before every derivation, guess the answer to every paradox and puzzle. Courage: No one else needs to know what the guess is. Therefore make it quickly, by instinct. A right guess reinforces this instinct. A wrong guess brings the refreshment of surprise. In either case life as a spacetime expert, however long, is more fun!