Hunt Quotes (12 quotes)
A small cabin stands in the Glacier Peak Wilderness, about a hundred yards off a trail that crosses the Cascade Range. In midsummer, the cabin looked strange in the forest. It was only twelve feet square, but it rose fully two stories and then had a high and steeply peaked roof. From the ridge of the roof, moreover, a ten-foot pole stuck straight up. Tied to the top of the pole was a shovel. To hikers shedding their backpacks at the door of the cabin on a cold summer evening—as the five of us did—it was somewhat unnerving to look up and think of people walking around in snow perhaps thirty-five feet above, hunting for that shovel, then digging their way down to the threshold. [1971]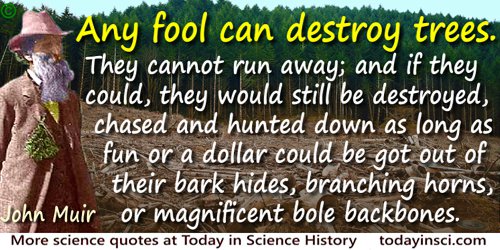 Any fool can destroy trees. They cannot run away; and if they could, they would still be destroyed,—chased and hunted down as long as fun or a dollar could be got out of their bark hides, branching horns, or magnificent bole backbones. Few that fell trees plant them; nor would planting avail much towards getting back anything like the noble primeval forests. During a man's life only saplings can be grown, in the place of the old trees—tens of centuries old—that have been destroyed.

At the present time the fishing industry is, in some ways, at the stage at which primitive man was many centuries ago—we hunt the fish that Nature provides, just as our ancestors hunted animals for food. We have not yet begun to herd fish or to improve their quality—but one day we shall be forced to farm the seas as we do the land.

I wish people would more generally bring back the seeds of pleasing foreign plants and introduce them broadcast, sowing them by our waysides and in our fields, or in whatever situation is most likely to suit them. It is true, this would puzzle botanists, but there is no reason why botanists should not be puzzled. A botanist is a person whose aim is to uproot, kill and exterminate every plant that is at all remarkable for rarity or any special virtue, and the rarer it is the more bitterly he will hunt it down.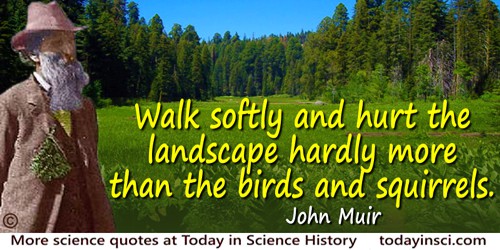 Crescent Meadow in Sequoia National Park
(source)
Indians walk softly and hurt the landscape hardly more than the birds and squirrels, and their brush and bark huts last hardly longer than those of wood rats, while their more enduring monuments, excepting those wrought on the forests by the fires they made to improve their hunting grounds, vanish in a few centuries.

Meat reared on land matures relatively quickly, and it takes only a few pounds of plants to produce a pound of meat. Tuna take 10 to 14 years to mature, require thousands of pounds of food to develop, and we're hunting them to the point of extinction.

Orthodoxy can be as stubborn in science as in religion. I do not know how to shake it except by vigorous imagination that inspires unconventional work and contains within itself an elevated potential for inspired error. As the great Italian economist Vilfredo Pareto wrote: 'Give me a fruitful error any time, full of seeds, bursting with its own corrections. You can keep your sterile truth for yourself.' Not to mention a man named Thomas Henry Huxley who, when not in the throes of grief or the wars of parson hunting, argued that 'irrationally held truths may be more harmful than reasoned errors.'

People were getting ridiculous amounts [of bluefin tuna]. Somebody got on the radio and said, "Guys, maybe we should leave some for tomorrow." Another guy came on and said, "Hey, they didn't leave any buffalo for me." [Heard from fishermen crowding off Fire Island in 1998, which he cites as his source for the phrase "the last buffalo hunt" inspiring his writings on overfishing.]

Until lions have their historians, tales of the hunt shall always glorify the hunter.

We do not inhabit a perfected world where natural selection ruthlessly scrutinizes all organic structures and then molds them for optimal utility. Organisms inherit a body form and a style of embryonic development; these impose constraint s upon future change and adaptation. In many cases, evolutionary pathways reflect inherited patterns more than current environmental demands. These inheritances constrain, but they also provide opportunity. A potentially minor genetic change ... entails a host of complex, nonadaptive consequences ... What 'play' would evolution have if each structure were built for a restricted purpose and could be used for nothing else? How could humans learn to write if our brain had not evolved for hunting, social cohesion, or whatever, and could not transcend the adaptive boundaries of its original purpose?

We have only indirect means of knowing the courage and activity of the Neanderthals in the chase, through the bones of animals hunted for food which are found intermingled with the flints around their ancient hearths.

When all the trees have been cut down,
when all the animals have been hunted,
when all the waters are polluted,
when all the air is unsafe to breathe,
only then will you discover you cannot eat money.