Renaissance Quotes (9 quotes)
Has anyone ever given credit to the Black Death for the Renaissance—in other words, for modern civilization? … [It] exterminated such huge masses of the European proletariat that the average intelligence and enterprise of the race were greatly lifted, and that this purged and improved society suddenly functioned splendidly. … The best brains of the time, thus suddenly emancipated, began to function freely and magnificently. There ensued what we call the Renaissance.

I feel, sometimes, as the renaissance man must have felt in finding new riches at every point and in the certainty that unexplored areas of knowledge and experience await at every turn.

If tombstones were still in style, I would want to have the two words ["Renaissance hack"] chiseled right under my name.

Like Molière's M. Jourdain, who spoke prose all his life without knowing it, mathematicians have been reasoning for at least two millennia without being aware of all the principles underlying what they were doing. The real nature of the tools of their craft has become evident only within recent times A renaissance of logical studies in modern times begins with the publication in 1847 of George Boole's The Mathematical Analysis of Logic.

Pathology, probably more than any other branch of science, suffers from heroes and hero-worship. Rudolf Virchow has been its archangel and William Welch its John the Baptist, while Paracelsus and Cohnheim have been relegated to the roles of Lucifer and Beelzebub. … Actually, there are no heroes in Pathology—all of the great thoughts permitting advance have been borrowed from other fields, and the renaissance of pathology stems not from pathology itself but from the philosophers Kant and Goethe.

Science, above all, respects the power of the human intellect. Science is the apotheosis of the intellect and the consummation of the Renaissance. Science respects more deeply the potential of humanity than religion ever can.

Those who suggest that the "dark ages" were a time of violence and superstition would do well to remember the appalling cruelties of our own time, truly without parallel in past ages, as well as the fact that the witch-hunts were not strictly speaking a medieval phenomenon but belong rather to the so-called Renaissance.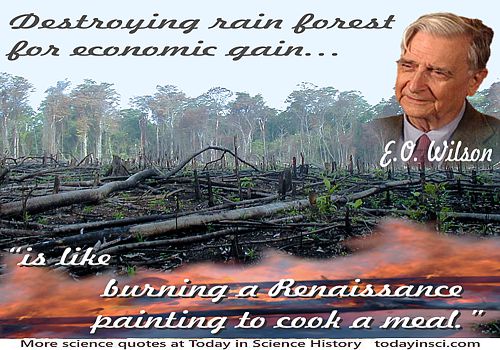 Lacandon jungle burned for agriculture in Chiapas, Mexico (by Jami Dwyer)
(source)
[Destroying rain forest for economic gain] is like burning a Renaissance painting to cook a meal.

[The attitude of the Renaissance towards the antique world was that] Archaeology to them was not a mere science for the antiquarian; it was a means by which they could touch the dry dust of antiquity into the very breath and beauty of life, and fill with the new wine of romanticism forms that else had been old and out-worn.