(source)

Oscar Wilde

(16 Oct 1854 - 30 Nov 1900)



Science Quotes by Oscar Wilde
(41 quotes)
[The attitude of the Renaissance towards the antique world was that] Archaeology to them was not a mere science for the antiquarian; it was a means by which they could touch the dry dust of antiquity into the very breath and beauty of life, and fill with the new wine of romanticism forms that else had been old and out-worn.

— Oscar Wilde

[The Niagara Falls] would be more impressive if it flowed the other way.

— Oscar Wilde

Sir Robert Chiltern: You think science cannot grapple with the problem of women?
Mrs. Cheveley: Science can never grapple with the irrational. That is why it has no future before it in this world.

— Oscar Wilde

A man who is master of himself can end a sorrow as easily as he can invent a pleasure.

— Oscar Wilde

Art creates an incomparable and unique effect, and, having done so, passes on to other things. Nature, upon the other hand, forgetting that imitation can be made the sincerest form of insult, keeps on repeating the effect until we all become absolutely wearied of it.

— Oscar Wilde

Better to take pleasure in a rose than to put its root under a microscope.

— Oscar Wilde

Chiromancy is a most dangerous science, and one that ought not to be encouraged, except in a "tête-à-tête."

— Oscar Wilde

Education is an admirable thing, but it is well to remember from time to time that nothing that is worth knowing can be taught.

— Oscar Wilde

He who would lead a Christ-like life is he who is perfectly and absolutely himself. He may be a great poet, or a great man of science, or a young student at the University, or one who watches sheep upon a moor, or a maker of dramas like Shakespeare, or a thinker about God, like Spinoza. or a child who plays in a garden, or a fisherman who throws his nets into the sea. It does not matter what he is as long as he realises the perfection of the soul that is within him.

— Oscar Wilde

I do not approve of anything that tampers with natural ignorance. Ignorance is like a delicate exotic fruit; touch it and the bloom is gone. The whole theory of modern education is radically unsound. Fortunately in England, at any rate, education produces no effect whatsoever. If it did, it would prove a serious danger to the upper classes.

— Oscar Wilde

I don't play accurately—anyone can play accurately—but I play with wonderful expression. As far as the piano is concerned, sentiment is my forte. I keep science for life.

— Oscar Wilde

I see the moon like a clipped piece of silver. Like gilded bees the stars cluster round her.

— Oscar Wilde

I see…. Scientists call that phenomenon an obsession of the visual nerve.

— Oscar Wilde

It is not logic that makes men reasonable, nor the science of ethics that makes men good.

— Oscar Wilde

It is only the unimaginative who ever invents. The true artist is known by the use he makes of what he annexes, and he annexes everything

— Oscar Wilde

Nature hates mind.

— Oscar Wilde

Nature is no great mother who has borne us. She is our creation. It is our brain that she quickens to life. Things are because we see them, and what we see, and how we see it, depends on the Arts that have influenced us. To look at a thing is very different from seeing a thing. One does not see anything until one sees its beauty.

— Oscar Wilde

Neither art nor science knows anything of moral approval or disapproval. Science is out of the reach of morals, for her eyes are fixed upon eternal truths. Art is out of the reach of morals, for her eyes are fixed upon things beautiful and immortal and ever-changing.

— Oscar Wilde

Now and then, in the course of the century, a great man of science, like Darwin; a great poet, like Keats; a fine critical spirit, like M. Renan; a supreme artist, like Flaubert, has been able to isolate himself, to keep himself out of reach of the clamorous claims of others, to stand "under the shelter of the wall," as Plato puts it, and so to realise the perfection of what was in him, to his own incomparable gain, and to the incomparable and lasting gain of the whole world.

— Oscar Wilde

Nowadays most people die of a sort of creeping common sense, and discover when it is too late that the only things one never regrets are one's mistakes.

— Oscar Wilde

Philosophy may teach us to bear with equanimity the misfortunes of our neighbours, and science resolve the moral sense into a secretion of sugar, but art is what makes the life of each citizen a sacrament.

— Oscar Wilde

Pleasure is Nature's test, her sign of approval. When we are happy we are always good; but when we are good, we are not always happy.

— Oscar Wilde

Poets are always ahead of science; all the great discoveries of science have been stated before in poetry.

— Oscar Wilde

Psychology is in its infancy as a science. I hope, in the interests of art, it will always remain so.

— Oscar Wilde

Punctuality is the thief of time.

— Oscar Wilde

Religions die when they are proved to be true. Science is the record of dead religions.

— Oscar Wilde

Success is a science; if you have the conditions, you get the result.

— Oscar Wilde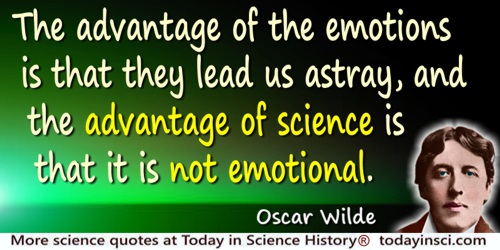 The advantage of the emotions is that they lead us astray, and the advantage of science is that it is not emotional.

— Oscar Wilde

The canons of art depend on what they appeal to. Painting appeals to the eye, and is founded on the science of optics. Music appeals to the ear and is founded on the science of acoustics. The drama appeals to human nature, and must have as its ultimate basis the science of psychology and physiology.

— Oscar Wilde

The Governor was strong upon
The Regulation Act:
The Doctor said that Death was but
A scientific fact:
And twice a day the Chaplain called,
And left a little tract.

— Oscar Wilde

The more we study Art, the less we care for Nature. What Art really reveals to us is Nature's lack of design, her curious crudities, her extraordinary monotony, her absolutely unfinished condition. … It is fortunate for us, however, that Nature is so imperfect, as otherwise we should have had no art at all. Art is our spirited protest, our gallant attempt to teach Nature her proper place. As for the infinite variety of Nature, that is a pure myth. It is not to be found in Nature herself. It resides in the imagination, or fancy, or cultivated blindness of the man who looks at her.

— Oscar Wilde

The nineteenth century is a turning point in history, simply on account of the work of two men, Darwin and Renan, the one the critic of the Book of Nature, the other the critic of the books of God. Not to recognise this is to miss the meaning of one of the most important eras in the progress of the world.

— Oscar Wilde

The real difficulty, however, that we all have to face in life is not so much the science of cookery as the stupidity of cooks.

— Oscar Wilde

The typewriting machine, when played with expression, is no more annoying than the piano when played by a sister or near relation.

— Oscar Wilde

Thinking is the most unhealthy thing in the world, and people die of it just as they die of any other disease.

— Oscar Wilde

To expect the unexpected shows a thoroughly modern intellect.

— Oscar Wilde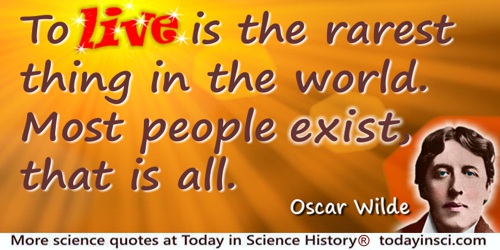 To live is the rarest thing in the world. Most people exist, that is all.

— Oscar Wilde

We are all in the gutter, but some of us are looking at the stars.

— Oscar Wilde

What is truth? In matters of religion it is simply the opinion that has survived. In matters of science it is the ultimate sensation. In matters of art it is one's last mood.

— Oscar Wilde

When we have fully discovered the scientific laws that govern life, we shall realise that one person who has more illusions than the dreamer is the man of action.

— Oscar Wilde

Why does not science, instead of troubling itself about sunspots, which nobody ever saw, or, if they did, ought not to speak about. — Why does not science busy itself with drainage and sanitary engineering? Why does it not clean the streets and free the rivers from pollution? Why, in England there is scarcely a river at some point is not polluted; and the flowers are all withering on the banks.

— Oscar Wilde