Astray Quotes (13 quotes)
[There] are cases where there is no dishonesty involved but where people are tricked into false results by a lack of understanding about what human beings can do to themselves in the way of being led astray by subjective effects, wishful thinking or threshold interactions. These are examples of pathological science. These are things that attracted a great deal of attention. Usually hundreds of papers have been published upon them. Sometimes they have lasted for fifteen or twenty years and then they gradually die away.
[Coining the term "pathological science" for the self-deceiving application of science to a phenomenon that doesn't exist.]

All those who think it paradoxical that so great a weight as the earth should not waver or move anywhere seem to me to go astray by making their judgment with an eye to their own affects and not to the property of the whole. For it would not still appear so extraordinary to them, I believe, if they stopped to think that the earth's magnitude compared to the whole body surrounding it is in the ratio of a point to it. For thus it seems possible for that which is relatively least to be supported and pressed against from all sides equally and at the same angle by that which is absolutely greatest and homogeneous.

An experiment is an observation that can be repeated, isolated and varied. The more frequently you can repeat an observation, the more likely are you to see clearly what is there and to describe accurately what you have seen. The more strictly you can isolate an observation, the easier does your task of observation become, and the less danger is there of your being led astray by irrelevant circumstances, or of placing emphasis on the wrong point. The more widely you can vary an observation, the more clearly will the uniformity of experience stand out, and the better is your chance of discovering laws.

Even in populous districts, the practice of medicine is a lonely road which winds up-hill all the way and a man may easily go astray and never reach the Delectable Mountains unless he early finds those shepherd guides of whom Bunyan tells, Knowledge, Experience, Watchful, and Sincere.

He who made us would have been a pitiful bungler if he had made the rules of our moral conduct a matter of science. For one man of science, there are thousands who are not. … State a moral case to a ploughman and a professor. The former will decide it as well, and often better than the latter, because he has not been led astray by artificial rules.

I do not think it is possible really to understand the successes of science without understanding how hard it is—how easy it is to be led astray, how difficult it is to know at any time what is the next thing to be done.

It must be conceded that a theory has an important advantage if its basic concepts and fundamental hypotheses are 'close to experience,' and greater confidence in such a theory is certainly justified. There is less danger of going completely astray, particularly since it takes so much less time and effort to disprove such theories by experience. Yet more and more, as the depth of our knowledge increases, we must give up this advantage in our quest for logical simplicity in the foundations of physical theory...

Nothing leads the scientist so astray as a premature truth.

Our spirit is often led astray by its own delusions; it is even frightened by its own work, believes that it sees what it fears, and in the horror of night sees at last the objects which itself has produced.

Physical investigation, more than anything besides, helps to teach us the actual value and right use of the Imagination—of that wondrous faculty, which, left to ramble uncontrolled, leads us astray into a wilderness of perplexities and errors, a land of mists and shadows; but which, properly controlled by experience and reflection, becomes the noblest attribute of man; the source of poetic genius, the instrument of discovery in Science, without the aid of which Newton would never have invented fluxions, nor Davy have decomposed the earths and alkalies, nor would Columbus have found another Continent.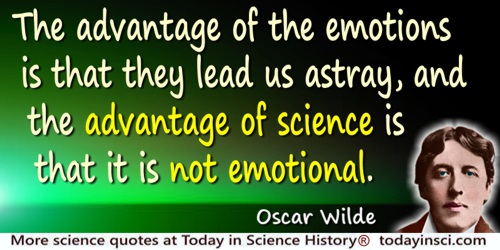 The advantage of the emotions is that they lead us astray, and the advantage of science is that it is not emotional.

The imagination is … the most precious faculty with which a scientist can be equipped. It is a risky possession, it is true, for it leads him astray a hundred times for once that it conducts him to truth; but without it he has no chance at all of getting at the meaning of the facts he has learned or discovered.

The productive research worker is usually one who is not afraid to venture and risk going astray, but who makes a rigorous test for error before reporting his findings.