(source)

Sir William Osler

(12 Jul 1849 - 29 Dec 1919)




Science Quotes by Sir William Osler
(47 quotes)
>> Click for Sir William Osler Quotes on | Experiment | Medicine | Nature |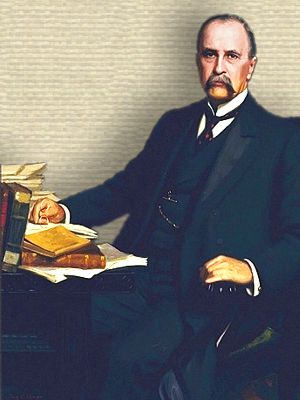 William Osler (1905)
Portrait by Thomas C. Corner
(source)
A desire to take medicine is, perhaps, the great feature which distinguishes man from other animals.

— Sir William Osler

A liberal education may be had at a very slight cost of time …[with] ten books which you may make close friends.
I. Old and New Testament.
II. Shakespeare.
III. Montaigne.
IV. Plutarch's Lives.
V. Marcus Aurelius.
VI. Epictetus.
VII. Religio Medici.
VIII. Don Quixote.
IX. Emerson
X. Oliver Wendell Holmes—Breakfast-Table Series.

— Sir William Osler

A library … is a great catalyser, accelerating the nutrition and rate of progress in a profession.

— Sir William Osler

A reference to the two sorts of doctors is also found in the Republic: "Now you know that when patients do not require medicine, but have only to be put under a regimen, the inferior sort of practitioner is deemed to be good enough; but when medicine has to be given, then the doctor should be more of a man."

— Sir William Osler

An old writer says that there are four sorts of readers: "Sponges which attract all without distinguishing; Howre-glasses which receive and powre out as fast; Bagges which only retain the dregges of the spices and let the wine escape, and Sives which retaine the best onely." A man wastes a great many years before he reaches the 'sive' stage.

— Sir William Osler

At the outset do not be worried about this big question—Truth. It is a very simple matter if each one of you starts with the desire to get as much as possible. No human being is constituted to know the truth, the whole truth, and nothing but the truth; and even the best of men must be content with fragments, with partial glimpses, never the full fruition. In this unsatisfied quest the attitude of mind, the desire, the thirst—a thirst that from the soul must arise!—the fervent longing, are the be-all and the end-all.

— Sir William Osler

Even in populous districts, the practice of medicine is a lonely road which winds up-hill all the way and a man may easily go astray and never reach the Delectable Mountains unless he early finds those shepherd guides of whom Bunyan tells, Knowledge, Experience, Watchful, and Sincere.

— Sir William Osler

Fed on the dry husks of facts, the human heart has a hidden want which science cannot supply.

— Sir William Osler

Few men live lives of more devoted self-sacrifice than the family physician, but he may become so completely absorbed in work that leisure is unknown…. More than most men he feels the tragedy of isolation—that inner isolation so well expressed in Matthew Arnold's line "We mortal millions live alone."

— Sir William Osler

Happiness lies in the absorption in some vocation which satisfies the soul.

— Sir William Osler

Humanity has but three great enemies: fever, famine and war; of these by far the greatest, by far the most terrible, is fever.

— Sir William Osler

I have had three personal ideals. One, to do the day's work well and not to bother about tomorrow.… The second ideal has been to act the Golden Rule, as far as in me lay, towards my professional brethren and towards the patients committed to my care. And the third has been to cultivate such a measure of equanimity as would enable me to bear success with humility, the affection of my friends without pride, and to be ready when the day of sorrow and grief came to meet it with the courage befitting a man.

— Sir William Osler

In departing from any settled opinion or belief, the variation, the change, the break with custom may come gradually; and the way is usually prepared; but the final break is made, as a rule, by some one individual, … who sees with his own eyes, and with an instinct or genius for truth, escapes from the routine in which his fellows live. But he often pays dearly for his boldness.

— Sir William Osler

In the fight which we have to wage incessantly against ignorance and quackery among the masses and follies of all sorts among the classes, diagnosis, not drugging, is our chief weapon of offence. Lack of systematic personal training in the methods of the recognition of disease leads to the misapplication of remedies, to long courses of treatment when treatment is useless, and so directly to that lack of confidence in our methods which is apt to place us in the eyes of the public on a level with empirics and quacks.

— Sir William Osler

In the Mortality Bills, pneumonia is an easy second, to tuberculosis; indeed in many cities the death-rate is now higher and it has become, to use the phrase of Bunyan 'the captain of the men of death.'

— Sir William Osler

Like other departments of philosophy, medicine began with an age of wonder. The accidents of disease and the features of death aroused surprise and stimulated interest, and a beginning was made when man first asked in astonishment, Why should these things be?

— Sir William Osler

Look wise, say nothing, and grunt. Speech was given to conceal thought.

— Sir William Osler

Medicine is a science of uncertainty and an art of probability.

— Sir William Osler

More than any other the practitioner of medicine may illustrate … that we are here not to get all we can out of life for ourselves, but to try to make the lives of others happier.

— Sir William Osler

My second fixed idea is the uselessness of men above sixty years of age, and the incalculable benefit it would be in commercial, political, and in professional life, if as a matter of course, men stopped work at this age.

— Sir William Osler

No special virtues are needed [other than those of an ordinary woman, are needed for a nurse], but the circumstances demand the exercise of them in a special way. There are seven, the mystic seven, your lamps to lighten at … tact, tidiness, taciturnity, sympathy, gentleness, cheerfulness, all linked together by charity.

— Sir William Osler

Nothing will sustain you more potently than the power to recognize in your humdrum routine, as perhaps it may be thought, the true poetry of life—the poetry of the commonplace, of the ordinary man, of the plain, toil-worn woman, with their loves and their joys, their sorrows and their griefs.

— Sir William Osler

Now of the difficulties bound up with the public in which we doctors work, I hesitate to speak in a mixed audience. Common sense in matters medical is rare, and is usually in inverse ratio to the degree of education.

— Sir William Osler

Our bowels are outside of us—just a tucked-in portion.

— Sir William Osler

Search the scriptures of human achievement and you cannot find any to equal in beneficence the introduction of Anæsthesia, Sanitation, with ail that it includes, and Asepsis—a short half century's contribution towards the practical solution of the problems of human suffering, regarded as eternal and insoluble.

— Sir William Osler

Seeing and thinking have done much for human progress; in the sphere of mind and morals everything, and could the world have been saved by armchair philosophy, the Greeks would have done it; but only a novum organon could do this, the powerful possibilities of which were only revealed when man began to search our the secrets of nature by way of experiment, to use the words of Harvey.

— Sir William Osler

Tact is the saving virtue without which no woman can be a success in any way, as a nurse or not. She may have all the others, but without tact she is a failure.

— Sir William Osler

Take the sum of human achievement in action, in science, in art, in literature—subtract the work of the men above forty, and while we should miss great treasures, even priceless treasures, we would practically be where we are today. … The effective, moving, vitalizing work of the world is done between the ages of twenty-five and forty.

— Sir William Osler

That man can interrogate as well as observe nature was a lesson slowly learned in his evolution. Of the two methods by which he can do this, the mathematical and the experimental, both have been equally fruitful—by the one he has gauged the starry heights and harnessed the cosmic forces to his will; by the other he has solved many of the problems of life and lightened many of the burdens of humanity.

— Sir William Osler

The ancients thought as clearly as we do, had greater skills in the arts and in architecture, but they had never learned the use of the great instrument which has given man control over nature—experiment.

— Sir William Osler

The extraordinary development of modern science may be her undoing. Specialism, now a necessity, has fragmented the specialities themselves in a way that makes the outlook hazardous. The workers lose all sense of proportion in a maze of minutiae.

— Sir William Osler

The future belongs to Science. More and more she will control the destinies of the nations. Already she has them in her crucible and on her balances.

— Sir William Osler

The greater the ignorance the greater the dogmatism.

— Sir William Osler

The natural man has only two primal passions, to get and to beget.

— Sir William Osler

The philosophies of one age have become the absurdities of the next, and the foolishness of yesterday has become the wisdom of tomorrow.

— Sir William Osler

The young doctor should look about early for an avocation, a pastime, that will take him away from patients, pills and potions. … No man is really happy or safe without one, and it makes precious little difference what the outside interest may be—botany, beetles or butterflies, roses, tulips or irises, fishing, mountaineering or antiquities—anything will do so long as he straddles a hobby and rides it hard.

— Sir William Osler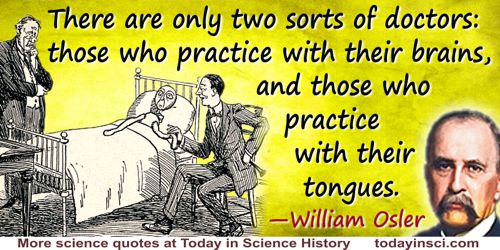 Candidate for medical degree being examined in the subject of "Bedside Manner" —
Punch
(22 Apr 1914)
(source)
There are only two sorts of doctors: those who practice with their brains, and those who practice with their tongues.

— Sir William Osler

There is no more potent antidote to the corroding influence of mammon than the presence in the community of a body of men devoted to science, living for investigation and caring nothing for the lust of the eyes and the pride of life.

— Sir William Osler

Things cannot always go your way. Learn to accept in silence the minor aggravations, cultivate the gift of taciturnity and consume your own smoke with an extra draught of hard work, so that those about you may not be annoyed with the dust and soot of your complaints.

— Sir William Osler

Though a little one, the master-word looms large in meaning. It is the open sesame to every portal, the great equalizer in the world, the true philosopher's stone which transmutes all the base metal of humanity into gold. … The master-word is Work.

— Sir William Osler

To each of us life is an experiment in Nature's laboratory, and she tests and tries us in a thousand ways, using us and improving us if we serve her turn, ruthlessly dispensing with us if we do not.

— Sir William Osler

To study the phenomenon of disease without books is to sail uncharted sea, while to study books without patients is not to go to sea at all.

— Sir William Osler

Varicose veins are the result of an improper selection of grandparents.
Indicating that varicose veins are hereditary.

— Sir William Osler

We are all dietetic sinners; only a small percent of what we eat nourishes us, the balance goes to waste and loss of energy .

— Sir William Osler

We are here to add what we can to, not to get what we can from, Life.

— Sir William Osler

While medicine is to be your vocation, or calling, see to it that you have also an avocation—some intellectual pastime which may serve to keep you in touch with the world of art, of science, or of letters. Begin at once the cultivation of some interest other than the purely professional. … No matter what it is—but have an outside hobby.

— Sir William Osler

Who runs may read the scroll which reason has placed as a warning over the human menageries: "chained, not tamed." And yet who can doubt that the leaven of science, working in the individual, leavens in some slight degree the whole social fabric. Reason is at least free, or nearly so; the shackles of dogma have been removed, and faith herself, freed from a morganatic alliance, finds in the release great gain.

— Sir William Osler

---
Quotes by others about Sir William Osler (1)
That ability to impart knowledge … what does it consist of? … a deep belief in the interest and importance of the thing taught, a concern about it amounting to a sort of passion. A man who knows a subject thoroughly, a man so soaked in it that he eats it, sleeps it and dreams it—this man can always teach it with success, no matter how little he knows of technical pedagogy. That is because there is enthusiasm in him, and because enthusiasm is almost as contagious as fear or the barber's itch. An enthusiast is willing to go to any trouble to impart the glad news bubbling within him. He thinks that it is important and valuable for to know; given the slightest glow of interest in a pupil to start with, he will fan that glow to a flame. No hollow formalism cripples him and slows him down. He drags his best pupils along as fast as they can go, and he is so full of the thing that he never tires of expounding its elements to the dullest.
This passion, so unordered and yet so potent, explains the capacity for teaching that one frequently observes in scientific men of high attainments in their specialties—for example, Huxley, Ostwald, Karl Ludwig, Virchow, Billroth, Jowett, William G. Sumner, Halsted and Osler—men who knew nothing whatever about the so-called science of pedagogy, and would have derided its alleged principles if they had heard them stated.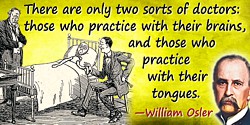 Candidate for medical degree being examined in the subject of "Bedside Manner" —
Punch
(22 Apr 1914)
(source)