(source)

Sir William Osler

(12 Jul 1849 - 29 Dec 1919)




A desire to take medicine is, perhaps, the great feature which distinguishes man from other animals.

— Sir William Osler

A reference to the two sorts of doctors is also found in the Republic: "Now you know that when patients do not require medicine, but have only to be put under a regimen, the inferior sort of practitioner is deemed to be good enough; but when medicine has to be given, then the doctor should be more of a man."

— Sir William Osler

Even in populous districts, the practice of medicine is a lonely road which winds up-hill all the way and a man may easily go astray and never reach the Delectable Mountains unless he early finds those shepherd guides of whom Bunyan tells, Knowledge, Experience, Watchful, and Sincere.

— Sir William Osler

Like other departments of philosophy, medicine began with an age of wonder. The accidents of disease and the features of death aroused surprise and stimulated interest, and a beginning was made when man first asked in astonishment, Why should these things be?

— Sir William Osler

Medicine is a science of uncertainty and an art of probability.

— Sir William Osler

Now of the difficulties bound up with the public in which we doctors work, I hesitate to speak in a mixed audience. Common sense in matters medical is rare, and is usually in inverse ratio to the degree of education.

— Sir William Osler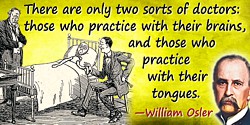 Candidate for medical degree being examined in the subject of "Bedside Manner" —
Punch
(22 Apr 1914)
(source)