(source)

Sir William Osler

(12 Jul 1849 - 29 Dec 1919)




William Osler (1905)

Portrait by Thomas C. Corner

(source)

Books And Men
[Excerpt on the importance of general practitioners reading current literature.]
from an Address for the Dedication of the New Building of the Boston Medical Library (12 Jan 1901)
by Sir William Osler
A library … is a great catalyser, accelerating the nutrition and rate of progress in a profession.
For the general practitioner a well-used library is one of the few correctives of the premature senility which is so apt to overtake him. Self-centred, self-taught, he leads a solitary life, and unless his every-day experience is controlled by careful reading or by the attrition of a medical society it soon ceases to be of the slightest value and becomes a mere accretion of isolated facts, without correlation. It is astonishing with how little reading a doctor can practise medicine, but it is not astonishing how badly he may do it.
Not three months ago a physician living within an hour's ride of the Surgeon-General's Library brought to me his little girl, aged twelve. The diagnosis of infantile myxcedema required only a half glance. In placid contentment he had been practising twenty years in "Sleepy Hollow" and not even when his own flesh and blood was touched did he rouse from an apathy deep as Rip Van Winkle's sleep. In reply to questions: No, he had never seen anything in the journals about the thyroid gland; he had seen no pictures of cretinism or myxcedema; in fact his mind was a blank on the whole subject. He had not been a reader, he said, but he was a practical man with very little time.
I could not help thinking of John Bunyan's remarks on the elements of success in the practice of medicine.
"Physicians," he says, "get neither name nor fame by the pricking of wheals or the picking out thistles, or by laying of plaisters to the scratch of a pin; every old woman can do this. But if they would have a name and a fame, if they will have it quickly, they must do some great and desperate cures. Let them fetch one to life that was dead, let them recover one to his wits that was mad, let them make one that was born blind to see, or let them give ripe wits to a fool—these are notable cures, and he that can do thus, if he dost thus first, he shall have the name and fame he deserves; he may lie abed till noon."
Had my doctor friend been a reader he might have done a great and notable cure and even have given ripe wits to a fool! It is in utilizing the fresh knowledge of the journals that the young physician may attain quickly to the name and fame he desires.

Paragraph breaks and indent added for readability as a web page. The opening quote chosen by Webmaster to use as the heading comes from the final paragraph. Text from 'Books and Men',
The Boston Medical and Surgical Journal
(17 Jan 1901),
144
, No. 3, 60. Quote from p.61.
(source)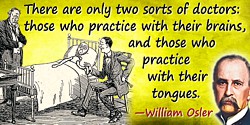 Candidate for medical degree being examined in the subject of "Bedside Manner" —
Punch
(22 Apr 1914)
(source)