(source)

Count Alessandro Giuseppe Antonio Anastasio Volta

(18 Feb 1745 - 5 Mar 1827)




Science Quotes by Count Alessandro Giuseppe Antonio Anastasio Volta
(2 quotes)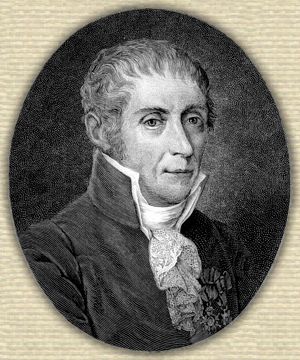 ...each metal has a certain power, which is different from metal to metal, of setting the electric fluid in motion...

— Count Alessandro Giuseppe Antonio Anastasio Volta

The language of experiment is more authoritative than any reasoning: facts can destroy our ratiocination—not vice versa.

— Count Alessandro Giuseppe Antonio Anastasio Volta

---
Quotes by others about Count Alessandro Giuseppe Antonio Anastasio Volta (3)
My Volta is always busy. What an industrious scholar he is! When he is not paying visits to museums or learned men, he devotes himself to experiments. He touches, investigates, reflects, takes notes on everything. I regret to say that everywhere, inside the coach as on any desk, I am faced with his handkerchief, which he uses to wipe indifferently his hands, nose and instruments.

In the beginning of the year 1800 the illustrious professor [Volta] conceived the idea of forming a long column by piling up, in succession, a disc of copper, a disc of zinc, and a disc of wet cloth, with scrupulous attention to not changing this order. What could be expected beforehand from such a combination? Well, I do not hesitate to say, this apparently inert mass, this bizarre assembly, this pile of so many couples of unequal metals separated by a little liquid is, in the singularity of effect, the most marvellous instrument which men have yet invented, the telescope and the steam engine not excepted.

The voltaic battery was as an alarm-bell to experimenters in every part of Europe.