(source)

François Arago

(26 Feb 1786 - 2 Oct 1853)




Science Quotes by François Arago
(14 quotes)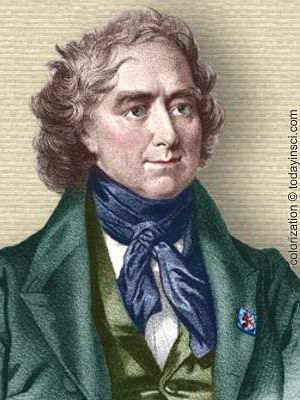 Connaître, découvrir, communiquer—telle est, au fond, notre honorable destinée.
To get to know, to discover, to publish—this is the destiny of a scientist.

— François Arago

Endowed with two qualities, which seemed incompatible with each other, a volcanic imagination and a pertinacity of intellect which the most tedious numerical calculations could not daunt, Kepler conjectured that the movements of the celestial bodies must be connected together by simple laws, or, to use his own expression, by harmonic laws. These laws he undertook to discover. A thousand fruitless attempts, errors of calculation inseparable from a colossal undertaking, did not prevent him a single instant from advancing resolutely toward the goal of which he imagined he had obtained a glimpse. Twenty-two years were employed by him in this investigation, and still he was not weary of it! What, in reality, are twenty-two years of labor to him who is about to become the legislator of worlds; who shall inscribe his name in ineffaceable characters upon the frontispiece of an immortal code; who shall be able to exclaim in dithyrambic language, and without incurring the reproach of anyone, "The die is cast; I have written my book; it will be read either in the present age or by posterity, it matters not which; it may well await a reader, since God has waited six thousand years for an interpreter of his words."

— François Arago

Euler calculated without any apparent effort, just as men breathe, as eagles sustain themselves in the air.

— François Arago

Euler who could have been called almost without metaphor, and certainly without hyperbole, analysis incarnate.

— François Arago

I was often humiliated to see men disputing for a piece of bread, just as animals might have done. My feelings on this subject have very much altered since I have been personally exposed to the tortures of hunger. I have discovered, in fact, that a man, whatever may have been his origin, his education, and his habits, is governed, under certain circumstances, much more by his stomach than by his intelligence and his heart.

— François Arago

In the beginning of the year 1800 the illustrious professor [Volta] conceived the idea of forming a long column by piling up, in succession, a disc of copper, a disc of zinc, and a disc of wet cloth, with scrupulous attention to not changing this order. What could be expected beforehand from such a combination? Well, I do not hesitate to say, this apparently inert mass, this bizarre assembly, this pile of so many couples of unequal metals separated by a little liquid is, in the singularity of effect, the most marvellous instrument which men have yet invented, the telescope and the steam engine not excepted.

— François Arago

In the experimental sciences, the epochs of the most brilliant progress are almost always separated by long intervals of almost absolute repose.

— François Arago

Let us award a just, a brilliant homage to those rare men whom nature has endowed with the precious privilege of arranging a thousand isolated facts, of making seductive theories spring from them; but let us not forget to state, that the scythe of the reaper had cut the stalks before one had thought of uniting them into sheaves!

— François Arago

On certain occasions, the eyes of the mind can supply the want of the most powerful telescopes, and lead to astronomical discoveries of the highest importance.

— François Arago

Such is the privilege of genius; it perceives, it seizes relations where vulgar eyes see only isolated facts.

— François Arago

The ancients had a taste, let us say rather a passion, for the marvellous, which caused … grouping together the lofty deeds of a great number of heroes, whose names they have not even deigned to preserve, and investing the single personage of Hercules with them. … In our own time the public delight in blending fable with history. In every career of life, in the pursuit of science especially, they enjoy a pleasure in creating Herculeses.

— François Arago

The calculus of probabilities, when confined within just limits, ought to interest, in an equal degree, the mathematician, the experimentalist, and the statesman.

— François Arago

The efforts of the great philosopher [Newton] were always superhuman; the questions which he did not solve were incapable of solution in his time

— François Arago

The mathematics have always been the implacable enemies of scientific romances.

— François Arago

---
Quotes by others about François Arago (1)
It is not surprising, in view of the polydynamic constitution of the genuinely mathematical mind, that many of the major heros of the science, men like Desargues and Pascal, Descartes and Leibnitz, Newton, Gauss and Bolzano, Helmholtz and Clifford, Riemann and Salmon and Plücker and Poincaré, have attained to high distinction in other fields not only of science but of philosophy and letters too. And when we reflect that the very greatest mathematical achievements have been due, not alone to the peering, microscopic, histologic vision of men like Weierstrass, illuminating the hidden recesses, the minute and intimate structure of logical reality, but to the larger vision also of men like Klein who survey the kingdoms of geometry and analysis for the endless variety of things that flourish there, as the eye of Darwin ranged over the flora and fauna of the world, or as a commercial monarch contemplates its industry, or as a statesman beholds an empire; when we reflect not only that the Calculus of Probability is a creation of mathematics but that the master mathematician is constantly required to exercise judgment—judgment, that is, in matters not admitting of certainty—balancing probabilities not yet reduced nor even reducible perhaps to calculation; when we reflect that he is called upon to exercise a function analogous to that of the comparative anatomist like Cuvier, comparing theories and doctrines of every degree of similarity and dissimilarity of structure; when, finally, we reflect that he seldom deals with a single idea at a tune, but is for the most part engaged in wielding organized hosts of them, as a general wields at once the division of an army or as a great civil administrator directs from his central office diverse and scattered but related groups of interests and operations; then, I say, the current opinion that devotion to mathematics unfits the devotee for practical affairs should be known for false on a priori grounds. And one should be thus prepared to find that as a fact Gaspard Monge, creator of descriptive geometry, author of the classic Applications de l'analyse à la géométrie; Lazare Carnot, author of the celebrated works, Géométrie de position, and Réflections sur la Métaphysique du Calcul infinitesimal; Fourier, immortal creator of the Théorie analytique de la chaleur; Arago, rightful inheritor of Monge's chair of geometry; Poncelet, creator of pure projective geometry; one should not be surprised, I say, to find that these and other mathematicians in a land sagacious enough to invoke their aid, rendered, alike in peace and in war, eminent public service.

See also:
26 Feb - short biography, births, deaths and events on date of Arago's birth.
François Arago - context of quote "Destiny of a scientist" - Medium image (500 x 250 px)
François Arago - context of quote "Destiny of a scientist" - Large image (800 x 400 px)