(source)

Baron Georges Cuvier

(23 Aug 1769 - 13 May 1832)




Science Quotes by Baron Georges Cuvier
(24 quotes)
>> Click for Baron Georges Cuvier Quotes on | Fossil | Morphology |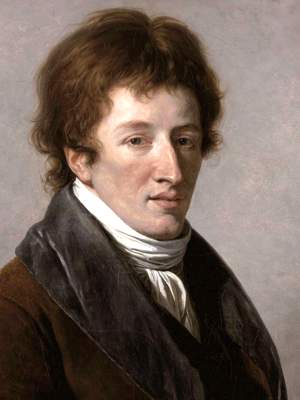 [Audubon's works are] the most splendid monuments which art has erected in honor of ornithology.

— Baron Georges Cuvier

A famous anecdote concerning Cuvier involves the tale of his visitation from the devil—only it was not the devil but one of his students dressed up with horns on his head and shoes shaped like cloven hooves. This frightening apparition burst into Cuvier's bedroom when he was fast asleep and claimed:
"Wake up thou man of catastrophes. I am the Devil. I have come to devour you!"
Cuvier studied the apparition carefully and critically said,
"I doubt whether you can. You have horns and hooves. You eat only plants."

— Baron Georges Cuvier

All organs of an animal form a single system, the parts of which hang together, and act and re-act upon one another; and no modifications can appear in one part without bringing about corresponding modifications in all the rest.

— Baron Georges Cuvier

As an antiquary of a new order, I have been obliged to learn the art of deciphering and restoring these remains, of discovering and bringing together, in their primitive arrangement, the scattered and mutilated fragments of which they are composed, of reproducing in all their original proportions and characters, the animals to which these fragments formerly belonged, and then of comparing them with those animals which still live on the surface of the earth; an art which is almost unknown, and which presupposes, what had scarcely been obtained before, an acquaintance with those laws which regulate the coexistence of the forms by which the different parts of organized being are distinguished.

— Baron Georges Cuvier

At the sight of a single bone, of a single piece of bone, I recognize and reconstruct the portion of the whole from which it would have been taken. The whole being to which this fragment belonged appears in my mind's eye.

— Baron Georges Cuvier

Fortunately Nature herself seems to have prepared for us the means of supplying that want which arises from the impossibility of making certain experiments on living bodies. The different classes of animals exhibit almost all the possible combinations of organs: we find them united, two and two, three and three, and in all proportions; while at the same time it may be said that there is no organ of which some class or some genus is not deprived. A careful examination of the effects which result from these unions and privations is therefore sufficient to enable us to form probable conclusions respecting the nature and use of each organ, or form of organ. In the same manner we may proceed to ascertain the use of the different parts of the same organ, and to discover those which are essential, and separate them from those which are only accessory. It is sufficient to trace the organ through all the classes which possess it, and to examine what parts constantly exist, and what change is produced in the respective functions of the organ, by the absence of those parts which are wanting in certain classes.

— Baron Georges Cuvier

Genius and science have burst the limits of space, and few observations, explained by just reasoning, have unveiled the mechanism of the universe. Would it not also be glorious for man to burst the limits of time, and, by a few observations, to ascertain the history of this world, and the series of events which preceded the birth of the human race?

— Baron Georges Cuvier

I am of opinion, then, ... that, if there is any circumstance thoroughly established in geology, it is, that the crust of our globe has been subjected to a great and sudden revolution, the epoch of which cannot be dated much farther back than five or six thousand years ago; that this revolution had buried all the countries which were before inhabited by men and by the other animals that are now best known; that the same revolution had laid dry the bed of the last ocean, which now forms all the countries at present inhabited; that the small number of individuals of men and other animals that escaped from the effects of that great revolution, have since propagated and spread over the lands then newly laid dry; and consequently, that the human race has only resumed a progressive state of improvement since that epoch, by forming established societies, raising monuments, collecting natural facts, and constructing systems of science and of learning.

— Baron Georges Cuvier

If they [enlightened men] take any interest in examining, in the infancy of our species, the almost obliterated traces of so many nations that have become extinct, they will doubtless take a similar interest in collecting, amidst the darkness which covers the infancy of the globe, the traces of those revolutions which took place anterior to the existence of all nations.

— Baron Georges Cuvier

In my work on Fossil Bones, I set myself the task of recognizing to which animals the fossilized remains which fill the surface strata of the earth belong. ... As a new sort of antiquarian, I had to learn to restore these memorials to past upheavals and, at the same time, to decipher their meaning. I had to collect and put together in their original order the fragments which made up these animals, to reconstruct the ancient creatures to which these fragments belonged, to create them once more with their proportions and characteristics, and finally to compare them to those alive today on the surface of the earth. This was an almost unknown art, which assumed a science hardly touched upon up until now, that of the laws which govern the coexistence of forms of the various parts in organic beings.

— Baron Georges Cuvier

In spite of what moralists say, the, animals are scarcely less wicked or less unhappy than we are ourselves. The arrogance of the strong, the servility of the weak, low rapacity, ephemeral pleasure purchased by great effort, death preceded by long suffering, all belong to the animals as they do to men.

— Baron Georges Cuvier

It has been long considered possible to explain the more ancient revolutions on... [the Earth's] surface by means of these still existing causes; in the same manner as it is found easy to explain past events in political history, by an acquaintance with the passions and intrigues of the present day. But we shall presently see that unfortunately this is not the case in physical history:—the thread of operation is here broken, the march of nature is changed, and none of the agents that she now employs were sufficient for the production of her ancient works.

— Baron Georges Cuvier

It is in this mutual dependence of the functions and the aid which they reciprocally lend one another that are founded the laws which determine the relations of their organs and which possess a necessity equal to that of metaphysical or mathematical laws, since it is evident that the seemly harmony between organs which interact is a necessary condition of existence of the creature to which they belong and that if one of these functions were modified in a manner incompatible with the modifications of the others the creature could no longer continue to exist.

— Baron Georges Cuvier

It is my object, in the following work, to travel over ground which has as yet been little explored and to make my reader acquainted with a species of Remains, which, though absolutely necessary for understanding the history of the globe, have been hitherto almost uniformly neglected.

— Baron Georges Cuvier

It is to them [fossils] alone that we owe the commencement of even a Theory of the Earth ... By them we are enabled to ascertain, with the utmost certainty, that our earth has not always been covered over by the same external crust, because we are thoroughly assured that the organized bodies to which these fossil remains belong must have lived upon the surface before they came to be buried, as they now are, at a great depth.

— Baron Georges Cuvier

Life, therefore, has been often disturbed on this earth by terrible events—calamities which, at their commencement, have perhaps moved and overturned to a great depth the entire outer crust of the globe, but which, since these first commotions, have uniformly acted at a less depth and less generally. Numberless living beings have been the victims of these catastrophes; some have been destroyed by sudden inundations, others have been laid dry in consequence of the bottom of the seas being instantaneously elevated. Their races even have become extinct, and have left no memorial of them except some small fragments which the naturalist can scarcely recognise.

— Baron Georges Cuvier

Nurse, it was I who discovered that leeches have red blood.

— Baron Georges Cuvier

Since nothing can exist that does not fulfil the conditions which render its existence possible, the different parts each being must be co-ordinated in such a way as to render possible the existence of the being as a whole, not only in itself, but also in its relations with other beings, and the analysis of these conditions often leads to general laws which are as certain as those which are derived from calculation or from experiment.

— Baron Georges Cuvier

The entire human body is disposed for a vertical posture.

— Baron Georges Cuvier

The natural history of an animal is the knowledge of the whole animal. Its internal structure is as much, and perhaps more, as its external form.

— Baron Georges Cuvier

The observer listens to nature: the experimenter questions and forces her to reveal herself.

— Baron Georges Cuvier

The works which this man [Joseph Banks] leaves behind him occupy a few pages only; their importance is not greatly superior to their extent; and yet his name will shine out with lustre in the history of the sciences.

— Baron Georges Cuvier

Why does such and such animal feed only on flesh, while another on plants? Where does one get the finesse of its sense of smell, or that of its hearing? What is the source of the prodigious strength of the muscles of birds? How is this force used to produce this amazing movement of flight? How does it come about that the bird sees equally well at quite different distances? What is the cause of the range and variety of its voice? Why is a reptile so lethargic? Why does a worm stay alive long after being divided? Why can a zoophyte live equally well with some parts of its body cut off? Is it presumed there could be natural history without these questions, and thousands of others like them, and do we think we can answer without a thorough comparative anatomy?

— Baron Georges Cuvier

Why has not anyone seen that fossils alone gave birth to a theory about the formation of the earth, that without them, no one would have ever dreamed that there were successive epochs in the formation of the globe.

— Baron Georges Cuvier

---
Quotes by others about Baron Georges Cuvier (10)
To seek in the great accumulation of the already-said the text that resembles "in advance" a later text, to ransack history in order to rediscover the play of anticipations or echoes, to go right back to the first seeds or to go forward to the last traces, to reveal in a work its fidelity to tradition or its irreducible uniqueness, to raise or lower its stock of originality, to say that the Port -Royal grammarians invented nothing, or to discover that Cuvier had more predecessors than one thought, these are harmless enough amusements for historians who refuse to grow up.

Evolution is the law of policies: Darwin said it, Socrates endorsed it, Cuvier proved it and established it for all time in his paper on 'The Survival of the Fittest.' These are illustrious names, this is a mighty doctrine: nothing can ever remove it from its firm base, nothing dissolve it, but evolution.

Linnaeus and Cuvier have been my two gods, though in very different ways, but they were mere schoolboys to old Aristotle.

Is not Cuvier the great poet of our era? Byron has given admirable expression to certain moral conflicts, but our immortal naturalist has reconstructed past worlds from a few bleached bones; has rebuilt cities, like Cadmus, with monsters' teeth; has animated forests with all the secrets of zoology gleaned from a piece of coal; has discovered a giant population from the footprints of a mammoth.

Have you ever plunged into the immensity of space and time by reading the geological treatises of Cuvier? Borne away on the wings of his genius, have you hovered over the illimitable abyss of the past as if a magician's hand were holding you aloft?

Have you ever plunged into the immensity of time and space by reading the geological tracts of Cuvier? Transported by his genius, have you hovered over the limitless abyss of the past, as if held aloft by a magician's hand?

Genius itself has been analyzed by the shrewdest observers into a higher capacity of attention. "Genius," says Helvetius … "is nothing but a continued attention," (une attention suivie). "Genius," says Buffon, "is only a protracted patience," (une longue patience). "In the exact sciences, at least," says Cuvier, "it is the patience of a sound intellect, when invincible, which truly constitutes genius." And Chesterfield has also observed, that "the power of applying an attention, steady and undissipated, to a single object, is the sure mark of a superior genius."

It is not surprising, in view of the polydynamic constitution of the genuinely mathematical mind, that many of the major heros of the science, men like Desargues and Pascal, Descartes and Leibnitz, Newton, Gauss and Bolzano, Helmholtz and Clifford, Riemann and Salmon and Plücker and Poincaré, have attained to high distinction in other fields not only of science but of philosophy and letters too. And when we reflect that the very greatest mathematical achievements have been due, not alone to the peering, microscopic, histologic vision of men like Weierstrass, illuminating the hidden recesses, the minute and intimate structure of logical reality, but to the larger vision also of men like Klein who survey the kingdoms of geometry and analysis for the endless variety of things that flourish there, as the eye of Darwin ranged over the flora and fauna of the world, or as a commercial monarch contemplates its industry, or as a statesman beholds an empire; when we reflect not only that the Calculus of Probability is a creation of mathematics but that the master mathematician is constantly required to exercise judgment—judgment, that is, in matters not admitting of certainty—balancing probabilities not yet reduced nor even reducible perhaps to calculation; when we reflect that he is called upon to exercise a function analogous to that of the comparative anatomist like Cuvier, comparing theories and doctrines of every degree of similarity and dissimilarity of structure; when, finally, we reflect that he seldom deals with a single idea at a tune, but is for the most part engaged in wielding organized hosts of them, as a general wields at once the division of an army or as a great civil administrator directs from his central office diverse and scattered but related groups of interests and operations; then, I say, the current opinion that devotion to mathematics unfits the devotee for practical affairs should be known for false on a priori grounds. And one should be thus prepared to find that as a fact Gaspard Monge, creator of descriptive geometry, author of the classic Applications de l'analyse à la géométrie; Lazare Carnot, author of the celebrated works, Géométrie de position, and Réflections sur la Métaphysique du Calcul infinitesimal; Fourier, immortal creator of the Théorie analytique de la chaleur; Arago, rightful inheritor of Monge's chair of geometry; Poncelet, creator of pure projective geometry; one should not be surprised, I say, to find that these and other mathematicians in a land sagacious enough to invoke their aid, rendered, alike in peace and in war, eminent public service.

Looking upon you [Richard Owen] as the Cuvier of England.

It is some systematised exhibition of the whale in his broad genera, that I would now fain put before you. Yet is it no easy task. The classification of the constituents of a chaos, nothing less is here essayed. Listen to what the best and latest authorities have laid down.
"No branch of Zoology is so much involved as that which is entitled Cetology," says Captain Scoresby, A.D. 1820.
"It is not my intention, were it in my power, to enter into the inquiry as to the true method of dividing the cetacea into groups and families. * * * Utter confusion exists among the historians of this animal" (sperm whale), says Surgeon Beale. A. D. 1839.
"Unfitness to pursue our research in the unfathomable waters." "Impenetrable veil covering our knowledge of the cetacea." "A field strewn with thorns." "All these incomplete indications but serve to torture us naturalists."
Thus speak of the whale, the great Cuvier, and John Hunter, and Lesson, those lights of zoology and anatomy. Nevertheless, though of real knowledges there be little, yet of books there are plenty; and so in some small degree, with cetology, or the science of whales. Many are the men, small and great, old and new, landsmen and seamen, who have at large or in little, written of the whale. Run over a few:— The Authors of the Bible; Aristotle; Pliny; Aldrovandi; Sir Thomas Browne; Gesner; Ray; Linnæus; Rondeletius; Willoughby; Green; Artedi; Sibbald; Brisson; Marten; Lacépède; Bonneterre; Desmarest; Baron Cuvier; Frederick Cuvier; John Hunter; Owen; Scoresby; Beale; Bennett; J. Ross Browne; the Author of Miriam Coffin; Olmstead; and the Rev. T. Cheever. But to what ultimate generalising purpose all these have written, the above cited extracts will show.
Of the names in this list of whale authors, only those following Owen ever saw living whales; and but one of them was a real professional harpooner and whaleman. I mean Captain Scoresby.

See also:
23 Aug - short biography, births, deaths and events on date of Cuvier's birth.