Horn Quotes (12 quotes)
Ammonia is furnished from all animal substances by decomposition. The horns of cattle, especially those of deer, yield it in abundance, and it is from this circumstance that a solution of ammonia in water has been termed hartshorn.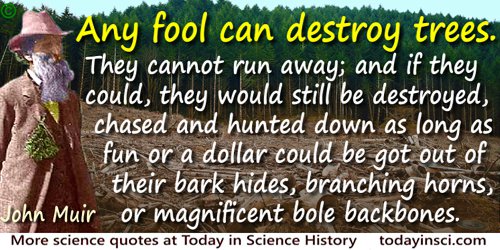 Any fool can destroy trees. They cannot run away; and if they could, they would still be destroyed,—chased and hunted down as long as fun or a dollar could be got out of their bark hides, branching horns, or magnificent bole backbones. Few that fell trees plant them; nor would planting avail much towards getting back anything like the noble primeval forests. During a man's life only saplings can be grown, in the place of the old trees—tens of centuries old—that have been destroyed.

Buffon, who, with all his theoretical ingenuity and extraordinary eloquence, I suspect had little actual information in the science on which he wrote so admirably For instance, he tells us that the cow sheds her horns every two years; a most palpable error. ... It is wonderful that Buffon who lived so much in the country at his noble seat should have fallen into such a blunder I suppose he has confounded the cow with the deer.

For just as musical instruments are brought to perfection of clearness in the sound of their strings by means of bronze plates or horn sounding boards, so the ancients devised methods of increasing the power of the voice in theaters through the application of the science of harmony.

I never got tired of watching the radar echo from an aircraft as it first appeared as a tiny blip in the noise on the cathode-ray tube, and then grew slowly into a big deflection as the aircraft came nearer. This strange new power to "see" things at great distances, through clouds or darkness, was a magical extension of our senses. It gave me the same thrill that I felt in the early days of radio when I first heard a voice coming out of a horn...

In Man the brain presents an ascensive step in development, higher and more strongly marked than that by which the preceding subclass was distinguished from the one below it. Not only do the cerebral hemispheres overlap the olfactory lobes and cerebellum, but they extend in advance of the one, and further back than the other. Their posterior development is so marked, that anatomists have assigned to that part the character of a third lobe; it is peculiar to the genus Homo, and equally peculiar is the 'posterior horn of the lateral ventricle,' and the 'hippocampus minor,' which characterize the hind lobe of each hemisphere. The superficial grey matter of the cerebrum, through the number and depth of the convolutions, attains its maximum of extent in Man. Peculiar mental powers are associated with this highest form of brain, and their consequences wonderfully illustrate the value of the cerebral character; according to my estimate of which, I am led to regard the genus Homo, as not merely a representative of a distinct order, but of a distinct subclass of the Mammalia, for which I propose a name of 'ARCHENCEPHALA.'

It is the middle of the night when a glittering theatre of light suddenly appears in front of the Dhaka. Where, moments before there was only darkness, suddenly there are hundreds of columns of light. The sound of helicopters and car horns carry across to the ship on the breeze. There is the scent of rain after it has evaporated from warm streets. This is unmistakably Singapore, the small city-state at the most southern point of the Asiatic mainland. Singapore was built as a centre for world trade by the British over 250 years ago, and today, Singapore has the largest container harbour in the world. This is where the axes of world trade cross paths: from the Far East to Europe, from the Far East to Southeast Asia/the East, and from the Far East to Australia. Everything runs like clockwork here. Within five hours the Dhaka has been unloaded.

It is the moon, I ken her horn
That's blinkin in the lift sae hie;
She shines sae bright to wyle us hame,
But by my sooth she'll wait a wee!

It is very much in the order of nature that toothless animals should have horns: is it any wonder that old men and women should often have them?

That no real Species of Living Creatures is so utterly extinct, as to be lost entirely out of the World, since it was first Created, is the Opinion of many Naturalists; and 'tis grounded on so good a Principle of Providence taking Care in general of all its Animal Productions, that it deserves our Assent. However great Vicissitudes may be observed to attend the Works of Nature, as well as Humane Affairs; so that some entire Species of Animals, which have been formerly Common, nay even numerous in certain Countries; have, in Process of time, been so perfectly soft, as to become there utterly unknown; tho' at the same time it cannot be denyed, but the kind has been carefully preserved in some other part of the World.

What I then got hold of, something frightful and dangerous, a problem with horns but not necessarily a bull, in any case a new problem—today I should say that it was the problem of science itself, science considered for the first time as problematic, as questionable. But the book in which my youthful courage and suspicion found an outlet—what an impossible book had to result from a task so uncongenial to youth! Constructed from a lot of immature, overgreen personal experiences, all of them close to the limits of communication, presented in the context of art—for the problem of science cannot be recognized in the context of science—a book perhaps for artists who also have an analytic and retrospective penchant (in other words, an exceptional type of artist for whom one might have to look far and wide and really would not care to look) …

Why the dinosaurs died out is not known, but it is supposed to be because they had minute brains and devoted themselves to the growth of weapons of offense in the shape of numerous horns. However that may be, it was not through their line that life developed.