Backbone Quotes (11 quotes)
Agriculture is the backbone of the livelihood security system of nearly 700 million people in the country and we need to build our food security on the foundation of home grown food.

Ah, the architecture of this world. Amoebas may not have backbones, brains, automobiles, plastic, television, Valium or any other of the blessings of a technologically advanced civilization; but their architecture is two billion years ahead of its time.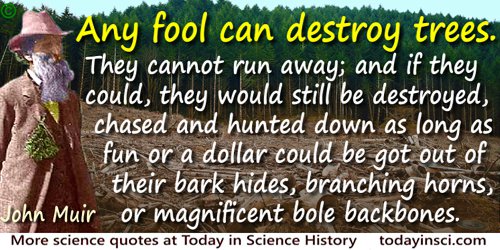 Any fool can destroy trees. They cannot run away; and if they could, they would still be destroyed,—chased and hunted down as long as fun or a dollar could be got out of their bark hides, branching horns, or magnificent bole backbones. Few that fell trees plant them; nor would planting avail much towards getting back anything like the noble primeval forests. During a man's life only saplings can be grown, in the place of the old trees—tens of centuries old—that have been destroyed.

If we and the rest of the backboned animals were to disappear overnight, the rest of the world would get on pretty well. But if [the invertebrates] were to disappear, the world's ecosystems would collapse. disappear, the land's ecosystems would collapse. The soil would lose its fertility. Many of the plants would no longer be pollinated. Lots of animals, amphibians, reptiles, birds, mammals would have nothing to eat. And our fields and pastures would be covered with dung and carrion.

It is possible with … carbon … to form very large molecules that are stable. This results from the stability of the carbon-to-carbon bond. You must have complexity in order to achieve the versatility characteristic of living organisms. You can achieve this complexity with carbon forming the molecular backbone.

Nature, the parent of all things, designed the human backbone to be like a keel or foundation. It is because we have a backbone that we can walk upright and stand erect. But this was not the only purpose for which Nature provided it; here, as elsewhere, she displayed great skill in turning the construction of a single member to a variety of different uses.
It Provides a Path for the Spinal Marrow, Yet is Flexible.
Firstly, she bored a hole through the posterior region of the bodies of all the vertebrae, thus fashioning a suitable pathway for the spinal marrow which would descend through them.
Secondly, she did not make the backbone out of one single bone with no joints. Such a unified construction would have afforded greater stability and a safer seat for the spinal marrow since, not having joints, the column could not have suffered dislocations, displacements, or distortions. If the Creator of the world had paid such attention to resistance to injury and had subordinated the value and importance of all other aims in the fabric of parts of the body to this one, he would certainly have made a single backbone with no joints, as when someone constructing an animal of wood or stone forms the backbone of one single and continuous component. Even if man were destined only to bend and straighten his back, it would not have been appropriate to construct the whole from one single bone. And in fact, since it was necessary that man, by virtue of his backbone, be able to perform a great variety of movements, it was better that it be constructed from many bones, even though as a result of this it was rendered more liable to injury.

Since the beginning of physics, symmetry considerations have provided us with an extremely powerful and useful tool in our effort to understand nature. Gradually they have become the backbone of our theoretical formulation of physical laws.

THE DYING AIRMAN
A handsome young airman lay dying,
As on the aerodrome he lay,
To the mechanics who round him came sighing,
These last words he did say.
"Take the cylinders out of my kidneys,
The connecting-rod out of my brain,
Take the cam-shaft from out of my backbone,
And assemble the engine again."

The study of human anatomy is the basis of the investigation of the anatomy of all animals with a back-bone; and conversely, the anatomy of any animal of this class tends to throw light on that of man.

This topic brings me to that worst outcrop of the herd nature, the military system, which I abhor. That a man can take pleasure in marching in formation to the strains of a band is enough to make me despise him. He has only been given his big brain by mistake; a backbone was all he needed. This plague-spot of civilisation ought to be abolished with all possible speed. Heroism by order, senseless violence, and all the pestilent nonsense that goes by the name of patriotism–how I hate them! War seems to me a mean, contemptible thing: I would rather be hacked in pieces than take part in such an abominable business.

When ever we turn in these days of iron, steam and electricity we find that Mathematics has been the pioneer. Were its back bone removed, our material civilization would inevitably collapse. Modern thought and belief would have been altogether different, had Mathematics not made the various sciences exact.