Magnificence Quotes (5 quotes)
A religion old or new, that stressed the magnificence of the universe as revealed by modern science, might be able to draw forth reserves of reverence and awe hardly tapped by the conventional faiths. Sooner or later such a religion will emerge.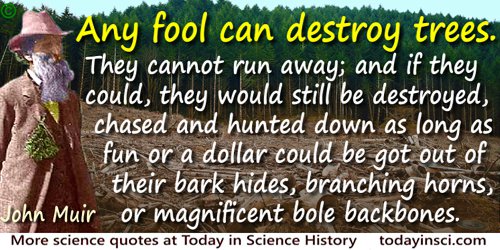 Any fool can destroy trees. They cannot run away; and if they could, they would still be destroyed,—chased and hunted down as long as fun or a dollar could be got out of their bark hides, branching horns, or magnificent bole backbones. Few that fell trees plant them; nor would planting avail much towards getting back anything like the noble primeval forests. During a man's life only saplings can be grown, in the place of the old trees—tens of centuries old—that have been destroyed.

Astronomy, that micography of heaven, is the most magnificent of the sciences. ... Astronomy has its clear side and its luminous side; on its clear side it is tinctured with algebra, on its luminous side with poetry.

Science is a magnificent force, but it is not a teacher of morals. It can perfect machinery, but it adds no moral restraints to protect society from the misuse of the machine. It can also build gigantic intellectual ships, but it constructs no moral rudders for the control of storm tossed human vessel. It not only fails to supply the spiritual element needed but some of its unproven hypotheses rob the ship of its compass and thus endangers its cargo.

The highest of the world's mountains, it seems, has to make but a single gesture of magnificence to be the lord of all, vast in unchallenged and isolated supremacy.