Fashionable Quotes (6 quotes)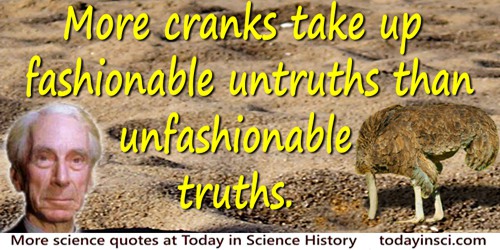 A good theoretical physicist today might find it useful to have a wide range of physical viewpoints and mathematical expressions of the same theory (for example, of quantum electrodynamics) available to him. This may be asking too much of one man. Then new students should as a class have this. If every individual student follows the same current fashion in expressing and thinking about electrodynamics or field theory, then the variety of hypotheses being generated to understand strong interactions, say, is limited. Perhaps rightly so, for possibly the chance is high that the truth lies in the fashionable direction. But, on the off-chance that it is in another direction—a direction obvious from an unfashionable view of field theory—who will find it?

Finally, to the theme of the respiratory chain, it is especially noteworthy that David Kellin's chemically simple view of the respiratory chain appears now to have been right all along–and he deserves great credit for having been so reluctant to become involved when the energy-rich chemical intermediates began to be so fashionable. This reminds me of the aphorism: 'The obscure we see eventually, the completely apparent takes longer'.

It is fashionable nowadays to talk about the endless riches of the sea. The ocean is regarded as a sort of bargain basement, but I don't agree with that estimate. People don't realize that water in the liquid state is very rare in the universe. Away from earth it is usually a gas. This moisture is a blessed treasure, and it is our basic duty, if we don't want to commit suicide, to preserve it.

It is hard to tell what causes the pervasive timidity. One thinks of video-induced stupor, intake of tranquilizers, fear of not living to enjoy the many new possessions and toys, the example of our betters in cities and on campuses who high-mindedly surrender to threats of violence and make cowardice fashionable.

My view, the skeptical one, holds that we may be as far away from an understanding of elementary particles as Newton's successors were from quantum mechanics. Like them, we have two tremendous tasks ahead of us. One is to study and explore the mathematics of the existing theories. The existing quantum field-theories may or may not be correct, but they certainly conceal mathematical depths which will take the genius of an Euler or a Hamilton to plumb. Our second task is to press on with the exploration of the wide range of physical phenomena of which the existing theories take no account. This means pressing on with experiments in the fashionable area of particle physics. Outstanding among the areas of physics which have been left out of recent theories of elementary particles are gravitation and cosmology

There are infinite possibilities of error, and more cranks take up fashionable untruths than unfashionable truths.