(source)

Hermann Boerhaave

(31 Dec 1668 - 23 Sep 1738)




Science Quotes by Hermann Boerhaave
(21 quotes)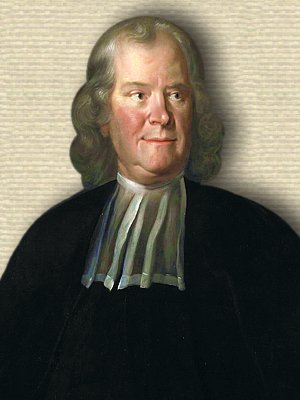 Portrait of Herman Boerhaave by Cornelis Troost (1735)
(source)
He who doth with the greatest exactness imaginable, weigh every individual thing that shall or hath hapned to his Patient, and may be known from the Observations of his own, or of others, and who afterwards compareth all these with one another, and puts them in an opposite view to such Things as happen in a healthy State; and lastly, from all this with the nicest and severest bridle upon his reasoning faculty riseth to the knowledge of the very first Cause of the Disease, and of the Remedies fit to remove them; He, and only He deserveth the Name of a true Physician.

— Hermann Boerhaave

Simplex sigillum veri.
Simplicity is the sign of truth.

— Hermann Boerhaave

A disease which new and obscure to you, Doctor, will be known only after death; and even then not without an autopsy will you examine it with exacting pains. But rare are those among the extremely busy clinicians who are willing or capable of doing this correctly.

— Hermann Boerhaave

Chymistry. … An art whereby sensible bodies contained in vessels … are so changed, by means of certain instruments, and principally fire, that their several powers and virtues are thereby discovered, with a view to philosophy or medicine.

— Hermann Boerhaave

For chemistry is no science form'd à priori; 'tis no production of the human mind, framed by reasoning and deduction: it took its rise from a number of experiments casually made, without any expectation of what follow'd; and was only reduced into an art or system, by collecting and comparing the effects of such unpremeditated experiments, and observing the uniform tendency thereof. So far, then, as a number of experimenters agree to establish any undoubted truth; so far they may be consider'd as constituting the theory of chemistry.

— Hermann Boerhaave

Generation by male and female is a law common to animals and plants.

— Hermann Boerhaave

He that desires to learn Truth should teach himself by Facts and Experiments; by which means he will learn more in a Year than by abstract reasoning in an Age.

— Hermann Boerhaave

He that would learn by experiments, ought to proceed from particulars to generals; but the method of instructing academically, proceeds from generals to particulars.

— Hermann Boerhaave

If a Schirrus by long standing, increasing, and motion of the adjacent Parts is thus moved, that the neighbouring Vessels around its edges begin to inflame, it's become malignant, and from its likeness to a Crab, is now called a Cancer, or Carcinoma.

— Hermann Boerhaave

If Melancholy increases so far, that from the great motion of the Liquid of the Brain the Patient be thrown into a wild Fury, it is call'd Madness.… The greatest Remedy for it is to throw the Patient unwarily into the Sea, and to keep him under Water as long as he can possibly bear without being quite stifled.

— Hermann Boerhaave

If this fire determined by the sun, be received on the blackest known bodies, its heat will be long retain'd therein; and hence such bodies are the soonest and the strongest heated by the flame fire, as also the quickest dried, after having been moisten'd with water; and it may be added, that they also burn by much the readiest: all which points are confirm'd by daily observations. Let a piece of cloth be hung in the air, open to the sun, one part of it dyed black, another part of a white colour, others of scarlet, and diverse other colours; the black part will always be found to heat the most, and the quickest of all; and the others will each be found to heat more slowly, by how much they reflect the rays more strongly to the eye; thus the white will warm the slowest of them all, and next to that the red, and so of the rest in proportion, as their colour is brighter or weaker.

— Hermann Boerhaave

In order to discover Truth in this manner by observation and reason, it is requisite we should fix on some principles whose certainty and effects are demonstrable to our senses, which may serve to explain the phenomena of natural bodies and account for the accidents that arise in them; such only are those which are purely material in the human body with mechanical and physical experiments … a physician may and ought to furnish himself with, and reason from, such things as are demonstrated to be true in anatomy, chemistry, and mechanics, with natural and experimental philosophy, provided he confines his reasoning within the bounds of truth and simple experiment.

— Hermann Boerhaave

It were indeed to be wish'd that our art had been less ingenious, in contriving means destructive to mankind; we mean those instruments of war, which were unknown to the ancients, and have made such havoc among the moderns. But as men have always been bent on seeking each other's destruction by continual wars; and as force, when brought against us, can only be repelled by force; the chief support of war, must, after money, be now sought in chemistry.

— Hermann Boerhaave

Proper Experiments have always Truth to defend them; also Reasoning join'd with Mathematical Evidence, and founded upon Experiment, will hold equally true; but should it be true, without those Supports it must be altogether useless.

— Hermann Boerhaave

The poor are my best patients. God pays for them.

— Hermann Boerhaave

The venereal Disease first invaded the Spaniards and Italians, before the Efficacy of Mercury was known. … By the Use of Mercury, given with Discretion, so as to raise a Salivation; after the Use of which the whole Body, in a manner, seems to grow young again.

— Hermann Boerhaave

Though Hippocrates understood not the Circulation of the Blood, yet by accurately observing the Effects of the Disease, which he looked upon as an unknown Entity, and by remarking the Endeavours of Nature, by which the Disease tended to either Health or Recovery, did from thence deduce a proper Method of Cure, namely by assisting the salutary Endeavours of Nature, and by resisting those of the Disease; and thus Hippocrates, ignorant of the Causes, cured Disease as well as ourselves, stocked with so many Discoveries.

— Hermann Boerhaave

To be always poring over the same Object, dulls the Intellects and tires the Mind, which is delighted and improved by a Variety: and therefore it ought, at times, to be relaxed from the more severe mathematical Contemplations, and to be employed upon something more light and agreeable, as Poetry, Physic, History, &c

— Hermann Boerhaave

What Doctor is there, who while he treats a disease unknown to him, might be at ease, until he had clearly perceived the nature of this disease and its hidden causes?

— Hermann Boerhaave

Whatever some ignorant or invidious Men may clamour. They hate and revile Things only for being above their Reach; and therefore hurt no body but themselves by their noisy Ignorance: … they only move Laughter and Mirth in such as know better.

— Hermann Boerhaave

Whatever State of the Human Body doth disorder the Vital, the natural, or even the Animal Functions of the same is call'd a Disease.

— Hermann Boerhaave

---
Quotes by others about Hermann Boerhaave (1)
I have lived myself to see the disciples of Hoffman, Boerhaave, Stalh, Cullen, Brown, succeed one another like the shifting figures of a magic lanthern, and their fancies, like the dresses of the annual doll-babies from Paris, becoming from their novelty, the vogue of the day, and yielding to the next novelty their ephemeral favor. The patient, treated on the fashionable theory, sometimes gets well in spite of the medicine.

See also:
31 Dec - short biography, births, deaths and events on date of Boerhaave's birth.