Malignant Quotes (3 quotes)
A typical triumph of modern science to find the only part of Randolph [Churchill] that was not malignant and remove it.

If a Schirrus by long standing, increasing, and motion of the adjacent Parts is thus moved, that the neighbouring Vessels around its edges begin to inflame, it's become malignant, and from its likeness to a Crab, is now called a Cancer, or Carcinoma.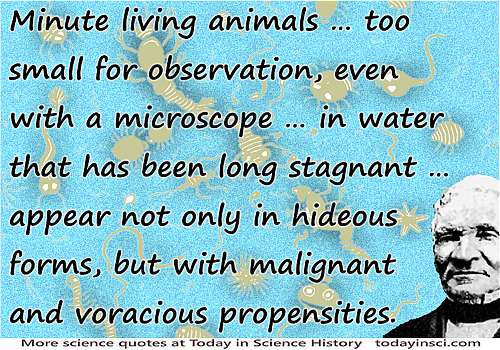 From paragraph in
Scientific American
(1846) urging the use of water filters.
(source)
The fact is generally known that nearly all liquids contain a variety of minute living animals, though in some they are too small for observation, even with a microscope. In others, especially in water that has been long stagnant, these animals appear not only in hideous forms, but with malignant and voracious propensities. … we cheerfully and heartily recommend the adoption of filters by all who use this water, from either the public or private hydrants.