(source)

Sophie Germain

(1 Apr 1776 - 27 Jun 1831)




Science Quotes by Sophie Germain
(2 quotes)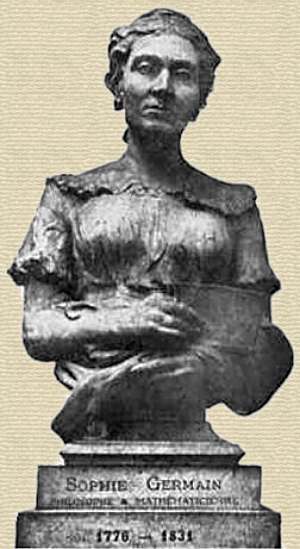 Bust of Sophie Germain
By Zacharie Astruc - Reconstructed from death mask in the museum of the Louvre.
(source)
Algebra is but written geometry and geometry is but figured algebra.

— Sophie Germain

In describing the honourable mission I charged him with, M. Pernety informed me that he made my name known to you. This leads me to confess that I am not as completely unknown to you as you might believe, but that fearing the ridicule attached to a female scientist, I have previously taken the name of M. LeBlanc in communicating to you those notes that, no doubt, do not deserve the indulgence with which you have responded.
Explaining her use of a male psuedonym.

— Sophie Germain

---
Quotes by others about Sophie Germain (2)
Sophie Germain proved to the world that even a woman can accomplish something in the most rigorous and abstract of sciences and for that reason would well have deserved an honorary degree.

The enchanting charms of this sublime science reveal only to those who have the courage to go deeply into it. But when a woman, who because of her sex and our prejudices encounters infinitely more obstacles that an man in familiarizing herself with complicated problems, succeeds nevertheless in surmounting these obstacles and penetrating the most obscure parts of them, without doubt she must have the noblest courage, quite extraordinary talents and superior genius.

See also:
1 Apr - short biography, births, deaths and events on date of Germain's birth.
Sophie Germain - An Unknown Mathematician - Century Illustrated Monthly Magazine (1894)
Sophie Germain: An Essay in the History of the Theory of Elasticity, by L.L. Bucciarelli, N. Dworsky. - book suggestion.