Propensity Quotes (9 quotes)
From our best qualities come our worst. From our urge to pull together comes our tendency to pull apart. From our devotion to higher good comes our propensity to the foulest atrocities. From out commitment to ideals come our excuse to hate. Since the beginning of history, we have been blinded by evil's ability to don a selfless disguise. We have failed to see that our finest qualities often lead us to the actions we most abhor—murder, torture, genocide, and war.

How can altruism, which by definition reduces personal fitness, possibly evolve by natural selection? The answer is kinship: if the genes causing the altruism are shared by two organisms because of common descent, and if the altruistic act by one organism increases the joint contribution of these genes to the next generation, the propensity to altruism will spread through the gene pool. This occurs even though the altruist makes less of a solitary contribution to the gene pool as the price of its altruistic act.

If we betake ourselves to the statistical method, we do so confessing that we are unable to follow the details of each individual case, and expecting that the effects of widespread causes, though very different in each individual, will produce an average result on the whole nation, from a study of which we may estimate the character and propensities of an imaginary being called the Mean Man.

Included in this 'almost nothing,' as a kind of geological afterthought of the last few million years, is the first development of self-conscious intelligence on this planet–an odd and unpredictable invention of a little twig on the mammalian evolutionary bush. Any definition of this uniqueness, embedded as it is in our possession of language, must involve our ability to frame the world as stories and to transmit these tales to others. If our propensity to grasps nature as story has distorted our perceptions, I shall accept this limit of mentality upon knowledge, for we receive in trade both the joys of literature and the core of our being.

It has occurred to me that possibly the white corpuscles may have the office of picking up and digesting bacterial organisms when by any means they find their way into the blood. The propensity exhibited by the leukocytes for picking up inorganic granules is well known, and that they may be able not only to pick up but to assimilate, and so dispose of, the bacteria which come in their way does not seem to me very improbable in view of the fact that amoebae, which resemble them so closely, feed upon bacteria and similar organisms.

It is curious to observe how differently these great men [Plato and Bacon] estimated the value of every kind of knowledge. Take Arithmetic for example. Plato, after speaking slightly of the convenience of being able to reckon and compute in the ordinary transactions of life, passes to what he considers as a far more important advantage. The study of the properties of numbers, he tells us, habituates the mind to the contemplation of pure truth, and raises us above the material universe. He would have his disciples apply themselves to this study, not that they may be able to buy or sell, not that they may qualify themselves to be shop-keepers or travelling merchants, but that they may learn to withdraw their minds from the ever-shifting spectacle of this visible and tangible world, and to fix them on the immutable essences of things.
Bacon, on the other hand, valued this branch of knowledge only on account of its uses with reference to that visible and tangible world which Plato so much despised. He speaks with scorn of the mystical arithmetic of the later Platonists, and laments the propensity of mankind to employ, on mere matters of curiosity, powers the whole exertion of which is required for purposes of solid advantage. He advises arithmeticians to leave these trifles, and employ themselves in framing convenient expressions which may be of use in physical researches.

No one should feel at all offended or threatened by the obvious fact that we are not all born entirely blank, or entirely the same, in our mixture of the broad behavioral propensities defining what we call 'temperament.'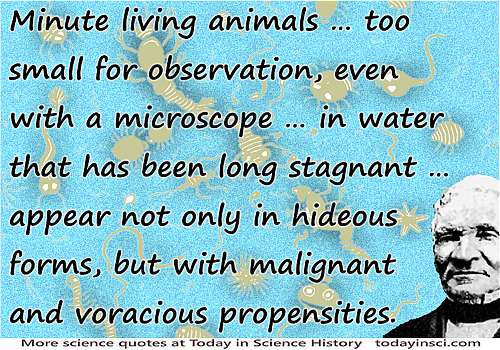 From paragraph in
Scientific American
(1846) urging the use of water filters.
(source)
The fact is generally known that nearly all liquids contain a variety of minute living animals, though in some they are too small for observation, even with a microscope. In others, especially in water that has been long stagnant, these animals appear not only in hideous forms, but with malignant and voracious propensities. … we cheerfully and heartily recommend the adoption of filters by all who use this water, from either the public or private hydrants.

This is the way physicians mend or end us
Secundum artem; but although we sneer
In health-when ill, we call them to attend us,
Without the least propensity to jeer;
While that hiatus maxime deplendus
To be fill'd by spade or mattock, 's nea