Propensity Quotes (4 quotes)
How can altruism, which by definition reduces personal fitness, possibly evolve by natural selection? The answer is kinship: if the genes causing the altruism are shared by two organisms because of common descent, and if the altruistic act by one organism increases the joint contribution of these genes to the next generation, the propensity to altruism will spread through the gene pool. This occurs even though the altruist makes less of a solitary contribution to the gene pool as the price of its altruistic act.

If we betake ourselves to the statistical method, we do so confessing that we are unable to follow the details of each individual case, and expecting that the effects of widespread causes, though very different in each individual, will produce an average result on the whole nation, from a study of which we may estimate the character and propensities of an imaginary being called the Mean Man.

It has occurred to me that possibly the white corpuscles may have the office of picking up and digesting bacterial organisms when by any means they find their way into the blood. The propensity exhibited by the leukocytes for picking up inorganic granules is well known, and that they may be able not only to pick up but to assimilate, and so dispose of, the bacteria which come in their way does not seem to me very improbable in view of the fact that amoebae, which resemble them so closely, feed upon bacteria and similar organisms.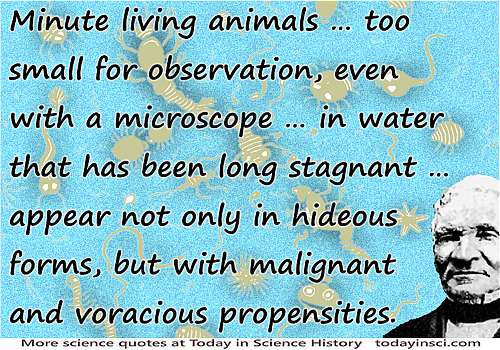 From paragraph in
Scientific American
(1846) urging the use of water filters.
(source)
The fact is generally known that nearly all liquids contain a variety of minute living animals, though in some they are too small for observation, even with a microscope. In others, especially in water that has been long stagnant, these animals appear not only in hideous forms, but with malignant and voracious propensities. … we cheerfully and heartily recommend the adoption of filters by all who use this water, from either the public or private hydrants.