Torture Quotes (14 quotes)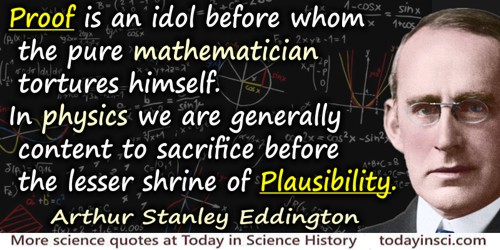 Proof is an idol before whom the pure mathematician tortures himself. In physics we are generally content to sacrifice before the lesser shrine of Plausibility.

Another diversity of Methods is according to the subject or matter which is handled; for there is a great difference in delivery of the Mathematics, which are the most abstracted of knowledges, and Policy, which is the most immersed ... , yet we see how that opinion, besides the weakness of it, hath been of ill desert towards learning, as that which taketh the way to reduce learning to certain empty and barren generalities; being but the very husks and shells of sciences, all the kernel being forced out and expulsed with the torture and press of the method.

Beware of the problem of testing too many hypotheses; the more you torture the data, the more likely they are to confess, but confessions obtained under duress may not be admissible in the court of scientific opinion.

Every discoverer of a new truth, or inventor of the method which evolves it, makes a dozen, perhaps fifty, useless combinations, experiments, or trials for one successful one. In the realm of electricity or of mechanics there is no objection to this. But when such rejected failures involve a torture of animals, sometimes fearful in its character, there is a distinct objection to it.

I don't believe in an afterlife, so I don't have to spend my whole life fearing hell, or fearing heaven even more. For whatever the tortures of hell, I think the boredom of heaven would be even worse.

I scrutinize life.

I was often humiliated to see men disputing for a piece of bread, just as animals might have done. My feelings on this subject have very much altered since I have been personally exposed to the tortures of hunger. I have discovered, in fact, that a man, whatever may have been his origin, his education, and his habits, is governed, under certain circumstances, much more by his stomach than by his intelligence and his heart.

Money. It has such an inherent power to run itself clear of taint that human ingenuity cannot devise the means of making it work permanent mischief, any more than means can be found of torturing people beyond what they can bear. Even if a man founds a College of Technical Instruction, the chances are ten to one that no one will be taught anything and that it will have been practically left to a number of excellent professors who will know very well what to do with it.

Scientists should not be allowed to torture animals to death; let doctors experiment on journalists and politicians.

The horrors of Vivisection have supplanted the solemnity, the thrilling fascination, of the old unetherized operation upon the human sufferer. Their recorded phenomena, stored away by the physiological inquisitor on dusty shelves, are mostly of as little present use to man as the knowledge of a new comet or of a tungstate of zirconium … —contemptibly small compared with the price paid for it in agony and torture.

There will one day spring from the brain of science a machine or force so fearful in its potentialities, so absolutely terrifying, that even man, the fighter, who will dare torture and death in order to inflict torture and death, will be appalled, and so abandon war forever.

When coming to close quarters with a skunk … one has to fear from an encounter; the worst is that effluvium, after which crushed garlic is lavender, which tortures the olfactory nerves, and appears to pervade the whole system like a pestilent ether, nauseating one until sea-sickness seems almost a pleasant sensation in comparison.

[Alexander the Great] was often extremely brutal to his captives, whom he sold into slavery, tortured to death, or forced to learn Greek.

[Like people] if you torture statistics long enough, they'll tell you anything you want to hear.