Warfare Quotes (6 quotes)
I like a deep and difficult investigation when I happen to have made it easy to myself, if not to all others; and there is a spirit of gambling in this, whether, as by the cast of a die, a calculation è perte de vue shall bring out a beautiful and perfect result or shall be wholly thrown away. Scientific investigations are a sort of warfare carried on in the closet or on the couch against all one's contemporaries and predecessors; I have often gained a signal victory when I have been half asleep, but more frequently have found, upon being thoroughly awake, that the enemy had still the advantage of me, when I thought I had him fast in a corner, and all this you see keeps me alive.

In a sense, of course, probability theory in the form of the simple laws of chance is the key to the analysis of warfare;… My own experience of actual operational research work, has however, shown that its is generally possible to avoid using anything more sophisticated. … In fact the wise operational research worker attempts to concentrate his efforts in finding results which are so obvious as not to need elaborate statistical methods to demonstrate their truth. In this sense advanced probability theory is something one has to know about in order to avoid having to use it.

One would have to have been brought up in the "spirit of militarism" to understand the difference between Hiroshima and Nagasaki on the one hand, and Auschwitz and Belsen on the other. The usual reasoning is the following: the former case is one of warfare, the latter of cold-blooded slaughter. But the plain truth is that the people involved are in both instances nonparticipants, defenseless old people, women, and children, whose annihilation is supposed to achieve some political or military objective.… I am certain that the human race is doomed, unless its instinctive detestation of atrocities gains the upper hand over the artificially constructed judgment of reason.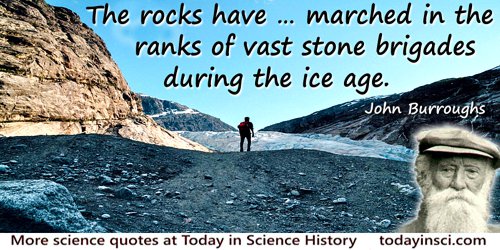 The rocks have a history; gray and weatherworn, they are veterans of many battles; they have most of them marched in the ranks of vast stone brigades during the ice age; they have been torn from the hills, recruited from the mountaintops, and marshaled on the plains and in the valleys; and now the elemental war is over, there they lie waging a gentle but incessant warfare with time and slowly, oh, so slowly, yielding to its attacks!

The trees are man's best friends; but man has treated them as his worst enemies. The history of our race may be said to be the history of warfare upon the tree world. But while man has seemed to be the victor, his victories have brought upon him inevitable disasters.

[The launch of Nautilus, the world's first atomic submarine] marked a transition in naval warfare—a transition as sudden as that associated with the Monitor.