Gray Quotes (7 quotes)
Far better is it to dare mighty things, to win glorious triumphs, even though checkered by failure, than to take rank with those poor spirits who neither enjoy much or suffer much, because they live in the gray twilight that knows not victory nor defeat.

My first view - a panorama of brilliant deep blue ocean, shot with shades of green and gray and white - was of atolls and clouds. Close to the window I could see that this Pacific scene in motion was rimmed by the great curved limb of the Earth. It had a thin halo of blue held close, and beyond, black space. I held my breath, but something was missing - I felt strangely unfulfilled. Here was a tremendous visual spectacle, but viewed in silence. There was no grand musical accompaniment; no triumphant, inspired sonata or symphony. Each one of us must write the music of this sphere for ourselves.

The appearance of Professor Benjamin Peirce, whose long gray hair, straggling grizzled beard and unusually bright eyes sparkling under a soft felt hat, as he walked briskly but rather ungracefully across the college yard, fitted very well with the opinion current among us that we were looking upon a real live genius, who had a touch of the prophet in his make-up.

The colors are stunning. In a single view, I see - looking out at the edge of the earth: red at the horizon line, blending to orange and yellow, followed by a thin white line, then light blue, gradually turning to dark blue and various gradually darker shades of gray, then black and a million stars above. It's breathtaking.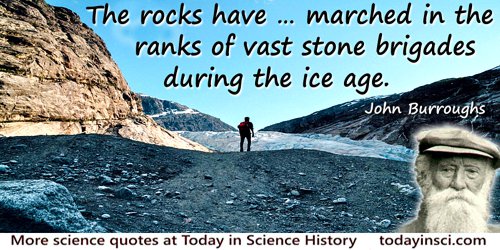 The rocks have a history; gray and weatherworn, they are veterans of many battles; they have most of them marched in the ranks of vast stone brigades during the ice age; they have been torn from the hills, recruited from the mountaintops, and marshaled on the plains and in the valleys; and now the elemental war is over, there they lie waging a gentle but incessant warfare with time and slowly, oh, so slowly, yielding to its attacks!

Twice in my life I have spent two weary and scientifically profitless years seeking evidence to corroborate dearly loved hypotheses that later proved to be groundless; times such as these are hard for scientists—days of leaden gray skies bringing with them a miserable sense of oppression and inadequacy.

What we call recycling is typically the product losing its quality. Paper gets mixed with other papers, re-chlorinated and contaminated with toxic inks. The fiber length gets shorter…and you end up with gray, fuzzy stuff that doesn't really work for you. That's downcycling. Michael Braungart and I coined the term upcycling, meaning that the product could actually get better as it comes through the system.