Gray Quotes (9 quotes)
Far better is it to dare mighty things, to win glorious triumphs, even though checkered by failure, than to take rank with those poor spirits who neither enjoy much or suffer much, because they live in the gray twilight that knows not victory nor defeat.

My first view - a panorama of brilliant deep blue ocean, shot with shades of green and gray and white - was of atolls and clouds. Close to the window I could see that this Pacific scene in motion was rimmed by the great curved limb of the Earth. It had a thin halo of blue held close, and beyond, black space. I held my breath, but something was missing - I felt strangely unfulfilled. Here was a tremendous visual spectacle, but viewed in silence. There was no grand musical accompaniment; no triumphant, inspired sonata or symphony. Each one of us must write the music of this sphere for ourselves.

The appearance of Professor Benjamin Peirce, whose long gray hair, straggling grizzled beard and unusually bright eyes sparkling under a soft felt hat, as he walked briskly but rather ungracefully across the college yard, fitted very well with the opinion current among us that we were looking upon a real live genius, who had a touch of the prophet in his make-up.

The belief that mathematics, because it is abstract, because it is static and cold and gray, is detached from life, is a mistaken belief. Mathematics, even in its purest and most abstract estate, is not detached from life. It is just the ideal handling of the problems of life, as sculpture may idealize a human figure or as poetry or painting may idealize a figure or a scene. Mathematics is precisely the ideal handling of the problems of life, and the central ideas of the science, the great concepts about which its stately doctrines have been built up, are precisely the chief ideas with which life must always deal and which, as it tumbles and rolls about them through time and space, give it its interests and problems, and its order and rationality. That such is the case a few indications will suffice to show. The mathematical concepts of constant and variable are represented familiarly in life by the notions of fixedness and change. The concept of equation or that of an equational system, imposing restriction upon variability, is matched in life by the concept of natural and spiritual law, giving order to what were else chaotic change and providing partial freedom in lieu of none at all. What is known in mathematics under the name of limit is everywhere present in life in the guise of some ideal, some excellence high-dwelling among the rocks, an "ever flying perfect" as Emerson calls it, unto which we may approximate nearer and nearer, but which we can never quite attain, save in aspiration. The supreme concept of functionality finds its correlate in life in the all-pervasive sense of interdependence and mutual determination among the elements of the world. What is known in mathematics as transformation—that is, lawful transfer of attention, serving to match in orderly fashion the things of one system with those of another—is conceived in life as a process of transmutation by which, in the flux of the world, the content of the present has come out of the past and in its turn, in ceasing to be, gives birth to its successor, as the boy is father to the man and as things, in general, become what they are not. The mathematical concept of invariance and that of infinitude, especially the imposing doctrines that explain their meanings and bear their names—What are they but mathematicizations of that which has ever been the chief of life's hopes and dreams, of that which has ever been the object of its deepest passion and of its dominant enterprise, I mean the finding of the worth that abides, the finding of permanence in the midst of change, and the discovery of a presence, in what has seemed to be a finite world, of being that is infinite? It is needless further to multiply examples of a correlation that is so abounding and complete as indeed to suggest a doubt whether it be juster to view mathematics as the abstract idealization of life than to regard life as the concrete realization of mathematics.

The colors are stunning. In a single view, I see - looking out at the edge of the earth: red at the horizon line, blending to orange and yellow, followed by a thin white line, then light blue, gradually turning to dark blue and various gradually darker shades of gray, then black and a million stars above. It's breathtaking.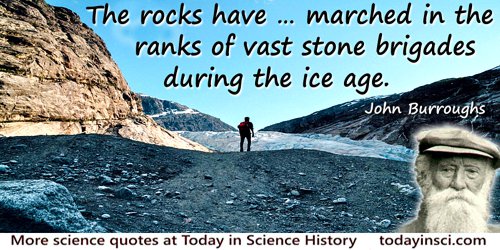 The rocks have a history; gray and weatherworn, they are veterans of many battles; they have most of them marched in the ranks of vast stone brigades during the ice age; they have been torn from the hills, recruited from the mountaintops, and marshaled on the plains and in the valleys; and now the elemental war is over, there they lie waging a gentle but incessant warfare with time and slowly, oh, so slowly, yielding to its attacks!

Twice in my life I have spent two weary and scientifically profitless years seeking evidence to corroborate dearly loved hypotheses that later proved to be groundless; times such as these are hard for scientists—days of leaden gray skies bringing with them a miserable sense of oppression and inadequacy.

What we call recycling is typically the product losing its quality. Paper gets mixed with other papers, re-chlorinated and contaminated with toxic inks. The fiber length gets shorter…and you end up with gray, fuzzy stuff that doesn't really work for you. That's downcycling. Michael Braungart and I coined the term upcycling, meaning that the product could actually get better as it comes through the system.

You've watched the Star Trek and the Star Wars and all those movies, and everything is evil looking and all sharp and angular. But on the moon it's not that way at all. It's all smooth and…just sort of rounded, general rolling terrain except for the individual rocks and things. And they were angular, but the general impression was just the rounded mountains that came down and then rolled into the valley, and then the valley rolled away to the horizon… it was mostly gray in color, but some of the rocks were white and some were gray…. It was just tremendously exciting to stand on the moon. I can't even put into words the excitement that I experienced as I stood there looking across this dramatic landscape, which was absolutely lifeless.