Ink Quotes (11 quotes)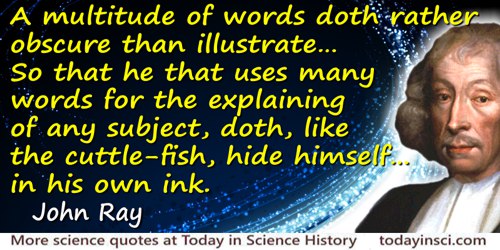 A multitude of words doth rather obscure than illustrate, they being a burden to the memory, and the first apt to be forgotten, before we come to the last. So that he that uses many words for the explaining of any subject, doth, like the cuttle-fish, hide himself, for the most part, in his own ink.

I am trying to get the hang of this new fangled writing machine, but I am not making a shining success of it. However, this is the first attempt I have ever made & yet I perceive I shall soon & easily acquire a fine facility in its use. … The machine has several virtues. I believe it will print faster than I can write. One may lean back in his chair & work it. It piles an awful stack of words on one page. It don't muss things or scatter ink blots around. Of course it saves paper.

I have recently read an article on handwriting and forgeries in which it is stated that ink eradicators do not remove ink: but merely bleach it, and that ink so bleached can be easily brought out by a process of fuming: known to all handwriting experts. Can you give me a description of this process, what chemicals are used: and how it is performed?

In my youth I regarded the universe as an open book, printed in the language of physical equations, whereas now it appears to me as a text written in invisible ink, of which in our rare moments of grace we are able to decipher a small fragment.

In the world of physics we watch a shadowgraph performance of the drama of familiar life. The shadow of my elbow rests on the shadow table as the shadow ink flows over the shadow paper. It is all symbolic, and as a symbol the physicist leaves it. ... The frank realization that physical science is concerned with a world of shadows is one of the most significant of recent advances.

Life is a five to four decision in the Supreme Court of the Mind. Counteract the hopelessness. You can change that one vote. Sit down and turn blood into ink.

The fertilized germ of one of the higher animals … is perhaps the most wonderful object in nature… . On the doctrine of reversion [atavism] … the germ becomes a far more marvelous object, for, besides the visible changes which it undergoes, we must believe that it is crowded with invisible characters … separated by hundreds or even thousands of generations from the present time: and these characters, like those written on paper with invisible ink, lie ready to be evolved whenever the organization is disturbed by certain known or unknown conditions.

The great enemy of clear language is insincerity. When there is a gap between one's real and one's declared aims, one turns, as it were, instinctively to long words and exhausted idioms, like a cuttlefish squirting out ink.

The skein of human continuity must often become this tenuous across the centuries (hanging by a thread, in the old cliche'), but the circle remains unbroken if I can touch the ink of Lavoisier's own name, written by his own hand. A candle of light, nurtured by the oxygen of his greatest discovery, never burns out if we cherish the intellectual heritage of such unfractured filiation across the ages. We may also wish to contemplate the genuine physical thread of nucleic acid that ties each of us to the common bacterial ancestor of all living creatures, born on Lavoisier's ancienne terre more than 3.5 billion years ago– and never since disrupted, not for one moment, not for one generation. Such a legacy must be worth preserving from all the guillotines of our folly.

Truth is rarely writ in ink; it lives in nature.

What we call recycling is typically the product losing its quality. Paper gets mixed with other papers, re-chlorinated and contaminated with toxic inks. The fiber length gets shorter…and you end up with gray, fuzzy stuff that doesn't really work for you. That's downcycling. Michael Braungart and I coined the term upcycling, meaning that the product could actually get better as it comes through the system.