(source)

John Ray

(29 Nov 1627 - 17 Jan 1705)




Science Quotes by John Ray
(7 quotes)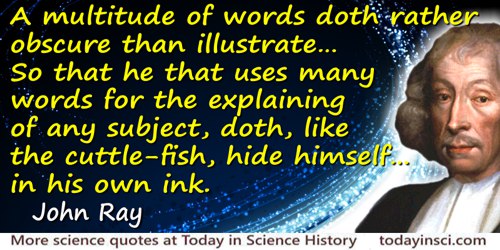 A multitude of words doth rather obscure than illustrate, they being a burden to the memory, and the first apt to be forgotten, before we come to the last. So that he that uses many words for the explaining of any subject, doth, like the cuttle-fish, hide himself, for the most part, in his own ink.

— John Ray

A wonder then it must needs be,—that there should be any Man found so stupid and forsaken of reason as to persuade himself, that this most beautiful and adorned world was or could be produced by the fortuitous concourse of atoms.

— John Ray

And I believe there are many Species in Nature, which were never yet taken notice of by Man, and consequently of no use to him, which yet we are not to think were created in vain; but it's likely … to partake of the overflowing Goodness of the Creator, and enjoy their own Beings. But though in this sense it be not true, that all things were made for Man; yet thus far it is, that all the Creatures in the World may be some way or other useful to us, at least to exercise our Wits and Understandings, in considering and contemplating of them, and so afford us Subject of Admiring and Glorifying their and our Maker. Seeing them, we do believe and assert that all things were in some sense made for us, we are thereby obliged to make use of them for those purposes for which they serve us, else we frustrate this End of their Creation.

— John Ray

But here it may be objected, that the present Earth looks like a heap of Rubbish and Ruines; And that there are no greater examples of confusion in Nature than Mountains singly or jointly considered; and that there appear not the least footsteps of any Art or Counsel either in the Figure and Shape, or Order and Disposition of Mountains and Rocks. Wherefore it is not likely they came so out of God's hands ... To which I answer, That the present face of the Earth with all its Mountains and Hills, its Promontaries and Rocks, as rude and deformed as they appear, seems to me a very beautiful and pleasant object, and with all the variety of Hills, and Valleys, and Inequalities far more grateful to behold, than a perfectly level Countrey without any rising or protuberancy, to terminate the sight: As anyone that hath but seen the Isle of Ely, or any the like Countrey must need acknowledge.

— John Ray

I cannot but look upon the strange Instinct of this noisome and troublesome Creature a Louse, of searching out foul and nasty Clothes to harbor and breed in, as an Effect of divine Providence, design'd to deter Men and Women from Sluttishness and Sordidness.

— John Ray

In order that an inventory of plants may be begun and a classification of them correctly established, we must try to discover criteria of some sort for distinguishing what are called "species". After a long and considerable investigation, no surer criterion for determining species had occurred to me than distinguishing features that perpetuate themselves in propagation from seed. Thus, no matter what variations occur in the individuals or the species, if they spring from the seed of one and the same plant, they are accidental variations and not such as to distinguish a species. For these variations do not perpetuate themselves in subsequent seeding. Thus, for example, we do not regard caryophylli with full or multiple blossoms as a species distinct from caryophylli with single blossoms, because the former owe their origin to the seed of the latter and if the former are sown from their own seed, they once more produce single-blossom caryophylli. But variations that never have as their source seed from one and the same species may finally be regarded as distinct species. Or, if you make a comparison between any two plants, plants which never spring from each other's seed and never, when their seed is sown, are transmuted one into the other, these plants finally are distinct species. For it is just as in animals: a difference in sex is not enough to prove a difference of species, because each sex is derived from the same seed as far as species is concerned and not infrequently from the same parents; no matter how many and how striking may be the accidental differences between them; no other proof that bull and cow, man and woman belong to the same species is required than the fact that both very frequently spring from the same parents or the same mother. Likewise in the case of plants, there is no surer index of identity of species than that of origin from the seed of one and the same plant, whether it is a matter of individuals or species. For animals that differ in species preserve their distinct species permanently; one species never springs from the seed of another nor vice versa.

— John Ray

Many Species of Animals have been lost out of the World, which Philosophers and Divines are unwilling to admit, esteeming the Destruction of anyone Species a Dismembring of the Universe, and rendring the World imperfect; whereas they think the Divine Providence is especially concerned, and solicitous to secure and preserve the Works of the Creation. And truly so it is, as appears, in that it was so careful to lodge all Land Animals in the Ark at the Time of the general Deluge; and in that, of all Animals recorded in Natural Histories, we cannot say that there hath been anyone Species lost, no not of the most infirm, and most exposed to Injury and Ravine. Moreover, it is likely, that as there neither is nor can be any new Species of Animals produced, all proceeding from Seeds at first created; so Providence, without which one individual Sparrow falls not to the ground, doth in that manner watch over all that are created, that an entire Species shall not be lost or destroyed by any Accident. Now, I say, if these Bodies were sometimes the Shells and Bones of Fish, it will thence follow, that many Species have been lost out of the World... To which I have nothing to reply, but that there may be some of them remaining some where or other in the Seas, though as yet they have not come to my Knowledge. Far though they may have perished, or by some Accident been destroyed out of our Seas, yet the Race of them may be preserved and continued still in others.

— John Ray

---
Quotes by others about John Ray (1)
I have procured some of the mice mentioned in my former letters, a young one and a female with young, both of which I have preserved in brandy. From the colour, shape, size, and manner of nesting, I make no doubt but that the species is nondescript [not known to science]. They are much smaller and more slender than the mus domesticus medius of Ray; and have more of the squirrel or dormouse colour ... They never enter into houses; are carried into ricks and barns with the sheaves; abound in harvest, and build their nests amidst the straws of the corn above the ground, and sometimes in thistles.
[Part of his observations on the harvest mouse, which he was the first to describe as a new species.]

See also: