Pleasantness Quotes (3 quotes)
Anyone who thinks science is trying to make human life easier or more pleasant is utterly mistaken.

But here it may be objected, that the present Earth looks like a heap of Rubbish and Ruines; And that there are no greater examples of confusion in Nature than Mountains singly or jointly considered; and that there appear not the least footsteps of any Art or Counsel either in the Figure and Shape, or Order and Disposition of Mountains and Rocks. Wherefore it is not likely they came so out of God's hands ... To which I answer, That the present face of the Earth with all its Mountains and Hills, its Promontaries and Rocks, as rude and deformed as they appear, seems to me a very beautiful and pleasant object, and with all the variety of Hills, and Valleys, and Inequalities far more grateful to behold, than a perfectly level Countrey without any rising or protuberancy, to terminate the sight: As anyone that hath but seen the Isle of Ely, or any the like Countrey must need acknowledge.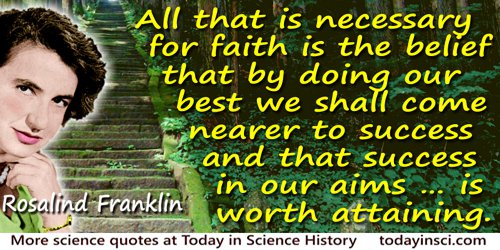 Your theories are those which you and many other people find easiest and pleasantest to believe, but, so far as I can see, they have no foundation other than they lead to a pleasant view of life … I agree that faith is essential to success in life … but I do not accept your definition of faith, i.e. belief in life after death. In my view, all that is necessary for faith is the belief that by doing our best we shall come nearer to success and that success in our aims (the improvement of the lot of mankind, present and future) is worth attaining … I maintain that faith in this world is perfectly possible without faith in another world.