View Of Life Quotes (7 quotes)
Anyone who does not grasp the close juxtaposition of the vulgar and the scholarly has either too refined or too compartmentalized a view of life. Abstract and visceral fascination are equally valid and not so far apart.

DNA neither cares nor knows. DNA just is. And we dance to its music.

From the war of nature, from famine and death, the most exalted object which we are capable of conceiving, namely, the production of the higher animals, directly follows. There is grandeur in this view of life, with its several powers, having been originally breathed into a few forms or into one; and that, whilst this planet has gone cycling on according to the fixed law of gravity, from so simple a beginning endless forms most beautiful and most wonderful have been, and are being, evolved.

In human freedom in the philosophical sense I am definitely a disbeliever. Everybody acts not only under external compulsion but also in accordance with inner necessity. Schopenhauer's saying, that 'a man can do what he wants, but not want what he wants,' has been an inspiration to me since my youth up, and a continual consolation and unfailing well-spring of patience in the face of the hardships of life, my own and others. This feeling mercifully not only mitigates the sense of responsibility which so easily becomes paralysing, and it prevents us from taking ourselves and other people too seriously; it conduces to a view of life in which humour, above all, has its due place.

My view of life is that it's next to impossible to convince anybody of anything.

Nature is not cruel, only pitilessly indifferent. This is one of the hardest lessons for humans to learn. We cannot admit that things might be neither good nor evil, neither cruel nor kind, but simply callous—indifferent to all suffering, lacking all purpose.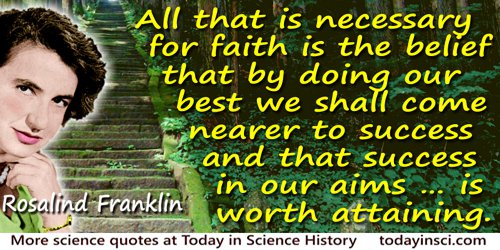 Your theories are those which you and many other people find easiest and pleasantest to believe, but, so far as I can see, they have no foundation other than they lead to a pleasant view of life … I agree that faith is essential to success in life … but I do not accept your definition of faith, i.e. belief in life after death. In my view, all that is necessary for faith is the belief that by doing our best we shall come nearer to success and that success in our aims (the improvement of the lot of mankind, present and future) is worth attaining … I maintain that faith in this world is perfectly possible without faith in another world.