Goodness Quotes (12 quotes)
L'oeuvre de Pasteur est admirable; elle montre son g้nie, mais it faut avoir v้cu dans son intimit้ pour conna๎tre toute la bont้ de son coeur.
The work of Pasteur is admirable; it shows his genius, but it must have been experienced intimately to know all the goodness of his heart.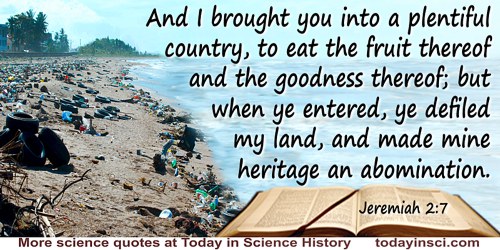 And I brought you into a plentiful country, to eat the fruit thereof and the goodness thereof; but when ye entered, ye defiled my land, and made mine heritage an abomination.

Bacon himself was very ignorant of all that had been done by mathematics; and, strange to say, he especially objected to astronomy being handed over to the mathematicians. Leverrier and Adams, calculating an unknown planet into a visible existence by enormous heaps of algebra, furnish the last comment of note on this specimen of the goodness of Bacon's view… . Mathematics was beginning to be the great instrument of exact inquiry: Bacon threw the science aside, from ignorance, just at the time when his enormous sagacity, applied to knowledge, would have made him see the part it was to play. If Newton had taken Bacon for his master, not he, but somebody else, would have been Newton.

I am larger, better than I thought,
I did not know I held so much goodness.

Illness is the most heeded of doctors: to goodness and wisdom we only make promises; pain we obey.

It is not necessary to probe into the nature of things, as was done by those whom the Greeks call physici; nor need we be in alarm lest the Christian should be ignorant of the force and number of the elements—the motion, and order, and eclipses of the heavenly bodies; the form of the heavens; the species and the natures of animals, plants, stones, fountains, rivers, mountains; about chronology and distances; the signs of coming storms; and a thousand other things which those philosophers either have found out, or think they have found out. … It is enough for the Christian to believe that the only cause of all created things, whether heavenly or earthly … is the goodness of the Creator, the one true God.

Nobody, certainly, will deny that the idea of the existence of an omnipotent, just, and omnibeneficent personal God is able to accord man solace, help, and guidance; also, by virtue of its simplicity it is accessible to the most undeveloped mind. But, on the other hand, there are decisive weaknesses attached to this idea in its elf, which have been painfully felt since the beginning of history. That is, if this being is omnipotent, then every occurrence, including every human action, every human thought, and every human feeling and aspiration is also His work; how is it possible to think of holding men responsible for their deeds and thoughts before such an almighty Being? In giving out punishment and rewards He would to a certain extent be passing judgment on Himself. How can this be combined with the goodness and righteousness ascribed to Him?

Our aim [with poetry therapy] is to help the individual learn the art of helping himself or herself. We believe strongly with Walt Whitman, who wrote, "I am larger, better than I thought/I did not know I held so much goodness."

Solitude in the presence of natural beauty and grandeur is the cradle of thought and aspirations which are not only good for the individual, but which society can ill do without.

The ideals which have always shone before me and filled me with the joy of living are goodness, beauty, and truth. To make a goal of comfort or happiness has never appealed to me.

We shall find everywhere, that the several Species are linked together, and differ but in almost insensible degrees. And when we consider the infinite Power and Wisdom of the Maker, we have reason to think, that it is suitable to the magnificent Harmony of the Universe, and the great Design and infinite Goodness of the Architect, that the Species of Creatures should also, by gentle degrees, ascend upward from us toward his infinite Perfection, as we see they gradually descend from us downwards.

[On mediocrity] What we have today is a retreat into low-level goodness. Men are all working hard building barbecues, being devoted to their wives and spending time with their children. Many of us feel, "We never had it so good!" After three wars and a depression, we're impressed by the rising curve. All we want is it not to blow up.