Heed Quotes (12 quotes)
[Resist the temptation to] work so hard that there is no time left for serious thinking …[Scientists] should heed the saying, "A busy life is a wasted life."

Absorbed in the special investigation, I paid no heed to the edifice which was meanwhile unconsciously building itself up. Having however completed the comparison of the fossil species in Paris, I wanted, for the sake of an easy revision of the same, to make a list according to their succession in geological formations, with a view of determining the characteristics more exactly and bringing them by their enumeration into bolder relief. What was my joy and surprise to find that the simplest enumeration of the fossil fishes according to their geological succession was also a complete statement of the natural relations of the families among themselves; that one might therefore read the genetic development of the whole class in the history of creation, the representation of the genera and species in the several families being therein determined; in one word, that the genetic succession of the fishes corresponds perfectly with their zoological classification, and with just that classification proposed by me.

Could the young but realize how soon they will become mere walking bundles of habits, they would give more heed to their conduct while in the plastic state. We are spinning our own fates, good or evil, and never to be undone.

Force, then, is Force, but mark you! Not a thing,
Only a Vector;
Thy barbèd arrows now have lost their sting,
Impotent spectre!
Thy reign, O force! is over. Now no more
Heed we thine action;
Repulsion leaves us where we were before,
So does attraction.
Both Action and Reaction now are gone.
Just ere they vanished,
Stress joined their hands in peace, and made them one;
Then they were banished....

Illness is the most heeded of doctors: to goodness and wisdom we only make promises; pain we obey.

Imperceptibly a change had been wrought in me until I no longer felt alone in a strange, silent country. I had learned to hear the echoes of a time when every living thing upon this land and even the varied overshadowing skies had its voice, a voice that was attentively heard and devoutly heeded by the ancient people of America. Henceforth, to me the plants, the trees, the clouds and all things had become vocal with human hopes, fears and supplications.

In a sense, genetics grew up as an orphan. In the beginning botanists and zoologists were often indifferent and sometimes hostile toward it. "Genetics deals only with superficial characters", it was often said. Biochemists likewise paid it little heed in its early days. They, especially medical biochemists, knew of Garrod's inborn errors of metabolism and no doubt appreciated them in the biochemical sense and as diseases; but the biological world was inadequately prepared to appreciate fully the significance of his investigations and his thinking. Geneticists, it should be said, tended to be preoccupied mainly with the mechanisms by which genetic material is transmitted from one generation to, the next.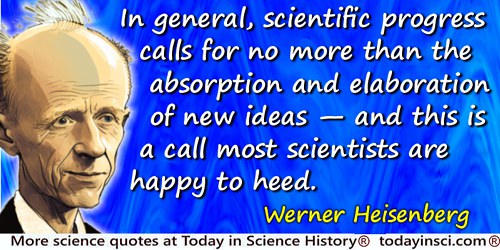 In general, scientific progress calls for no more than the absorption and elaboration of new ideas—and this is a call most scientists are happy to heed.

The great difference between science and technology is a difference of initial attitude. The scientific man follows his method whithersoever it may take him. He seeks acquaintance with his subject­matter, and he does not at all care about what he shall find, what shall be the content of his knowledge when acquaintance-with is transformed into knowledge-about. The technologist moves in another universe; he seeks the attainment of some determinate end, which is his sole and obsessing care; and he therefore takes no heed of anything that he cannot put to use as means toward that end.

What can I say of the perpetual motion machine that is my husband? What makes Francis run? It is a mysterious and propelling force which, injected into all mankind, would solve all the problems that plague this day and age.
Describing her husband, opthalmologist Francis Heed Adler.

What is it to see, in an Eagle glide
Which fills a human heart with so much pride?
Is it that it soars effortless above the Earth
That steals us from our own limits & dearth?
Trapped in our seas of befuddling sludge
We try and try but cannot budge.
And then to see a mortal; with such ease take wing
Up in a breeze that makes our failing spirits sing?
Do we, vicarious birds, search in it our childishness -
When we too were young & yearned in heart to fly?
Taking flights of fancy through adolescent nights
Listening little, heeding less, knowing not why?
From its highest perch in the forest of snow
Majestic - the Eagle soars alone.
Riding thermals, lording clouds
Till dropping silent from the sky as a stone
But we, so quick and ready to fold
Give up our wings at the whiff of age
Losing years, cursing time, wasting spirit
Living out entire lives in futile rage!

When God makes his presence felt through us, we are like the burning bush: Moses never took any heed what sort of bush it was—he only saw the brightness of the Lord.