Obsession Quotes (8 quotes)
"Advance, ye mates! Cross your lances full before me. Well done! Let me touch the axis." So saying, with extended arm, he grasped the three level, radiating lances at their crossed centre; while so doing, suddenly and nervously twitched them; meanwhile, glancing intently from Starbuck to Stubb; from Stubb to Flask. It seemed as though, by some nameless, interior volition, he would fain have shocked into them the same fiery emotion accumulated within the Leyden jar of his own magnetic life. The three mates quailed before his strong, sustained, and mystic aspect. Stubb and Flask looked sideways from him; the honest eye of Starbuck fell downright.
"In vain!&rsdquo; cried Ahab; "but, maybe, 'tis well. For did ye three but once take the full-forced shock, then mine own electric thing, that had perhaps expired from out me. Perchance, too, it would have dropped ye dead. ..."
[Commentary by Henry Schlesinger: Electricity—mysterious and powerful as it seemed at the time—served as a perfect metaphor for Captain Ahab's primal obsession and madness, which he transmits through the crew as if through an electrical circuit in Moby-Dick.]

Dilbert: I'm obsessed with inventing a perpetual motion machine. Most scientists think it's impossible, but I have something they don't.
Dogbert: A lot of spare time?
Dilbert: Exactly.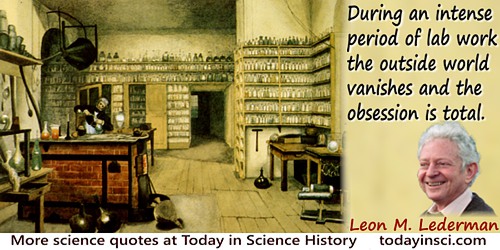 Background: Michael Faraday in his laboratory at the Royal Institution.
(source)
During an intense period of lab work, the outside world vanishes and the obsession is total. Sleep is when you can curl up on the accelerator floor for an hour.

The great difference between science and technology is a difference of initial attitude. The scientific man follows his method whithersoever it may take him. He seeks acquaintance with his subject­matter, and he does not at all care about what he shall find, what shall be the content of his knowledge when acquaintance-with is transformed into knowledge-about. The technologist moves in another universe; he seeks the attainment of some determinate end, which is his sole and obsessing care; and he therefore takes no heed of anything that he cannot put to use as means toward that end.

Under pressure from the computer, the question of mind in relation to machine is becoming a central cultural preoccupation. It is becoming for us what sex was to the Victorians—threat and obsession, taboo and fascination.

What [man landing on the moon] is doing up there is indulging his obsession with the impossible. The impossible infuriates and tantalizes him. Show him an impossible job and he will reduce it to a possibility so trite that eventually it bores him.

You know, there's such a very thin dividing line between inspiration and obsession that sometimes it's very hard to decide which side we're really on.

"Half genius and half buffoon," Freeman Dyson ... wrote. ... [Richard] Feynman struck him as uproariously American—unbuttoned and burning with physical energy. It took him a while to realize how obsessively his new friend was tunneling into the very bedrock of modern science.