Accelerator Quotes (10 quotes)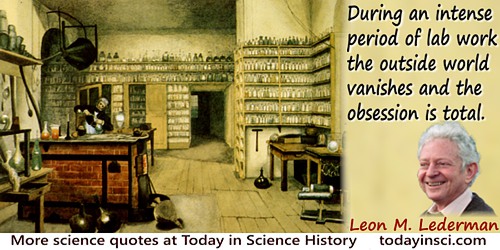 Background: Michael Faraday in his laboratory at the Royal Institution.
(source)
During an intense period of lab work, the outside world vanishes and the obsession is total. Sleep is when you can curl up on the accelerator floor for an hour.

Equipped with our five senses, along with telescopes and microscopes and mass spectrometers and seismographs and magnetometers and particle accelerators and detectors across the electromagnetic spectrum, we explore the universe around us and call the adventure science.

I sometimes think about the tower at Pisa as the first particle accelerator, a (nearly) vertical linear accelerator that Galileo used in his studies.

If there is no solace in the fruits of our research, there is at least some consolation in the research itself. Men and women are not content to comfort themselves with tales of gods and giants, or to confine their thoughts to the daily affairs of life; they also build telescopes and satellites and accelerators and sit at their desks for endless hours working out the meaning of the data they gather.

Reality is what kicks back when you kick it. This is just what physicists do with their particle accelerators. We kick reality and feel it kick back. From the intensity and duration of thousands of those kicks over many years, we have formed a coherent theory of matter and forces, called the standard model, that currently agrees with all observations.

The night before Easter Sunday of that year (1920) I awoke, turned on the light, and jotted down a few notes on a tiny slip of thin paper. Then I fell asleep again. It occurred to me at six o'clock in the morning that during the night I had written down something most important, but I was unable to decipher the scrawl. The next night, at three o'clock, the idea returned. It was the design of an experiment to determine whether the hypothesis of chemical transmission that I had uttered seventeen years ago was correct. I got up immediately, went to the laboratory, and performed a simple experiment on a frog heart according to the nocturnal design. I have to describe this experiment briefly since its results became the foundation of the theory of chemical transmission of the nervous impulse. The hearts of two frogs were isolated, the first with its nerves, the second without. Both hearts were attached to Straub cannulas filled with a little Ringer solution. The vagus nerve of the first heart was stimulated for a few minutes. Then the Ringer solution that had been in the first heart during the stimulation of the vagus was transferred to the second heart. It slowed and its beats diminished just as if its vagus had been stimulated. Similarly, when the accelerator nerve was stimulated and the Ringer from this period transferred, the second heart speeded up and its beats increased. These results unequivocally proved that the nerves do not influence the heart directly but liberate from their terminals specific chemical substances which, in their turn, cause the well-known modifications of the function of the heart characteristic of the stimulation of its nerves.

There are 60 sub-atomic particles they've discovered that can explain the thousands of other sub-atomic particles, and the model is too ugly. This is my analogy: it's like taking Scotch tape and taping a giraffe to a mule to a whale to a tiger and saying this is the ultimate theory of particles. … We have so many particles that Oppenheimer once said you could give a Nobel Prize to the physicist that did not discover a particle that year. We were drowning in sub-atomic particles.
Now we realize that this whole zoo of sub-atomic particles, thousands of them coming out of our accelerators, can be explained by little vibrating strings.

There was, I think, a feeling that the best science was that done in the simplest way. In experimental work, as in mathematics, there was "style" and a result obtained with simple equipment was more elegant than one obtained with complicated apparatus, just as a mathematical proof derived neatly was better than one involving laborious calculations. Rutherford's first disintegration experiment, and Chadwick's discovery of the neutron had a "style" that is different from that of experiments made with giant accelerators.

This new knowledge has all to do with honor and country but it has nothing to do directly with defending our country except to help make it worth defending.

[About research with big particle accelerators such as the Large Hadron Collider.] I think the primary justification for this sort of science that we do is fundamental human curiosity. ... It's true, of course, that every previous generation that's made some breakthrough in understanding nature has seen those discoveries translated into new technologies, new possibilities for the human race. That may well happen with the Higgs boson. Quite frankly, at the moment I don't see how you can use the Higgs boson for anything useful.