Accelerator Quotes (7 quotes)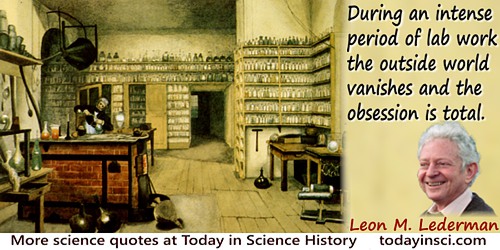 Background: Michael Faraday in his laboratory at the Royal Institution.
(source)
During an intense period of lab work, the outside world vanishes and the obsession is total. Sleep is when you can curl up on the accelerator floor for an hour.

I sometimes think about the tower at Pisa as the first particle accelerator, a (nearly) vertical linear accelerator that Galileo used in his studies.

If there is no solace in the fruits of our research, there is at least some consolation in the research itself. Men and women are not content to comfort themselves with tales of gods and giants, or to confine their thoughts to the daily affairs of life; they also build telescopes and satellites and accelerators and sit at their desks for endless hours working out the meaning of the data they gather.

Reality is what kicks back when you kick it. This is just what physicists do with their particle accelerators. We kick reality and feel it kick back. From the intensity and duration of thousands of those kicks over many years, we have formed a coherent theory of matter and forces, called the standard model, that currently agrees with all observations.

There are 60 sub-atomic particles they've discovered that can explain the thousands of other sub-atomic particles, and the model is too ugly. This is my analogy: it's like taking Scotch tape and taping a giraffe to a mule to a whale to a tiger and saying this is the ultimate theory of particles. … We have so many particles that Oppenheimer once said you could give a Nobel Prize to the physicist that did not discover a particle that year. We were drowning in sub-atomic particles.
Now we realize that this whole zoo of sub-atomic particles, thousands of them coming out of our accelerators, can be explained by little vibrating strings.

There was, I think, a feeling that the best science was that done in the simplest way. In experimental work, as in mathematics, there was "style" and a result obtained with simple equipment was more elegant than one obtained with complicated apparatus, just as a mathematical proof derived neatly was better than one involving laborious calculations. Rutherford's first disintegration experiment, and Chadwick's discovery of the neutron had a "style" that is different from that of experiments made with giant accelerators.

This new knowledge has all to do with honor and country but it has nothing to do directly with defending our country except to help make it worth defending.