Vanishing Quotes (11 quotes)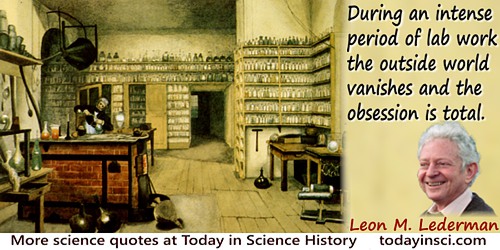 Background: Michael Faraday in his laboratory at the Royal Institution.
(source)
During an intense period of lab work, the outside world vanishes and the obsession is total. Sleep is when you can curl up on the accelerator floor for an hour.

Force, then, is Force, but mark you! Not a thing,
Only a Vector;
Thy barbèd arrows now have lost their sting,
Impotent spectre!
Thy reign, O force! is over. Now no more
Heed we thine action;
Repulsion leaves us where we were before,
So does attraction.
Both Action and Reaction now are gone.
Just ere they vanished,
Stress joined their hands in peace, and made them one;
Then they were banished....

I will frankly tell you that my experience in prolonged scientific investigations convinces me that a belief in God—a God who is behind and within the chaos of vanishing points of human knowledge—adds a wonderful stimulus to the man who attempts to penetrate into the regions of the unknown.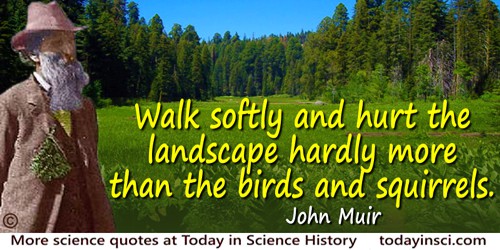 Crescent Meadow in Sequoia National Park
(source)
Indians walk softly and hurt the landscape hardly more than the birds and squirrels, and their brush and bark huts last hardly longer than those of wood rats, while their more enduring monuments, excepting those wrought on the forests by the fires they made to improve their hunting grounds, vanish in a few centuries.

Kriegman says … "Think binary. When matter meets antimatter, both vanish, into pure energy. But both existed; I mean, there was a condition we'll call 'existence.' Think of one and minus one. Together they add up to zero, nothing, nada, niente, right? Picture them together, then picture them separating—peeling apart. … Now you have something, you have two somethings, where once you had nothing."

The axe and saw are insanely busy, chips are flying thick as snowflakes, and every summer thousands of acres of priceless forests, with their underbrush, soil, springs, climate, scenery, and religion, are vanishing away in clouds of smoke, while, except in the national parks, not one forest guard is employed.

The beauty and genius of a work of art may be reconceived, though its first material expression be destroyed; a vanished harmony may yet again inspire the composer, but when the last individual of a race of living things breathes no more, another heaven and another earth must pass before such a one can be again.

The first fundamental rule of historical science and research, when by these is sought a knowledge of the general destinies of mankind, is to keep these and every object connected with them steadily in view, without losing ourselves in the details of special inquiries and particular facts, for the multitude and variety of these subjects is absolutely boundless; and on the ocean of historical science the main subject easily vanishes from the eye.

There was yet another disadvantage attaching to the whole of Newton's physical inquiries, ... the want of an appropriate notation for expressing the conditions of a dynamical problem, and the general principles by which its solution must be obtained. By the labours of LaGrange, the motions of a disturbed planet are reduced with all their complication and variety to a purely mathematical question. It then ceases to be a physical problem; the disturbed and disturbing planet are alike vanished: the ideas of time and force are at an end; the very elements of the orbit have disappeared, or only exist as arbitrary characters in a mathematical formula

We are ignorant of the Beyond because this ignorance is the condition sine qua non of our own life. Just as ice cannot know fire except by melting, by vanishing.

We can see our forests vanishing, our water-powers going to waste, our soil being carried by floods into the sea; and the end of our coal and our iron is in sight. But our larger wastes of human effort, which go on every day through such of our acts as are blundering, ill-directed, or inefficient, … are less visible, less tangible, and are but vaguely appreciated.