(source)

John Muir

(21 Apr 1838 - 24 Dec 1914)




Science Quotes by John Muir
(27 quotes)

John Muir on Glacier Point, Yosemite Valley, California, in 1903
Colorization © todayinsci
(Terms of Use)
(source)
A man, in his books, may be said to walk the earth a long time after he is gone.

— John Muir

Although I was four years at the University [of Wisconsin], I did not take the regular course of studies, but instead picked out what I thought would be most useful to me, particularly chemistry, which opened a new world, mathematics and physics, a little Greek and Latin, botany and and geology. I was far from satisfied with what I had learned, and should have stayed longer.
[Enrolled in Feb 1861, left in 1863 without completing a degree, and began his first botanical foot journey.]

— John Muir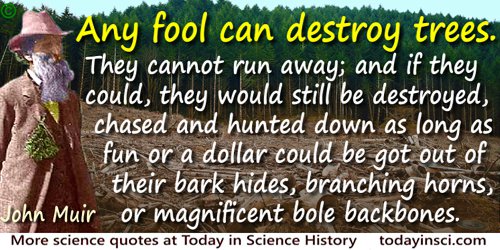 Any fool can destroy trees. They cannot run away; and if they could, they would still be destroyed,—chased and hunted down as long as fun or a dollar could be got out of their bark hides, branching horns, or magnificent bole backbones. Few that fell trees plant them; nor would planting avail much towards getting back anything like the noble primeval forests. During a man's life only saplings can be grown, in the place of the old trees—tens of centuries old—that have been destroyed.

— John Muir

Between every two pine trees there is a door leading to a new way of life.

— John Muir

Climb the mountains and get their good tidings. Nature's peace will flow into you as sunshine flows into trees. The winds will blow their own freshness into you, and the storms their energy, while cares will drop off like autumn leaves.

— John Muir

Dam Hetch Hetchy! As well dam for water-tanks the people's cathedrals and churches, for no holier temple has ever been consecrated by the heart of man.
[Muir was aghast that the Hetch Hetchy Valley in Yosemite was to be flooded by the O'Shaughnessy Dam to provide water for San Francisco. Muir lost this land conservation battle; the dam was completed in 1914.]

— John Muir

Going to the woods is going home.

— John Muir

How hard to realize that every camp of men or beast has this glorious starry firmament for a roof! In such places standing alone on the mountain-top it is easy to realize that whatever special nests we make - leaves and moss like the marmots and birds, or tents or piled stone - we all dwell in a house of one room - the world with the firmament for its roof - and are sailing the celestial spaces without leaving any track.

— John Muir

I have enjoyed the trees and scenery of Kentucky exceedingly. How shall I ever tell of the miles and miles of beauty that have been flowing into me in such measure? These lofty curving ranks of lobing, swelling hills, these concealed valleys of fathomless verdure, and these lordly trees with the nursing sunlight glancing in their leaves upon the outlines of the magnificent masses of shade embosomed among their wide branches—these are cut into my memory to go with me forever.

— John Muir

I have seen oaks of many species in many kinds of exposure and soil, but those of Kentucky excel in grandeur all I had ever before beheld. They are broad and dense and bright green. In the leafy bowers and caves of their long branches dwell magnificent avenues of shade, and every tree seems to be blessed with a double portion of strong exulting life.

— John Muir

I never saw a discontented tree. They grip the ground as though they liked it, and though fast rooted they travel about as far as we do. They go wandering forth in all directions with every wind.

— John Muir

I should study Nature's laws in all their crossings and unions; I should follow magnetic streams to their source and follow the shores of our magnetic oceans. I should go among the rays of the aurora, and follow them to their beginnings, and study their dealings and communications with other powers and expressions of matter.

— John Muir

I wandered away on a glorious botanical and geological excursion, which has lasted nearly fifty years and is not yet completed, always happy and free, poor and rich, without thought of a diploma or of making a name, urged on and on through endless, inspiring Godful beauty.
[Shortly after leaving university in 1863, without completing a degree, at age 25, he began his first botanical foot journey along the Wisconsin River to the Mississippi.]

— John Muir

I was a few miles south of Louisville when I planned my journey. I spread out my map under a tree and made up my mind to go through Kentucky, Tennessee, and Georgia to Florida, thence to Cuba, thence to some part of South America; but it will be only a hasty walk. I am thankful, however, for so much.

— John Muir

In every walk with nature one receives far more than he seeks.

— John Muir

In studying the fate of our forest king, we have thus far considered the action of purely natural causes only; but, unfortunately, man is in the woods, and waste and pure destruction are making rapid headway. If the importance of the forests were even vaguely understood, even from an economic standpoint, their preservation would call forth the most watchful attention of government

— John Muir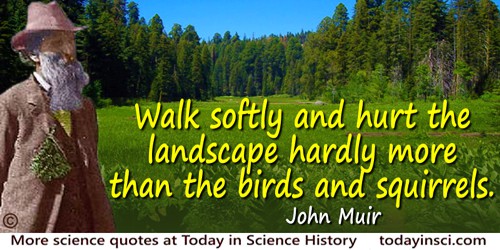 Crescent Meadow in Sequoia National Park
(source)
Indians walk softly and hurt the landscape hardly more than the birds and squirrels, and their brush and bark huts last hardly longer than those of wood rats, while their more enduring monuments, excepting those wrought on the forests by the fires they made to improve their hunting grounds, vanish in a few centuries.

— John Muir

It took more than three thousand years to make some of the trees in these western woods ... Through all the wonderful, eventful centuries since Christ's time—and long before that—God has cared for these trees, saved them from drought, disease, avalanches, and a thousand straining, leveling tempests and floods; but he cannot save them from fools.

— John Muir

John Muir, Earth-planet, Universe.

— John Muir

One is constantly reminded of the infinite lavishness and fertility of Nature—inexhaustible abundance amid what seems enormous waste. And yet when we look into any of her operations that lie within reach of our minds, we learn that no particle of her material is wasted or worn out. It is eternally flowing from use to use, beauty to yet higher beauty; and we soon cease to lament waste and death, and rather rejoice and exult in the imperishable, unspendable wealth of the universe.

— John Muir

The axe and saw are insanely busy, chips are flying thick as snowflakes, and every summer thousands of acres of priceless forests, with their underbrush, soil, springs, climate, scenery, and religion, are vanishing away in clouds of smoke, while, except in the national parks, not one forest guard is employed.

— John Muir

The clearest way into the Universe is through a forest wilderness.

— John Muir

The forests of America, however slighted by man, must have been a great delight to God; for they were the best he ever planted.

— John Muir

The living and dead look well together in woods. Trees receive a most beautiful burial. Nature takes fallen trees gently to her bosom—at rest from storms. They seem to have been called home out of the sky to sleep now.

— John Muir

We are now in the mountains and they are in us, kindling enthusiasm, making every nerve quiver, filling every pore and cell of us. Our flesh-and-bone tabernacle seems transparent as glass to the beauty about us, as if truly an inseparable part of it, thrilling with the air and trees, streams and rocks, in the waves of the sun,—a part of all nature, neither old nor young, sick nor well, but immortal.

— John Muir

When we contemplate the whole globe as one great dewdrop, striped and dotted with continents and islands, flying through space with other stars all singing and shining together as one, the whole universe appears as an infinite storm of beauty.

— John Muir

When we try to pick out anything by itself we find it hitched to everything else in the universe … The whole wilderness is unity and interrelation, is alive and familiar, full of humanity. The very stones seem talkative, sympathetic, brotherly.

— John Muir