Excursion Quotes (12 quotes)
... I left Caen, where I was living, to go on a geologic excursion under the auspices of the School of Mines. The incidents of the travel made me forget my mathematical work. Having reached Coutances, we entered an omnibus to go to some place or other. At the moment when I put my foot on the step, the idea came to me, without anything in my former thoughts seeming to have paved the way for it, that the transformations I had used to define the Fuchsian functions were identical with those of non-Eudidean geometry. I did not verify the idea; I should not have had time, as upon taking my seat in the omnibus, I went on with a conversation already commenced, but I felt a perfect certainty. On my return to Caen, for convenience sake, I verified the result at my leisure.

"Going fishing!" How often the question has been asked by acquaintances, as they have met me, with rod and basket, on an excursion after materials for microscopic study. "Yes!" has been the invariable answer, for it saved much detention and explanation; and now, behold! I offer them the results of that fishing. No fish for the stomach, but, as the old French microscopist Joblet observed, "some of the most remarkable fishes that have ever been seen"; and food-fishes for the intellect.

[Herschel and Humboldt] stirred up in me a burning zeal to add even the most humble contribution to the noble structure of Natural Science. No one or a dozen other books influenced me nearly so much as these two. I copied out from Humboldt long passages about Teneriffe and read them aloud on one of [my walking excursions].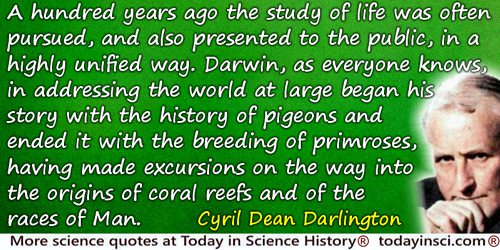 A hundred years ago the study of life was often pursued, and also presented to the public, in a highly unified way. Darwin, as everyone knows, in addressing the world at large began his story with the history of pigeons and ended it with the breeding of primroses, having made excursions on the way into the origins of coral reefs and of the races of Man.

Dreams are excursions into the limbo of things, a semi-deliverance from the human prison.

Formerly Milton's Paradise Lost had been my chief favourite, and in my excursions during the voyage of the Beagle, when I could take only a single small volume, I always chose Milton.

Hypothesis is the most important mental technique of the investigator, and its main function is to suggest new experiments or new observations. Indeed, most experiments and many observations are carried out with the deliberate object of testing an hypothesis. Another function is to help one see the significance of an object or event that otherwise would mean nothing. For instance, a mind prepared by the hypothesis of evolution would make many more significant observations on a field excursion than one not so prepared. Hypotheses should be used as tools to uncover new facts rather than as ends in themselves.

I have enjoyed the trees and scenery of Kentucky exceedingly. How shall I ever tell of the miles and miles of beauty that have been flowing into me in such measure? These lofty curving ranks of lobing, swelling hills, these concealed valleys of fathomless verdure, and these lordly trees with the nursing sunlight glancing in their leaves upon the outlines of the magnificent masses of shade embosomed among their wide branches—these are cut into my memory to go with me forever.

I wandered away on a glorious botanical and geological excursion, which has lasted nearly fifty years and is not yet completed, always happy and free, poor and rich, without thought of a diploma or of making a name, urged on and on through endless, inspiring Godful beauty.
[Shortly after leaving university in 1863, without completing a degree, at age 25, he began his first botanical foot journey along the Wisconsin River to the Mississippi.]

I was a few miles south of Louisville when I planned my journey. I spread out my map under a tree and made up my mind to go through Kentucky, Tennessee, and Georgia to Florida, thence to Cuba, thence to some part of South America; but it will be only a hasty walk. I am thankful, however, for so much.

Science and art, or by the same token, poetry and prose differ from one another like a journey and an excursion. The purpose of the journey is its goal, the purpose of an excursion is the process.

The chief art of learning, as Locke has observed, is to attempt but little at a time. The widest excursions of the mind are made by short flights frequently repeated; the most lofty fabrics of science are formed by the continued accumulation of single propositions.