Beagle Quotes (11 quotes)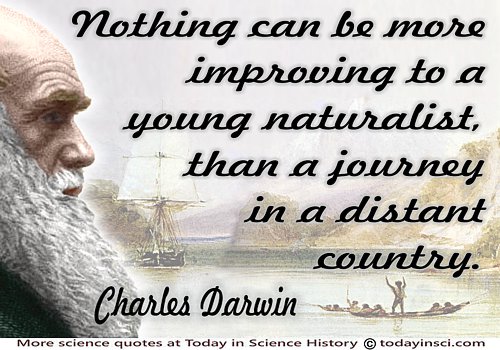 HMS Beagle in the seaways of Terra del Fuego, painting by Conrad Martens.
(source)
Among the scenes which are deeply impressed on my mind, none exceed in sublimity the primeval forests undefaced by the hand of man; whether those of Brazil, where the powers of Life are predominant, or those of Tierra del Fuego, where Death and Decay prevail. Both are temples filled with the varied productions of the God of Nature: no one can stand in these solitudes unmoved, and not feel that there is more in man than the mere breath of his body.

Early in my school days a boy had a copy of the "Wonders of the World," which I often read, and disputed with other boys about the veracity of some of the statements; and I believe that this book first gave me a wish to travel in remote countries, which was ultimately fulfilled by the voyage of the Beagle.

Formerly Milton's Paradise Lost had been my chief favourite, and in my excursions during the voyage of the Beagle, when I could take only a single small volume, I always chose Milton.

Hence, a traveller should be a botanist, for in all views plants form the chief embellishment.

I have stated, that in the thirteen species of ground-finches [in the Galapagos Islands], a nearly perfect gradation may be traced, from a beak extraordinarily thick, to one so fine, that it may be compared to that of a warbler. I very much suspect, that certain members of the series are confined to different islands; therefore, if the collection had been made on any one island, it would not have presented so perfect a gradation. It is clear, that if several islands have each their peculiar species of the same genera, when these are placed together, they will have a wide range of character. But there is not space in this work, to enter on this curious subject.

In July [1837] opened first note-book on Transmutation of Species. Had been greatly struck from about the month of previous March on character of South American fossils, and species on Galapagos Archipelago. These facts (especially latter), origin of all my views.

Never, I believe, did a vessel leave England better provided, or fitted for the service she was destined to perform, and for the health and comfort of her crew, than the Beagle. If we did want any thing which could have been carried, it was our own fault; for all that was asked for, from the Dockyard, Victualling Department, Navy Board, or Admiralty, was granted.

Nothing can be more improving to a young naturalist, than a journey in a distant country.

The achievements of the Beagle did not just depend on FitzRoy's skill as a hydrographer, nor on Darwin's skill as a natural scientist, but on the thoroughly effective fashion in which everyone on board pulled together. Of course Darwin and FitzRoy had their quarrels, but all things considered, they were remarkably infrequent. To have shared such cramped quarters for nearly five years with a man often suffering from serious depression, prostrate part of the time with sea sickness, with so little friction, Darwin must have been one of the best-natured people ever! This is, indeed, apparent in his letters. And anyone who has participated in a scientific expedition will agree that when he wrote from Valparaiso in July 1834 that 'The Captain keeps all smooth by rowing everyone in turn, which of course he has as much right to do as a gamekeeper to shoot partridges on the first of September', he was putting a finger on an important ingredient in the Beagle's success.

The theory which I would offer, is simply, that as the land with the attached reefs subsides very gradually from the action of subterranean causes, the coral-building polypi soon raise again their solid masses to the level of the water: but not so with the land; each inch lost is irreclaimably gone; as the whole gradually sinks, the water gains foot by foot on the shore, till the last and highest peak is finally submerged.

The voyage of the Beagle has been by far the most important event in my life and has determined my whole career; yet it depended on so small a circumstance as my uncle offering to drive me 30 miles to Shrewsbury, which few uncles would have done, and on such a trifle as the shape of my nose.