Primeval Quotes (7 quotes)
Among the scenes which are deeply impressed on my mind, none exceed in sublimity the primeval [tropical] forests, ... temples filled with the varied productions of the God of Nature. No one can stand in these solitudes unmoved, and not feel that there is more in man than the mere breath of his body.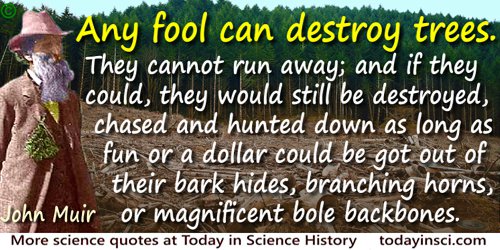 Any fool can destroy trees. They cannot run away; and if they could, they would still be destroyed,—chased and hunted down as long as fun or a dollar could be got out of their bark hides, branching horns, or magnificent bole backbones. Few that fell trees plant them; nor would planting avail much towards getting back anything like the noble primeval forests. During a man's life only saplings can be grown, in the place of the old trees—tens of centuries old—that have been destroyed.

Half a century ago Oswald (1910) distinguished classicists and romanticists among the scientific investigators: the former being inclined to design schemes and to use consistently the deductions from working hypotheses; the latter being more fit for intuitive discoveries of functional relations between phenomena and therefore more able to open up new fields of study. Examples of both character types are Werner and Hutton. Werner was a real classicist. At the end of the eighteenth century he postulated the theory of "neptunism," according to which all rocks including granites, were deposited in primeval seas. It was an artificial scheme, but, as a classification system, it worked quite satisfactorily at the time. Hutton, his contemporary and opponent, was more a romanticist. His concept of "plutonism" supposed continually recurrent circuits of matter, which like gigantic paddle wheels raise material from various depths of the earth and carry it off again. This is a very flexible system which opens the mind to accept the possible occurrence in the course of time of a great variety of interrelated plutonic and tectonic processes.

Organic chemistry just now is enough to drive one mad. It gives me the impression of a primeval forest full of the most remarkable things, a monstrous and boundless thicket, with no way of escape, into which one may well dread to enter.

The cutting of primeval forest and other disasters, fueled by the demands of growing human populations, are the overriding threat to biological diversity everywhere. (1992)

This is the forest primeval. The murmuring pines and the hemlocks,
Bearded with moss, and in garments green, indistinct in the twilight,
Stand like Druids of eld, with voices sad and prophetic,
Stand like harpers hoar, with beards that rest on their bosoms.
Loud from its rocky caverns, the deep-voiced neighboring ocean
Speaks, and in accents disconsolate answers the wail of the forest.

We do not live in a time when knowledge can be extended along a pathway smooth and free from obstacles, as at the time of the discovery of the infinitesimal calculus, and in a measure also when in the development of projective geometry obstacles were suddenly removed which, having hemmed progress for a long time, permitted a stream of investigators to pour in upon virgin soil. There is no longer any browsing along the beaten paths; and into the primeval forest only those may venture who are equipped with the sharpest tools.