Chase Quotes (8 quotes)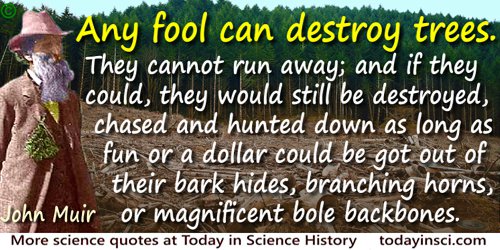 Any fool can destroy trees. They cannot run away; and if they could, they would still be destroyed,—chased and hunted down as long as fun or a dollar could be got out of their bark hides, branching horns, or magnificent bole backbones. Few that fell trees plant them; nor would planting avail much towards getting back anything like the noble primeval forests. During a man's life only saplings can be grown, in the place of the old trees—tens of centuries old—that have been destroyed.

As a career, the business of an orthodox preacher is about as successful as that of a celluloid dog chasing an asbestos cat through hell.

Mathematical research, with all its wealth of hidden treasure, is all too apt to yield nothing to our research: for it is haunted by certain ignes fatui—delusive phantoms, that float before us, and seem so fair, and are all but in our grasp, so nearly that it never seems to need more than one step further, and the prize shall be ours! Alas for him who has been turned aside from real research by one of these spectres—who has found a music in its mocking laughter—and who wastes his life and energy on the desperate chase!

So long as the fur of the beaver was extensively employed as a material for fine hats, it bore a very high price, and the chase of this quadruped was so keen that naturalists feared its speedy consideration. When a Parisian manufacturer invented the silk hat, which soon came into almost universal use, the demand for beavers' fur fell off, and this animal–whose habits, as we have seen, are an important agency in the formation of bogs and other modifications of forest nature–immediately began to increase, reappeared in haunts which we had long abandoned, and can no longer be regarded as rare enough to be in immediate danger of extirpation. Thus the convenience or the caprice of Parisian fashion has unconsciously exercised an influence which may sensibly affect the physical geography of a distant continent.

We are always chasing after things that other companies won't touch. That is a big secret to our success.
[About Sony, 1998]

We urgently need [the landmark National Ocean Policy] initiative, as we use our oceans heavily: Cargo ships crisscross the sea, carrying goods between continents. Commercial and recreational fishing boats chase fish just offshore. Cruise ships cruise. Oil and gas drilling continues, but hopefully we will add renewable energy projects as well. Without planning, however, these various industrial activities amount to what we call "ocean sprawl," steamrolling the resources we rely upon for our livelihoods, food, fun, and even the air we breathe. While humankind relies on many of these industries, we also need to keep the natural riches that support them healthy and thriving. As an explorer, I know firsthand there are many places in the ocean so full of life that they should be protected.

Without the cultivation of the earth, [man] is, in all countries, a savage. Until he gives up the chase, and fixes himself in some place and seeks a living from the earth, he is a roaming barbarian. When tillage begins, other arts follow. The farmers, therefore, are the founders of human civilization.

"You know that it is quite preposterous of you to chase rainbows," said the sane person to the poet.
"Yet it would be rather beautiful if I did one day manage to catch one," mused the poet.