(source)

Daniel Webster

(18 Jan 1782 - 24 Oct 1852)



Science Quotes by Daniel Webster
(4 quotes)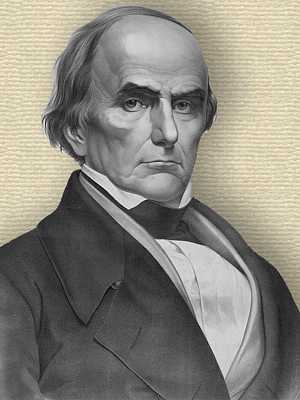 Doubtless the reasoning faculty, the mind, is the leading and characteristic attribute of the human race. By the exercise of this, man arrives at the properties of the natural bodies. This is science, properly and emphatically so called. It is the science of pure mathematics; and in the high branches of this science lies the truly sublime of human acquisition. If any attainment deserves that epithet, it is the knowledge, which, from the mensuration of the minutest dust of the balance, proceeds on the rising scale of material bodies, everywhere weighing, everywhere measuring, everywhere detecting and explaining the laws of force and motion, penetrating into the secret principles which hold the universe of God together, and balancing worlds against worlds, and system against system. When we seek to accompany those who pursue studies at once so high, so vast, and so exact; when we arrive at the discoveries of Newton, which pour in day on the works of God, as if a second fiat had gone forth from his own mouth; when, further, we attempt to follow those who set out where Newton paused, making his goal their starting-place, and, proceeding with demonstration upon demonstration, and discovery upon discovery, bring new worlds and new systems of worlds within the limits of the known universe, failing to learn all only because all is infinite; however we may say of man, in admiration of his physical structure, that "in form and moving he is express and admirable," it is here, and here without irreverence, we may exclaim, "In apprehension how like a god!" The study of the pure mathematics will of course not be extensively pursued in an institution, which, like this [Boston Mechanics' Institute], has a direct practical tendency and aim. But it is still to be remembered, that pure mathematics lie at the foundation of mechanical philosophy, and that it is ignorance only which can speak or think of that sublime science as useless research or barren speculation.

— Daniel Webster

Natural powers, principally those of steam and falling water, are subsidized and taken into human employment Spinning-machines, power-looms, and all the mechanical devices, acting, among other operatives, in the factories and work-shops, are but so many laborers. They are usually denominated labor-saving machines, but it would be more just to call them labor-doing machines. They are made to be active agents; to have motion, and to produce effect; and though without intelligence, they are guided by laws of science, which are exact and perfect, and they produce results, therefore, in general, more accurate than the human hand is capable of producing.

— Daniel Webster

The materials of wealth are in the earth, in the seas, and in their natural and unaided productions.

— Daniel Webster

Without the cultivation of the earth, [man] is, in all countries, a savage. Until he gives up the chase, and fixes himself in some place and seeks a living from the earth, he is a roaming barbarian. When tillage begins, other arts follow. The farmers, therefore, are the founders of human civilization.

— Daniel Webster